THINKCAR TPMS Relearn Tool THINKTPMS G2 Activate 315/433MHz Sensors Unlimited Programming Tool Work for THINKTOOL Mini PRO/PROS
$115.85
Product Code:

1005004368416275

Availability:

In Stock
THINKCAR THINKTPMS G2 is your Ideal TPMS Tool for Tire Pressure Health
THINKCAR ThinkTPMS G2 TPMS Relearn Tool, an advanced tire pressure diagnostic tool for TPMS Sensor Reading, Clearing, Learning and Programming. G2 is an add-on module of THINKCAR Scan Tool(Thinktool Mini, Thinktool PD8). Allows for retrieving and clearing diagnostic trouble codes and reprogramming of sensor IDs. With the Handheld Compact Design, you can easily diagnose tire pressure via Exclusive THINKCAR APP.
THINKCAR THINKTPMS G2 can program S1 Sensor ONLY, CANNOT program OEM sensor.
TPMS Sensor Activation
This ThinkTPMS G2 tpms relearn tool can easily activate and decode all recognized Universal and OEM 315MHz & 433MHz TPMS Sensors and reset TPMS module via OBD interface. You can accurately trigger and decode sensors to view sensor data, such as sensor ID, tire pressure, tire frequency, tire temperature and battery condition, which better helps stress-free tire pressure monitoring, the process becomes shorter and more efficient.
3 Methods of TPMS Relearn
This ThinkTPMS G2 tpms tool supports 3 methods of sensor replearning: OBD Relearn, Self Learning, Stationary Learning. G2 allows users to relearn 98% known tpms sensors to check and view detailed TPMS relearn procedures. Quickly restore your vehicle's TPMS function after air pressure adjustment, tire rotation/disassembling/modification, or sensors replacement.
Unlimited Repeat Programming
ThinkTPMS G2 TPMS programming tool allows users to program the sensor data to the THINKCAR sensors and replace faulty sensor with low battery life and one that is not functioning. G2 supports 3 different sensor programming methods: Auto Create, Manual Create, Copy by Activation.
Attention Please
①The TPMS module cannot be activated, please make sure that the "GPS" in the phone is turned on.
②Thinkdiag(2.4.1) App has been launched in the App Store.
③The TPMS G2 work for THINKTOOL MINI (not THINKDIAG MINI), THINKTOOL, THINKTOOL PD8, THINKTOOL PRO/PROS/PROS+ and THINKDIAG, other series of products are not supported, such as THINKSCAN, THINKOBD, SD, SF, SR, etc.
ThinkTPMS G2 Introduction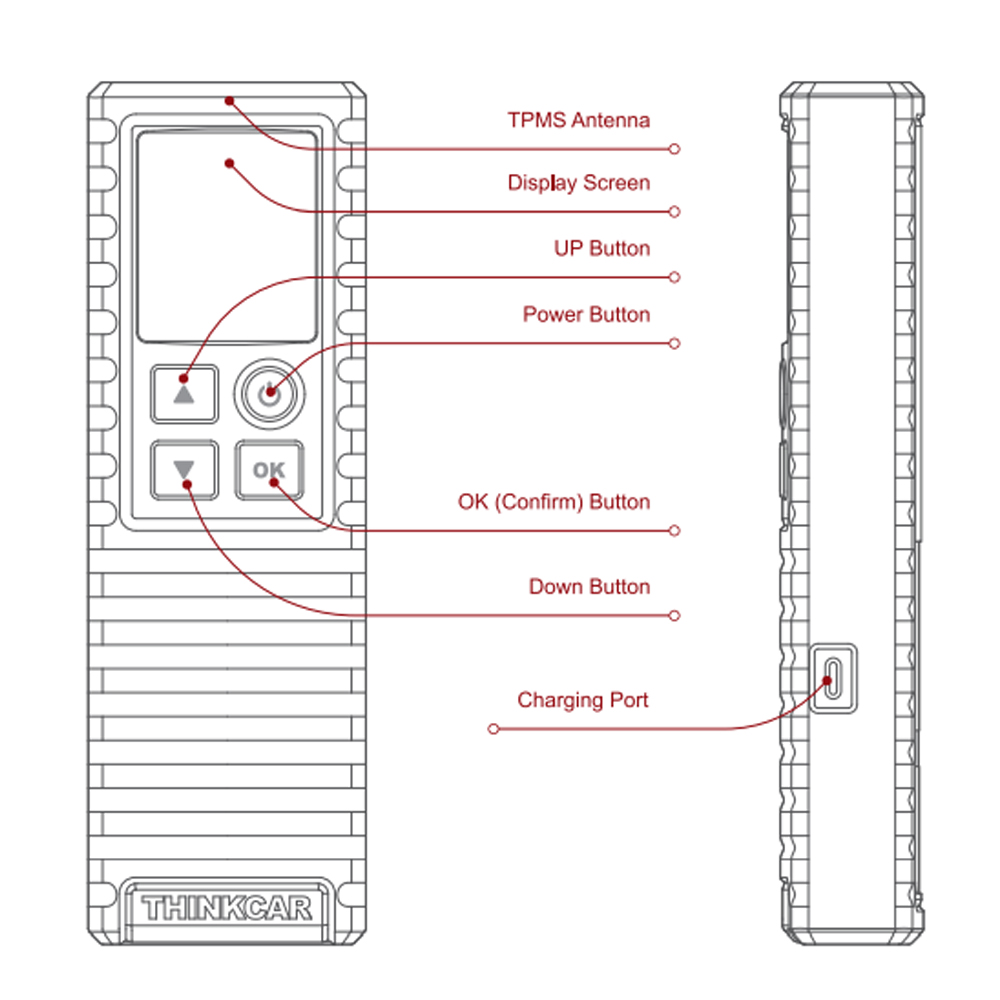 How to Use
Powering On/Off
Press the On/Off button for about 3 seconds to turm it on. A beep wil sound and the screen wil
light up.

Press the On/Off button for about 3 seconds to turm it off.

Note:
If you haven't used it for a long time, please charge it frst. While being charged, the LED iluminates red. Once the LED
changes into green, it indicates she charging is complete.

Tips: THINKTPMS G2 can be used in conjunction with diagnostic equipment through the
mobile APP.
1. How to use the mobile APP
1.1 Search for ThinkDiag+ "in GooglePlay, "ThinkDiag" in App store. The ThinkDiag+ App is
FREE to download. (as shown in the figure below)
1.2 Email account registration.
1.3 Go to the home page and select
1.4 Select the THINKTPMS module
1.5 Enter the SN number and activation code to bind the device.
1.6 After the binding is successful, the program will be automaticaly updated
1.7 Select models brand

1.8 Select models

1.9 Select the year frequency band of the tire pressure sensor
1.10 Using THINKTPMS G2, it supports activating the tire pressure sensor, reading the version
number, and reading the tire pressure value. For online programming function and tire
pressure learning function, please purchase THINKDIAG connector or other THINKCAR
diagnostic equipment.
Packing List :
1pc THINKCAR THINKTPMS G2
1pc User Manual
1pcs Carton box
1pc Charger
1pc Cable