Original Launch X431 V/ X431 V+ / Pro3s+ One Year Update Online Software

$345.00 $370.00
Brand: Launch
Product Code:

SP184-S

Availability:

In Stock
One Years Online Software Update Service for Launch X431 V/ X431 V+ / Pro3s+

You software of X431 V and X431 V+ /Pro3s+ has been outdated? Want to update it??
This update service is mainly for original Launch X431 V/ X431 V+ / Pro3s+ which free update service has been expired. you can buy this service to extend another 1 years free update.

Note:

1. Before You purchase the update service, please provide the serial number for confirm if we can help to provide the update service first.
Because the devices which were brought from overseas dealer can not be provided update service. Please notice this
2. it is 1 Years Update Service
3. Very easy to operate, no need shipping
4. Suitable for: Original Launch X431 V and X431 V+ and Pro3s+
5. it will need 1-2 days for the Launch technician to do the update service

How to make it work?

1. After you place an order on our website and check out, please provide us your device serial number.
2. We will open one year update authorization for you
3. The Launch technician will open the update service online, no need shipment
4. then you can go back to homepage of your X431 V/ X431 V+ and click "Update" to download new update.
Pls Note:
Considering update card is small , easy to lost in transit , the buyer can provide SN, Account and Password to the Seller to help update , it will need about 1-2 days
in order to save shipping time , the buyer can provide serial number to the seller update it directly
Introduction
The Subscription Renewal Card is only applicable for those products which are produced by LAUNCH and supports software payment and renewal.
Note: The Subscription Renewal Card may differ in different areas. Please contact dealers for details.
Knowledge of Subscription Renewal Card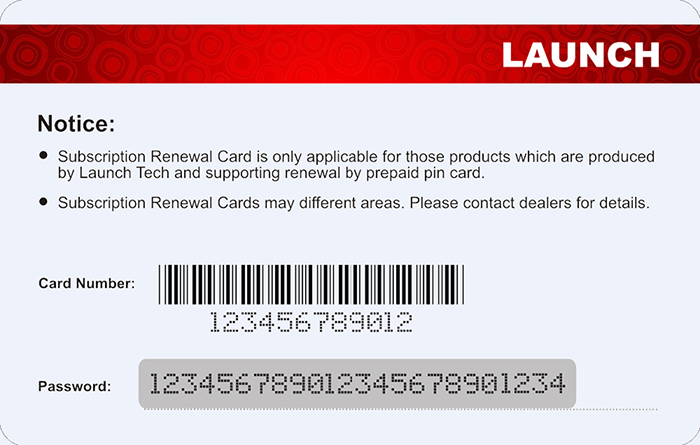 | | |
| --- | --- |
| Card Number | It includes 12 digit numbers. |
| Password | Scratch or scrap the designated area to reveal the hidden information. Generally it is composed of 24 digit numbers. |
How to activate the Subscription Renewal Card?
Tap the application icon on the home screen to launch it.
Tap "Login" on the upper right corner of screen to log in the system (Note: Please make sure the tool has a strong Wi-Fi connection).
Tap TVEG)PU2DTG0Q2X9`ZPY5PM and select "Update" to enter the update center.
Tap "Renewal" on the update page to activate Subscription Renewal Card.
Input the password of Subscription Renewal Card (24-digit numbers) and then tap "Confirm" to finish the transaction (The order can be viewed by tapping -TVEG)PU2DTG0Q2X9`ZPY5PM> "Profile"->"My order").