Launch CRP469 OBD2 Scanner Professionnel Wifi Automotive Scanner IMMO Oil ABS EPB DPF TPMS Reset Obd 2 Car Diagnose Tool
$179.95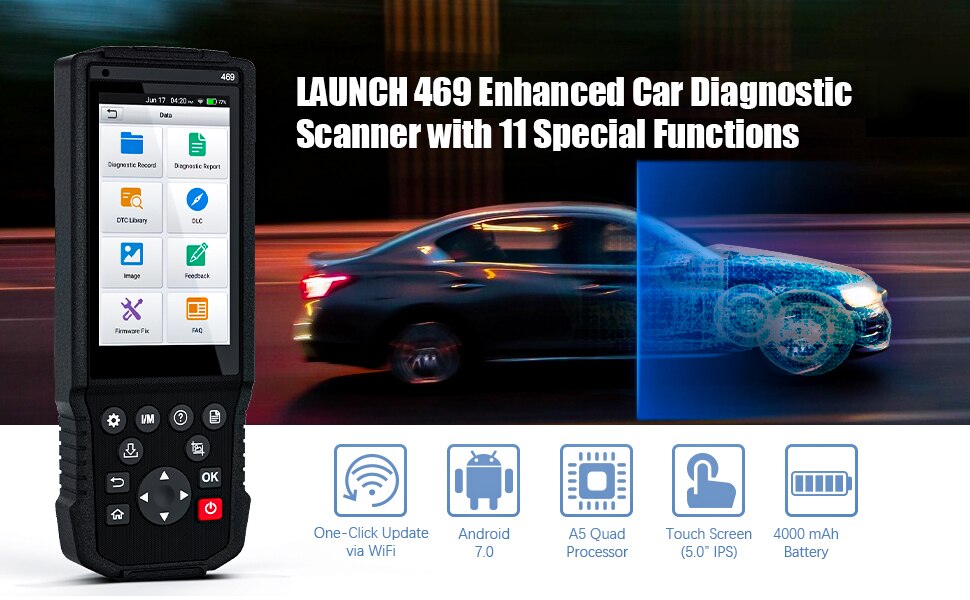 Five Reasons to Choose CRP469 OBD2 Automotive Scanner:
1. Supports all 10 models of standard OBDlI/EOBD test 2. Support 11 Reset Function : including Oil Lamp Reset, Brake Pad Reset, TPMS Reset, Battery Matching, Injector Coding, Throttle Adaptation, DPF Reset, Steering Angle Reset,ABS Bleeding,AFS Headlamp Reset and Anti-Theft Matching. 3.Basic diagnostic functions: Version Information, Read DTCs ,Clear DTCs and Read Data Stream (supports 3 dispiay modes: Value, Graph and Merged). 4. Support multi-language :English, French, Spanish, Russian, Japanese, German, Italian, Portuguese, Korean. meet the needs of customers in various countries. 5.Update:One-Click update online via Wi-fi , One years free update 6. Print : Support print out diagnostic report via email 7.Multiple car models (covering over 50 prevailing models from Asia, America and Europe). 8.5.0inch IPS colorful touch screen and keypad button dual operation model, meets majority of users needs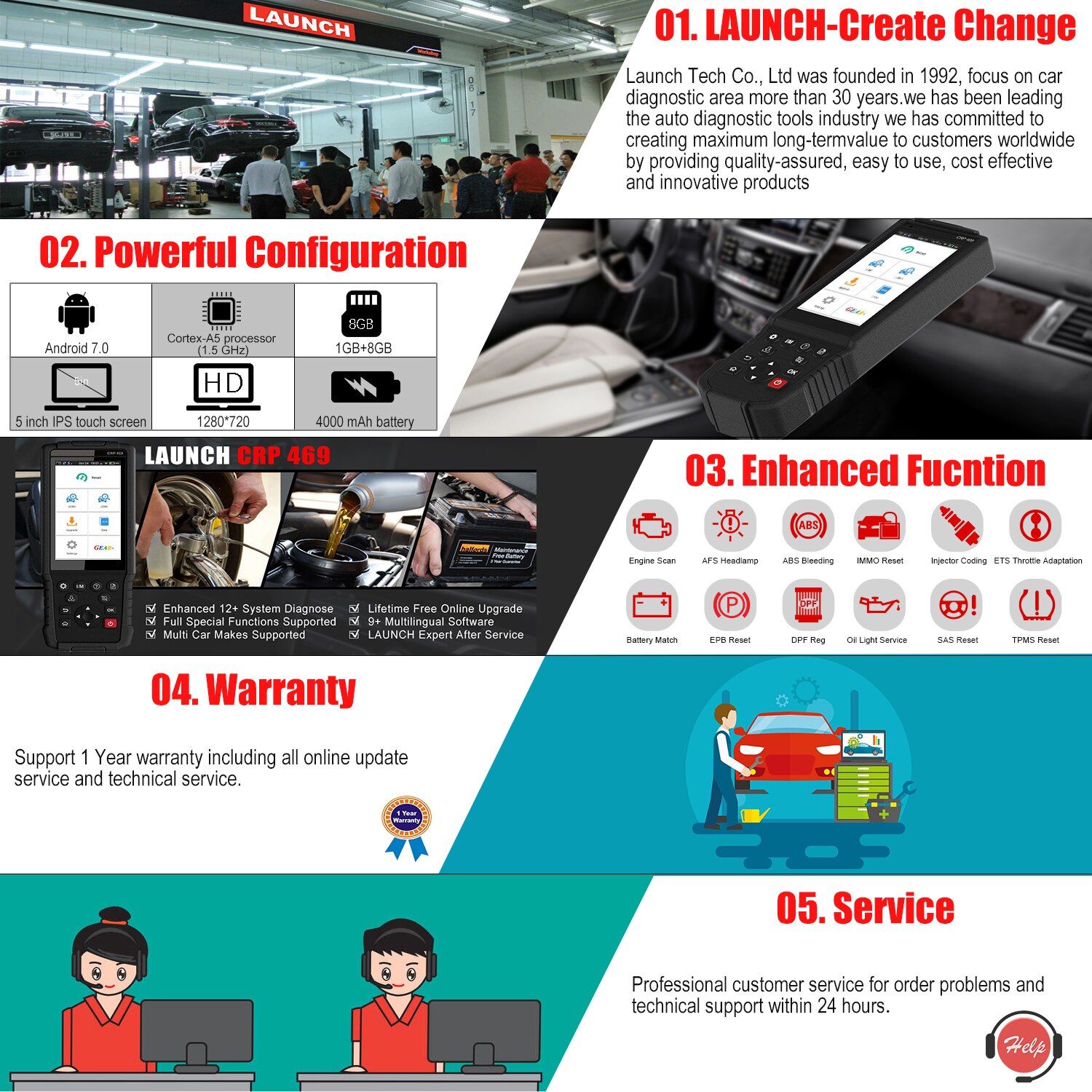 ALL 10 Mode OBDII/EOBD Functions:
Mode 01---Request current powertrain diagnostic data. Mode 02—Request freeze frame information. Mode 03—Request emissions-related diagnostic code Mode 04—Clear/reset emissions-related diagnostic information. Mode 05—Request oxygen sensor monitoring test results. Mode 06—Request on-board monitoring test results for specific monitored systems. Mode 07—Request emission-related diagnostic troublecodes detected during current or last completed driving cycle Mode 08—Request control of on-board system, test or component. Mode 09—Request vehicle information. Mode 0A—Request emissions-related diagnostic troublecodes with permanent status after a clear/reset emission-related diagnostic information.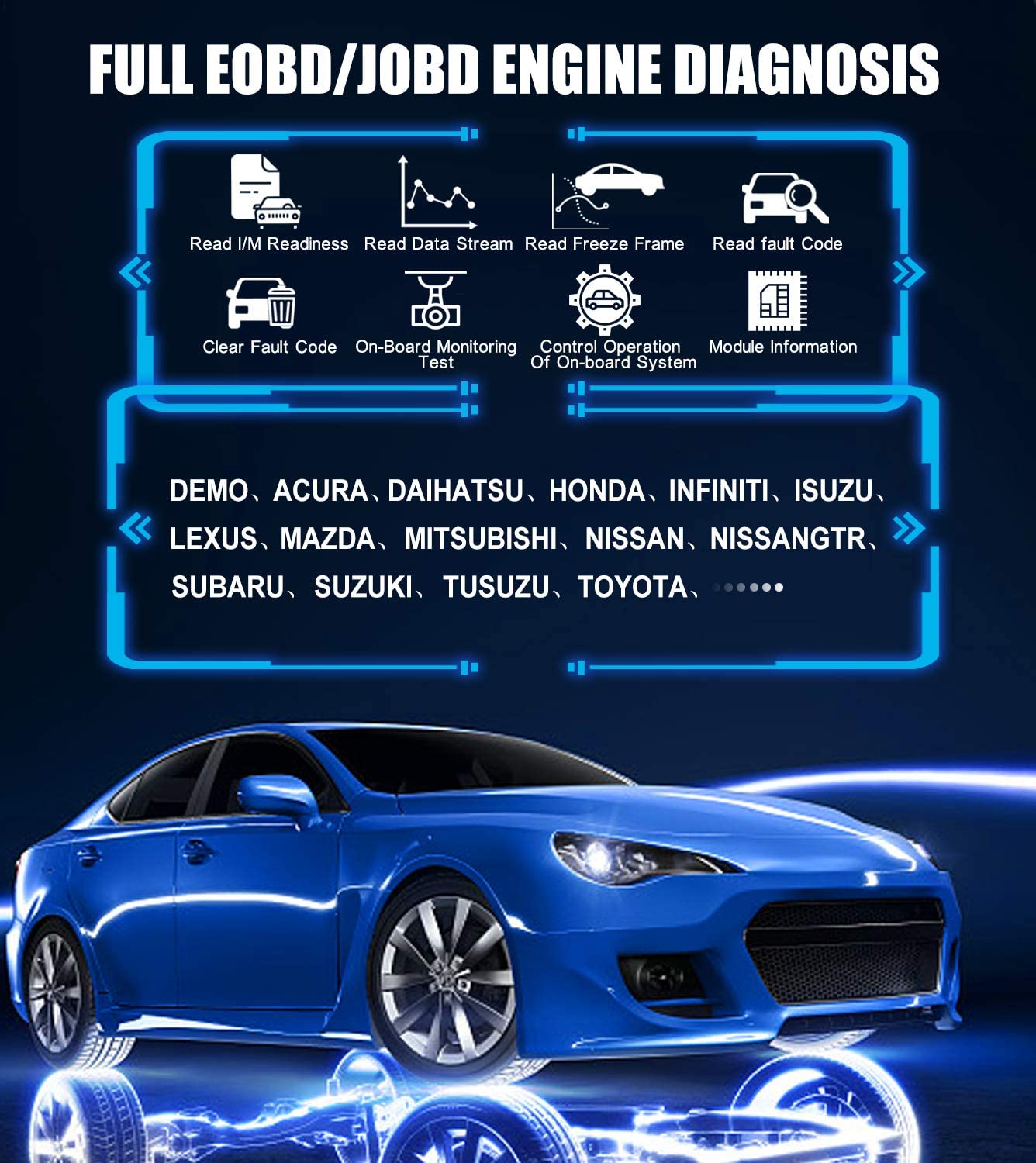 11 Kinds of Special Reset Maintenance Service Functions:
1.Oil Lamp Reset Service: Allows you to perform reset for a new calculation of Engine Oil Life system once changed the oil. 2.EPB service: It is important in the maintenance of electronic braking system's safety and efficiency. 3.BAT battery service: Allows the scan tool to evaluate the battery charge state, monitor the close-circuit current, register the battery replacement, and activate the rest state of the vehicle. 4.DPF service: Specially works for Diesel Particulate Filter system with DPF regeneration, DPF component replacement teach-in and DPF teach-in after replacing the engine control unit. 5.SAS service: Helps clear the fault steering angle sensor memories and plays an important role in the steering angle sensor calibration. 6.TPMS service: Makes sense in displaying sensor IDs from the vehicle's ECU, inputting TPMS sensor replacement IDs and testing sensors. 7.IMMO Key Programming: The unique car key programming and read pin code function, it is mainly used to disable the lost vehicle keys and program a new replacement key fob. 8.ABS Bleeding: ABS brake bleeding to get a firm brake pad after air exhaustion after repair ABS pump system 9.AFS Headlamp Reset 'AFS' means Adaptive Front lighting System (at night with the Bi-Xenon headlights) it swivels either side, pressing that button means they stay pointing straight ahead and don't turn when you turn the steering wheel 10.Injector Coding Leaking injectors and some dead injectors can be missed even when an injector is disabled. Otherproblems with the ignition system and mechanical components also may not show an rpm loss when aninjector is turned off 11.Throttle Adaptation The throttle body is a tube containing a pivoting flat valve (butterfly) that is used to control the amount ofair entering an engine. In an electronically fuel injected car, a throttle position sensor and air flow sensorcommunicate with the computer, which supplies the corresponding amount of fuel needed at the injectors. It must need re-learning throttle sensor position after clearing or repair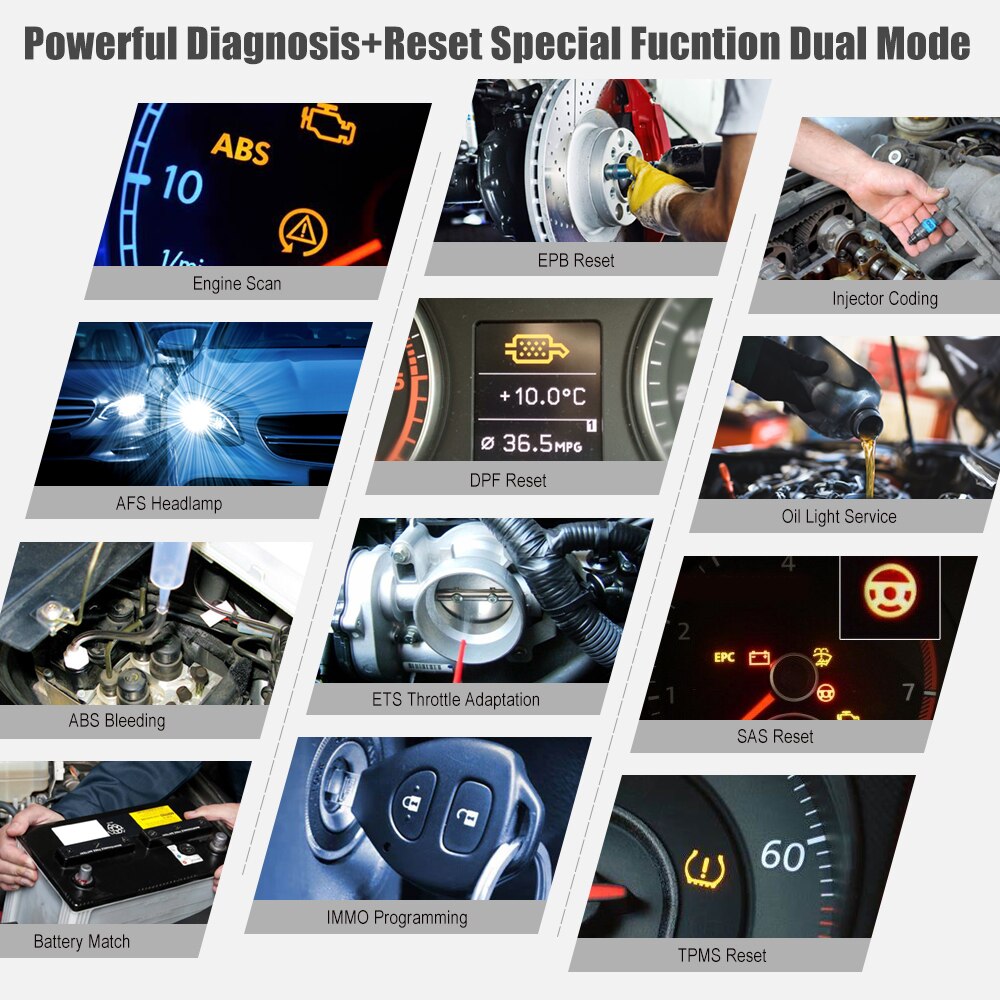 Launch CRP469 OBD2 Scanner Professional Supported Brands:
For Demo, for ACURA, for Alfa Romeo, for Audi,for BMW, for BUGATTI, for Chrysler, For Citroen,for DACIA, for Daewoo, for Euroford, for Fiat, for Ford, for Mitsubishi, for Nissan, for Opel,for Peugeot, for Porsche , for Renault, for SAAB, for SAMSUNG, for Seat, For Skoda, for Smart, for Sprinter, for Subaru, for Suzuki, for Tlisuzu, for SAAB, for SAMSUNG for Toyota, for Vauxhall, for Volvo, for VW, for USA GM, for Gmsa, for Honda, for Hyundai, for Infiniti, for Isuzu, for Jaguar, for Kia, for Lancia, for Landrover, for Lexus, for Lincoln, for Mazda, for Mercedes , for Mini... Note:These special function NOT for all car models, if you are confused, you can send your car brand, model and release year to me
LAUNCH CRP469 Special function support car list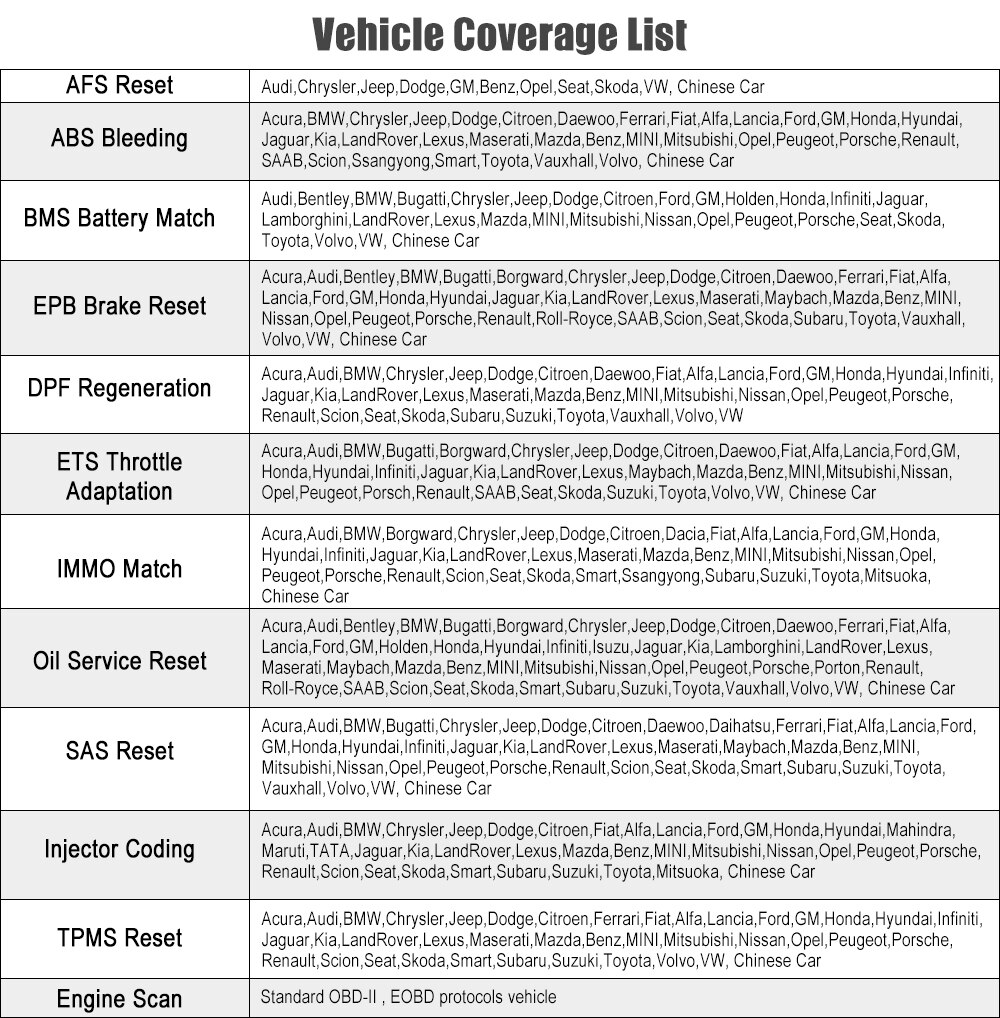 Launch CRP469 OBD2 Scanner Support Languages:
English, French, Spanish, Russian, Japanese, German, Italian, Portuguese, Korean. Note: The machine default language is English,you can change the language by yourself when you receive it.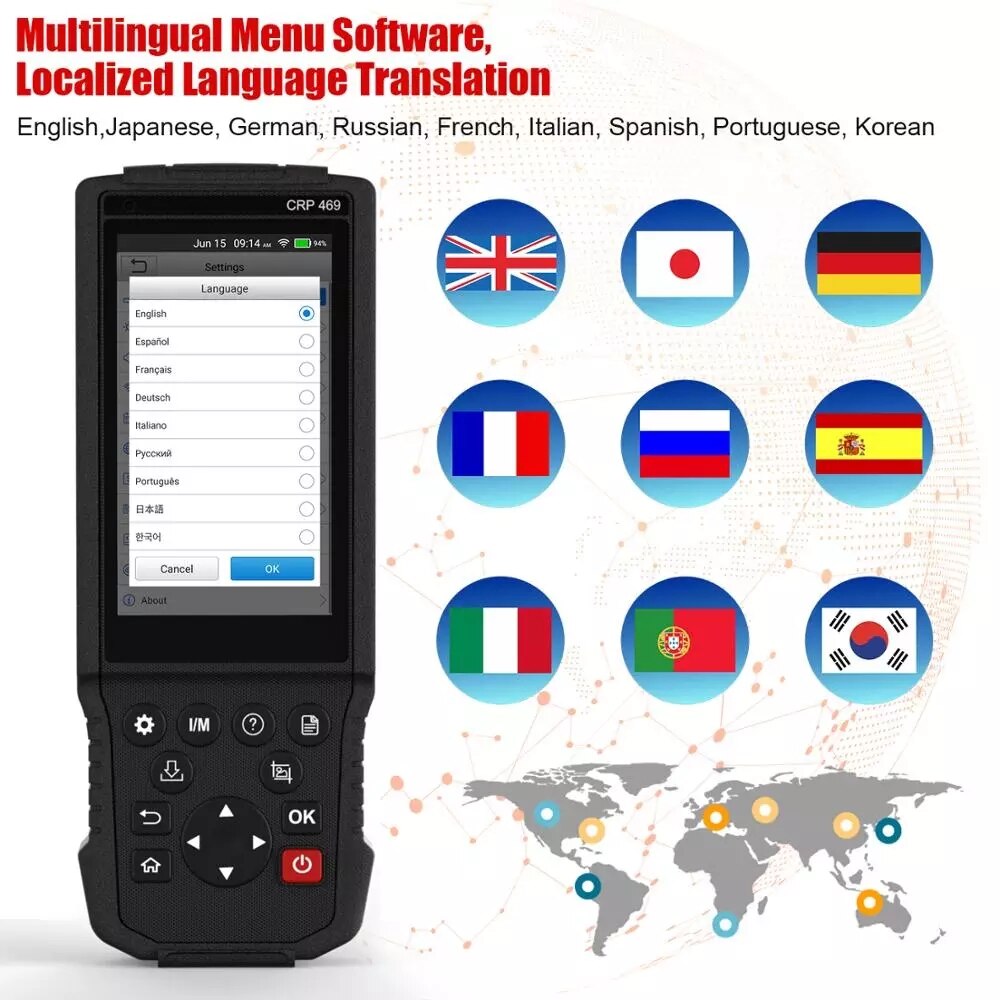 How to Update Launch CRP469:
1. input mailbox activate machine and connect with wifi network before update work 2.If some new software or APK can be updated, a numeric indicator will display on the "Upgrade" module on the Job menu. In this case, you may use this option to keep it synchronized with the latest version. 3.Tap "Upgrade" on the Job menu to enter the update center. By default, all diagnostic software is selected. 4.To deselect certain software, tap "Unselect", and then check the box next to vehicle model. 5.Tap "Update" to start downloading. It may take several minutes to finish it, please be patient to wait. To pause downloading, tap "Stop". To resume it, tap "Continue". If network connection failure occurs, tap "Retry" to try again. 6.Once download is finished, the software packages will be installed automatically.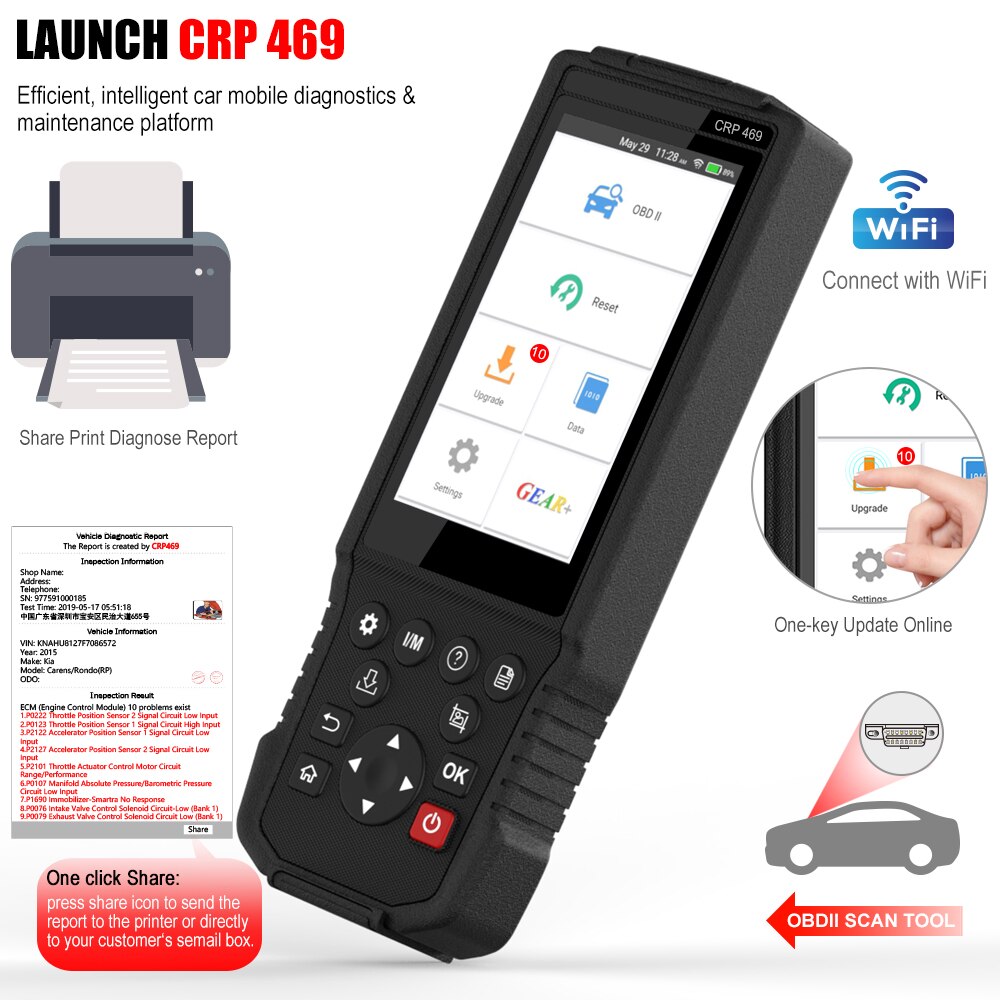 Product detail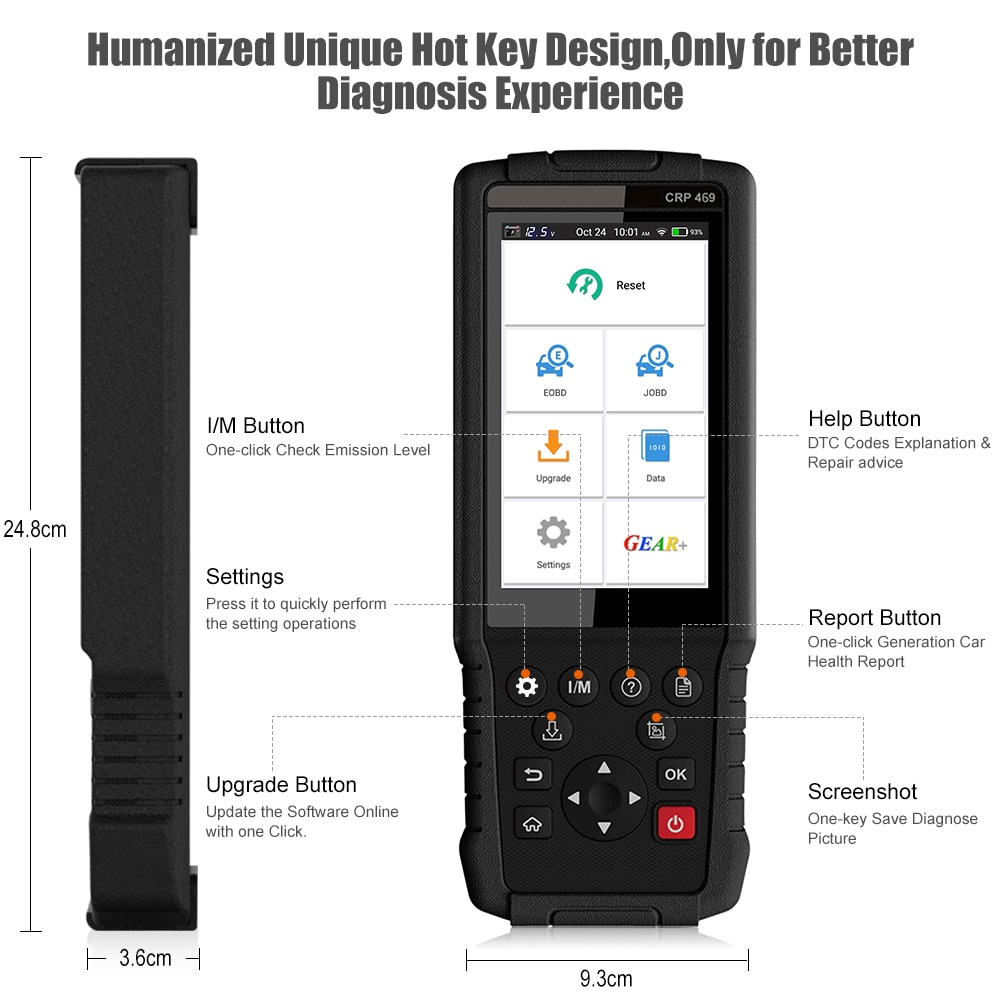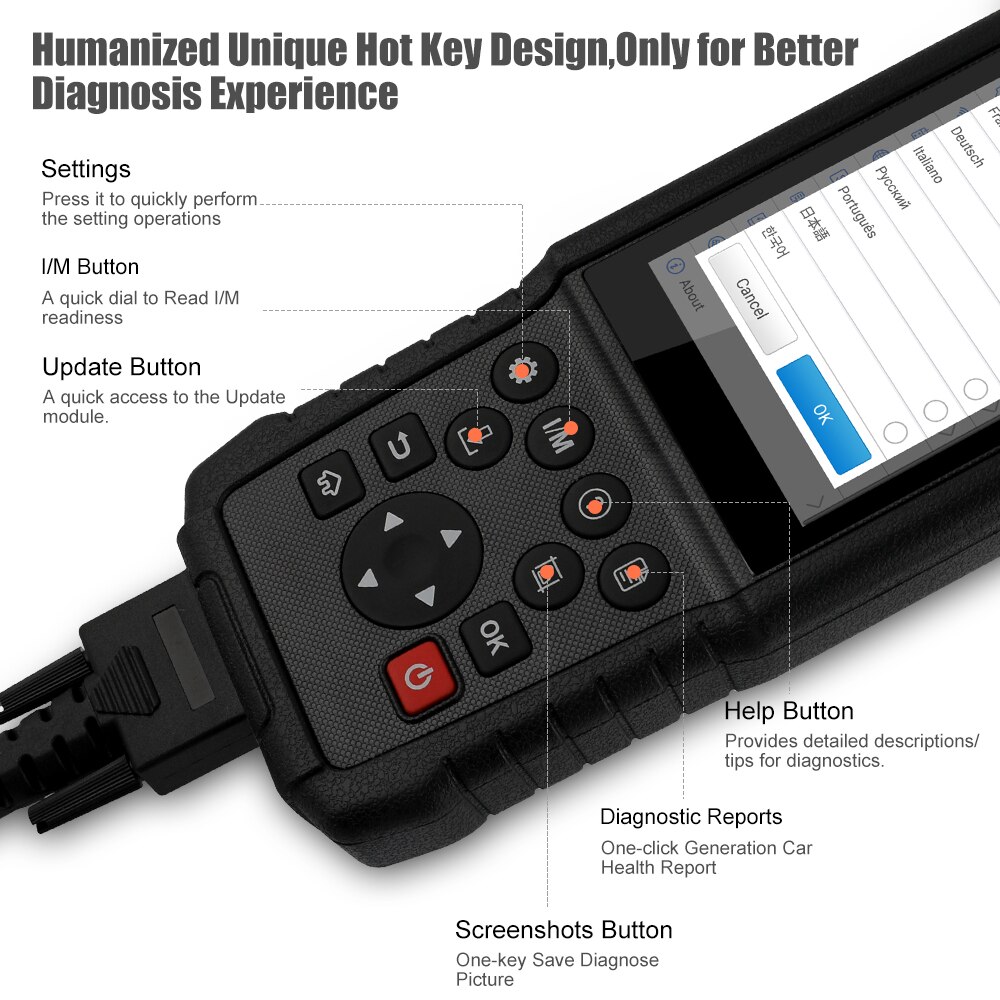 Launch CRP469 Package List(You will get the package as show)
1 * Main Unit 1 * OBDII Diagnostic Cable 1 * DC 5V Charging Cable 1 * User Manual 1 * Padded Carry Case