LAUNCH X431 2 in 1 RF-SENSOR TPMS Sensor 315MHz & 433MHz Tire Pressure Sensors Tire Pressure Monitor Tester Programming

$22.00 $35.24
Product Code:

1005003007675426

Availability:

In Stock
LAUNCH RF-SENSOR 2 In 1 (315MHz + 433MHz) Clamp-In OE-Level Programmable Sensor for Tire Pressure Monitoring System (TPMS) 100% Cloneable + Fits 98% Vehicles / MX-Sensor 433 MHz /TPMS PAD Sensor Programmer
LAUNCH RF-SENSOR 2 In 1 (315 + 433MHz), as a programmable universal sensor featuring in Clamp-in and Snap-in options which are both smart and efficient specially built for sensor replacement with maximum application coverage, ease of use, OE-level fit, performance and reliability, will help users economize the cost of diagnostic work and raise the repair efficiency greatly.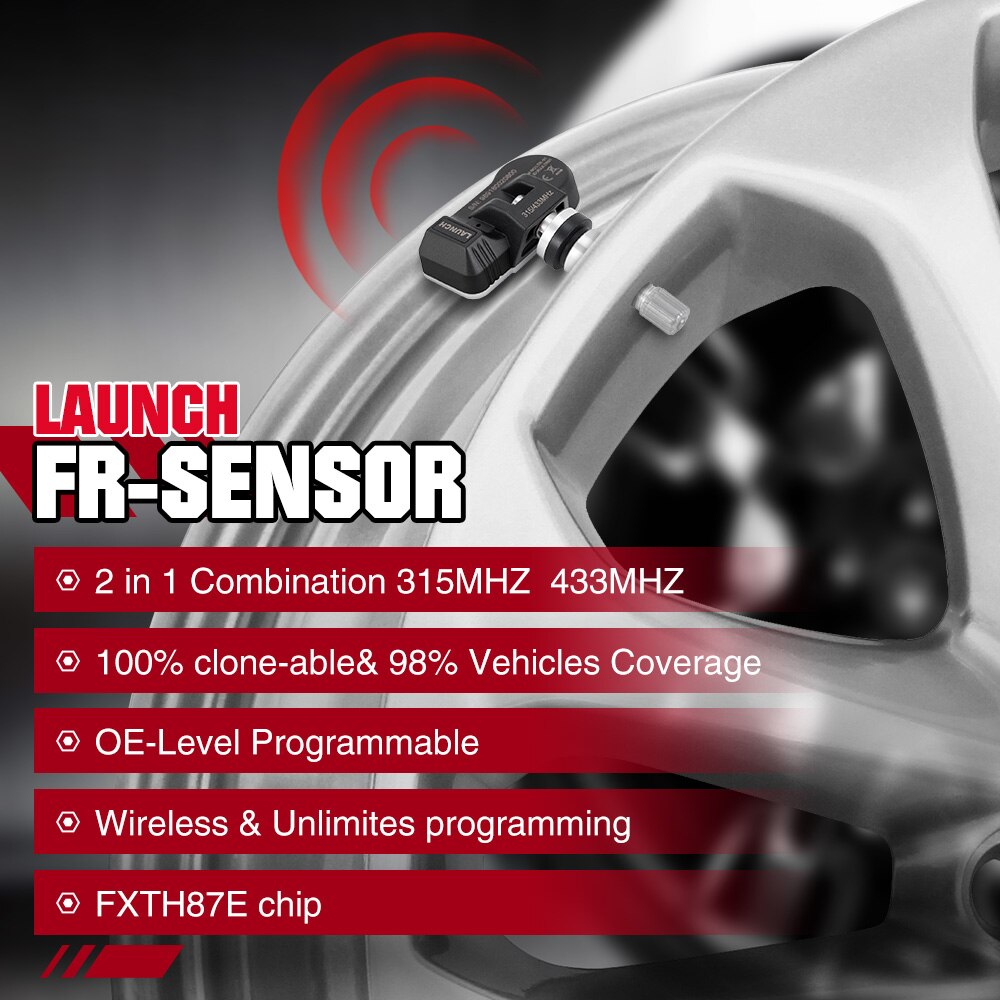 2 In 1 Feature
Only 1 Sensor to service nearly every TPMS equipped vehicle to lower repair cost and to have higher install efficiency with no relearn required. The MX-Sensor is 100% cloneable with the original sensor ID and put in the same position.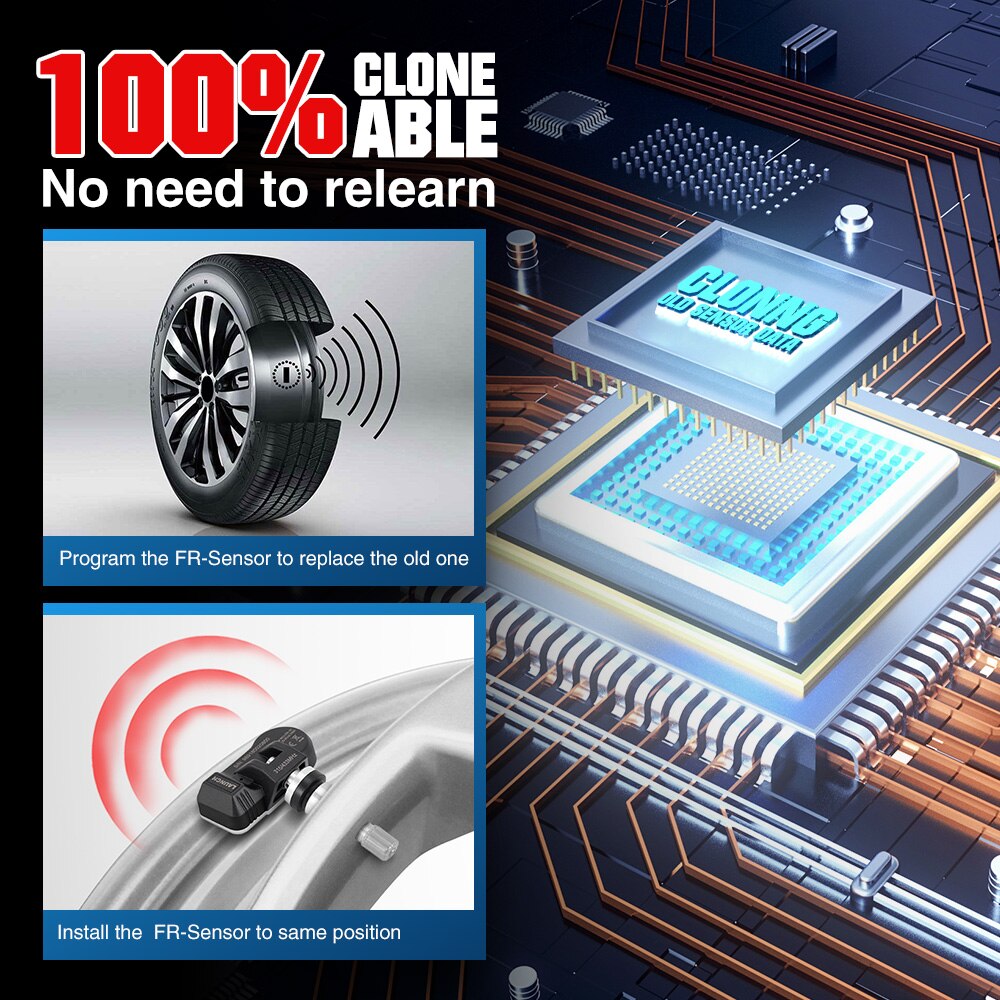 Over 98% COVERAGE:
Featuring the latest and most comprehensive coverage of 98% OE sensors on the market, and up to 90% of North American, European and Asian vehicles, it nearly fits all types of wheels on the road.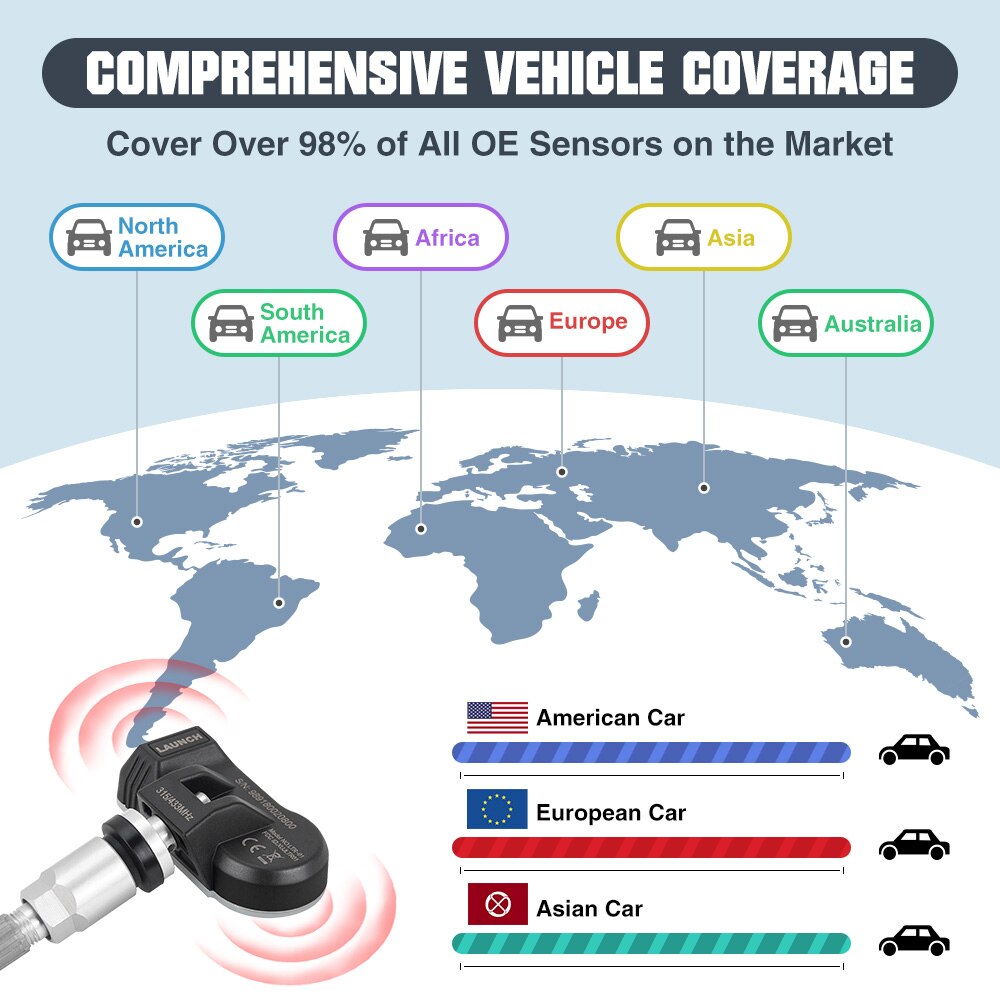 EASY TO USE
The maximum sensor signal strength allows sensors to be easily programmed wirelessly even when they have already been mounted to the wheel. Moreover, the unique PRESS release valve design makes the manual sensor replacement much easier.
Step 1: Loose the tire
Remove the valve cap and core and deflate the tire.
Step 2: Dismount the tire
Clamp the tire onto the tire changer, and adjust the valve at 1 o'clock relative to the tire separation head. Insert the tire tool and lift the tire bead onto the mounting head to discount the head.
Step 3: Dismount the sensor
With a screwdriver remove the fastening screw and sensor from the Valve stem, then loosen the nut and remove the valve.
Step 4: Mount sensor and valve
Slide the valve stem through the valve hole of the rim. Tighten the screw-nut with 4.0 Nm with the help of the positioning pin. Assemble the sensor body against the rim and tighten the screw.
Step 5: Mount the tire:
Place the tire on the rim, making sure that the valve faces the separation head at an angle of 180 degrees. Mount the tire over the rim.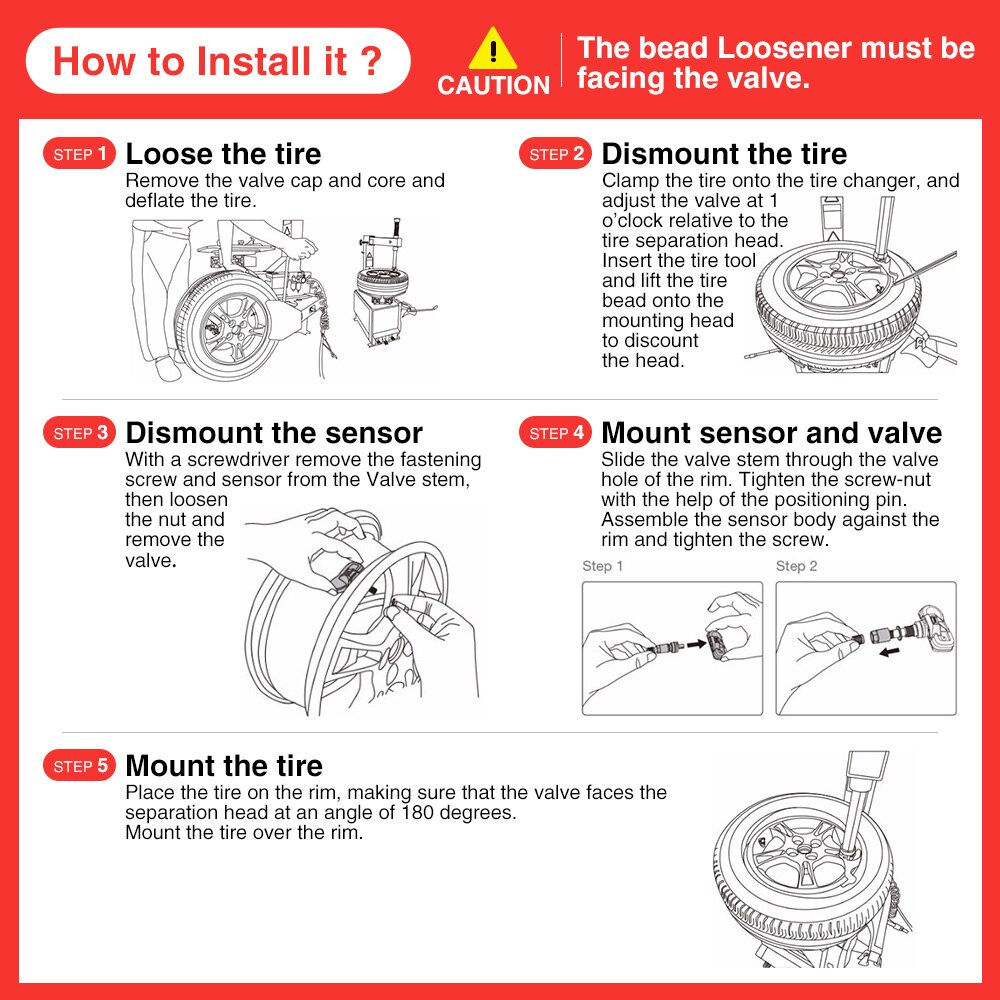 Notice
1. The TPMS sensor assemblies are replacement or maintenance parts for vehicles that have a factory installed TPMS.

2. Make sure to program the sensor by AUTEL sensor programming tools for your specific vehicle make, model and year before installation.

3. Do not install programmed TPMS sensor in damaged wheels.

4. In order to guarantee optimal function, the sensor may only be installed with original valves and accessories provided by LAUNCH.

5. Upon completion of installation, test the vehicle TPMS systems using procedures described in the original manufacturer' s user guide to confirm proper installation.

6. Each time a tire is serviced or dismounted, or if the sensor is removed or replaced, it is mandatory to replace the rubber grommet, washer, nut and valve core with our parts to ensure proper sealing. It is mandatory to replace the sensor if it is extremely damaged.
Product Parameter
Battery life: 4~6 years/ 100,000 kilometers

Working temperature: -40°C~125°C

Storage temperature: -40°C~125°C

Working humidity: ≤90%

Working frequency: 433MHz/315MHz

Pressure monitoring range: 0-800kpa

Pressure reading accuracy: ±10kPa

Temperature reading accuracy: +5C

Acceleration (G) sensor reading accuracy: ±15%

Transmission power: 5-8dBm

Battery power: 3.0V

433MHz size: 72x51x27mm

Weight: 30g

Warranty: 2 Years
Product detail