2022 New LAUNCH X431 CRP919E All System Automotive OBD2 Scanner Car Diagnostic Scan Tool Active Test CANFD/DIOP with 29 Reset

$398.00
Product Code:

1005004490114684

Availability:

In Stock

Weight:

2.50kg
LAUNCH CRP919E Full System OBD2 Scanner Android 7.0 Car Diagnostic Scan Tool 29 Reset Code Reader TPMS SAS DPF IMMO ABS Bleeding WiFi Update Online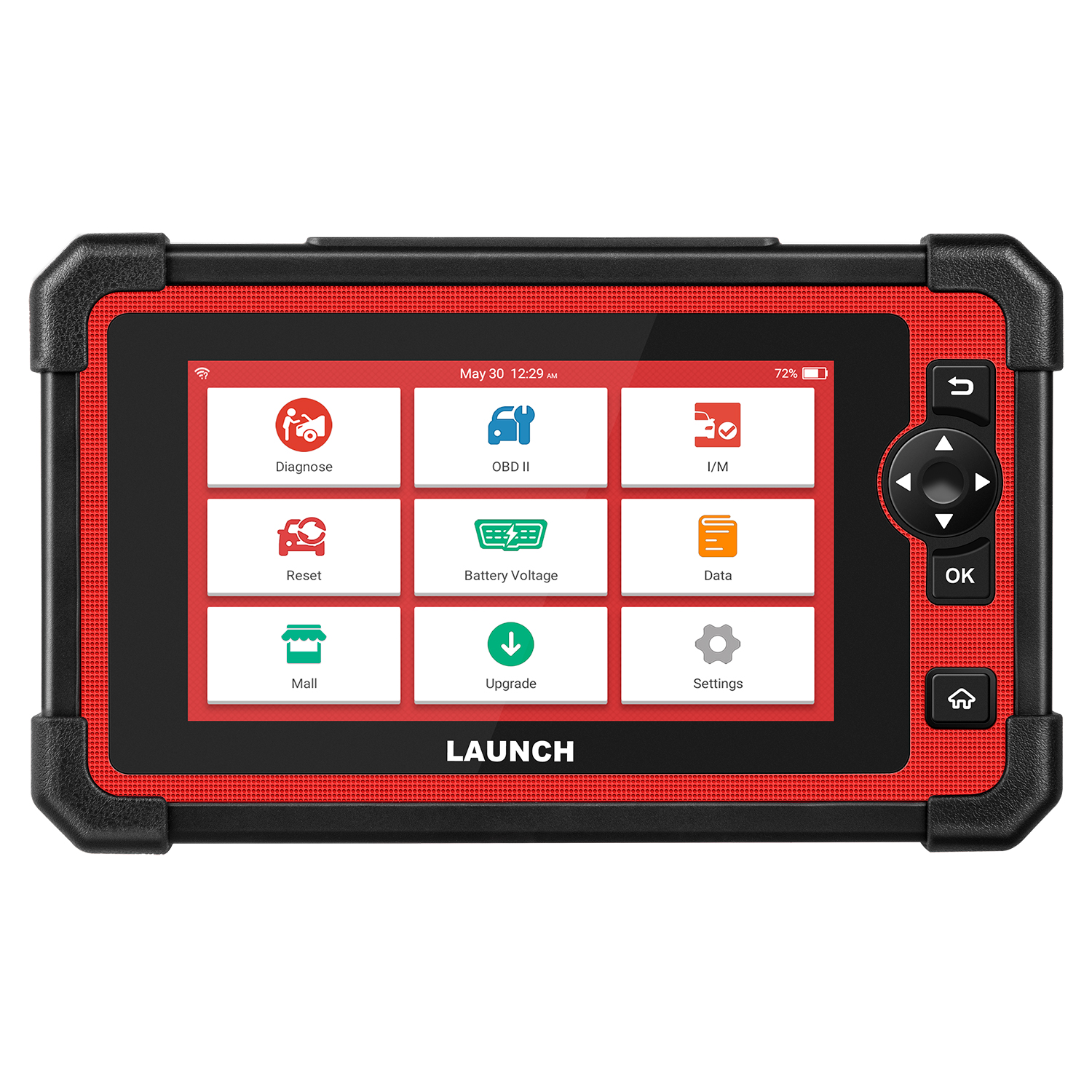 Why we recommend LAUNCH CRP919E to you?
1, Full System Basic Diagnosis:
The LAUNCH CRP919E is a cost-effective automotive scanner, that offers OE-level diagnoses on all available electronic systems, which can read/clear codes, data stream, and read control module information for ECM, ABS, SRS, TCM, EPB, TPMS, SAS, A/C, BMS, ESP systems, etc.
2, Supports OBD2 Full Functions:
It supports OBD ll functions to help you turn off the annoying instrument fault indicator and also can read/clear codes, O2 sensor test, I/M readiness, On-board monitor test, read data stream, display freeze frame data, EVAP system test, retrieve vehicle information (VIN, calibration ID, calibration verification numbers)
3, Added CAN-FD Protocol(CAN with Flexible Data-Rate):
This automotive diagnostic scanner is compatible with CAN-FD protocol that supports GM vehicles manufactured after 2020. Adopts advanced CRC algorithms to accommodate more data from 8 to 64 bytes in the CAN frame, which runs faster than other products and reduces the risk of undetected errors to greatly enhance the user experience.
4,Supports ISO 13400 DoIP Protocol:
The CRP919E diagnostic scanner meets the DoIP protocol and supports BMW, Jaguar, and Land Rover vehicles manufactured after approximately 2020. It has high bandwidth and a faster data rate, which is suitable for transmission of a large amount of data, and greatly improves the communication speed, which can work better with OBD diagnosis.
5, 29 Maintenance Functions:
The LAUNCH CRP919E is one of the most popular OBD2 automotive diagnostic scanners in the market, which can perform 29 frequently-used special functions that every mechanic wants for various scheduled service and maintenance performances, such as Oil Lamp Reset, ABS Bleeding, Electronic Throttle Reset, SAS Reset, Gearbox Reset, Battery Matching, and so on. It's an ideal choice for DIY car enthusiasts and small/mid-sized repair shops to do quick automotive repairs and maintenance.
(Note: the special functions that can be performed may vary by car model.)
6 , Advanced Features:
The CRP919E, an affordable OE-level tablet automotive diagnostic scan tool, adopts Auto-VIN technology that can automatically recognize vehicle information you get the vehicle's make, model, and year information more easily. And Auto Scan can perform a comprehensive scan on all available systems of your vehicle,and then it will automatically generate a detailed vehicle Health Report which you can quickly access all the electronic control units of the vehicle. Reports and Diagnostic Records can be viewed in the REPORT and HISTORY, and reports can be shared and printed. (Auto-VIN function does NOT work on all cars.)
7, Wide Vehicles Coverage:
Supports up to 70+ vehicle brands. Compatible with OBDII protocols, like ISO 14230-4 (KWP), IOS 15765-4 (CAN), ISO 9141-2 (IOS), SAEJ 1850 (VPW/PWM). Works on most of that manufactured after 1996 US-based, 2000 EU-based, 2005 Asian-based, or newer OBD II & CAN domestic or import vehicles; Supports AutoAuth for FCA SGW, allowing you to unlock protected FCA vehicle SGW module on Chrysler, Dodge, Jeep, Alfa Romeo, and Fiat vehicles manufactured after 2019 and perform diagnostics, such as read/clear codes, data stream, etc.(*Need AutoAuth subscriptions.)
8, Supports 11 Languages:
It supports 11 languages, including English, French, Italian, Japanese, Spanish, German, Russian, Portuguese, Korean, Traditional Chinese, and Polish. All languages are free to use, and you can switch back and forth between multiple languages as needed which can solve the language barrier you may encounter.
9, Advanced Hardware :
Based on Android OS, features a resolution of 1024*600 pixels 7-inch touchscreen, 6000mAh rechargeable battery capacity and 3GB & 32GB memory for storing more vehicle documents and customer data. Has a well-designed user interface that makes it easy to find the functions you need and understand the diagnosis results. All of these high-end configurations can provide you with an optimal user experience.
10, Display Real-time Battery Voltage:
It mainly feeds back the current-voltage condition of the OBD2 Data Link Connector(16th Pin) or battery condition(only as an initial judgment). If the battery voltage is lower than 12V, it is recommended to use a professional battery tester to diagnose the current battery condition.
11, 1-Year Free Software Updates:
The CRP919E diagnostic scanner provides 1-Year FREE software online updates (WiFi connectivity required). If some new software or APK can be updated, a numeric indicator will display on the "Upgrade" module on the Job menu. Just one click to keep the scanner synchronized with the latest version, which helps you to fix the software bugs, and obtain the newest vehicle coverage and functions. (NOTE: After the 1- year FREE software update period expires, you can still use its last update software to work on cars.)
12, Mall:
The Mall covers all diagnostic software for full systems and full functions(excluding advanced functions such as online programming and coding, etc.), you can subscribe to other vehicle diagnostic software and reset software that are not pre-installed on the tool in the Mall Module, in which different vehicle software is tagged with different prices.
LAUNCH CRP919E Supports 29 Common Special Functions:
1.ABS Bleeding:When the ABS contains air, the ABS bleeding function must be performed to bleed the brake system to restore ABS brake sensitivity.
2.TPMS Reset:When due to the tire pressure is too low,tire leaks,tire pressure monitoring device is replaced or installed,tire is replaced and tire pressure sensor is damaged,The tire pressure
resetting function must be performed to reset tire pressure and turn off the tire pressure
MIL.
3.Oil Lamp Reset: Allows you to perform reset for a new calculation of Engine Oil life system once changed the oil.
4.Electronic Throttle Sensor Reset: To utilize the car decoder to initialize the throttle actuator so that the learning value of the ECU returns to the initial state.
5.Injector Coding:After the ECU or injector is replaced, injector code of each cylinder must be
confirmed or re-coded so that the cylinder can better identify injectors to accurately control fuel injection.
6.SAS Reset: It helps clear the faulty steering angle sensor memories to reset the steering angle and plays an important role in the steering angle sensor calibration.
7.Brake-pad Reset: To deactivating and activate the brake control systems, assist with brake fluid control, open and close brake pads, and set brakes after disc or pad replacement.
8.Gear Learning:Perform gear learning for the car when the engine ECU, the crankshaft position sensor, or the crankshaft flywheel is replaced.
9.IMMO Service:To prevent the car being used by unauthorized keys, the anti-theft key matching function must be performed so that the immobilizer control system on the car identifies and authorizes remote control keys to normally use the car.
10.Battery Matching:Enables you to perform resetting operation on the monitoring unit of battery,in which the original low battery fault information will be cleared.6.IMMO Service:
11.DPF Regeneration:It is used to clear PM (Particulate Matter) from the DPF filter through continuous combustion oxidation mode. Specially works for Diesel Particulate Filter system with DPF.
12.EGR Adaption:This function is used to learn the EGR (Exhaust Gas Recirculation ) valve after it is clean or replaced.
13.Suspension Matching: When replacing the body height sensor in the air suspension system, or control module or when the vehicle level is incorrect, this function can adjust the body height sensor for level calibration.
14.NOx Sensor Reset:If the NOx fault is re-initialized and the NOx catalytic converter is replaced, it is necessary to reset the catalytic converter learned value stored in the engine ECU.
15.Tyre Reset:This function is used to set the size parameters of the modified or replaced tire.
16.Windows Calibration:This feature is designed to perform door window matching to recover ECU initial memory.
17.Stop-start Reset:This function is used to open or close the automatic Start/Stop function via setting the hidden function in ECU (The precondition is the vehicle equipped with hidden function and hardware support)
18. AC Initialization:AC system relearn/initialization must be performed when the vehicle AC ECU or actuator is replaced or the ECU memory is lost.
19. AdBlue Reset:After the diesel exhaust treatment fluid (car urea) is replaced or filled up, the urea reset operation is required.
20. AFS Headlamp Reset:This function enables you to initialize the adaptive headlamp system.
21. A/F Reset:This function is applied to set or learn air/fuel rate parameters.
22. Gearbox Reset:This function enables you to complete the gearbox self-learning to improve gear shifting quality
23. Coolant Bleeding:Use this function to activate the electronic water pump before venting the cooling system.
24. Transport Reset:To lower vehicle power consumption, user may perform the following operations: limit vehicle speed, not wake up the network for door open and disable remote key, etc. In this case, deactivating the transport mode is needed to recover the vehicle being normal.
25. Seat Calibration:This function is applied to match the seats with memory function that are replaced and repaired.
26. High Voltage Battery Detection: This function is used for high voltage battery diagnosis and status information detection.
27. Sunroof Initialization:This function enables you to set the sunroof lock off, closed when it rains, sliding / tilting sunroof memory function, temperature threshold outside the car ,etc.
28. Engine Power Balance Monitoring:This function is used to monitor crankshaft acceleration in the power stroke of each cylinder, to determine the relative power provided by each cylinder.
29. Language Change:This function is used to change system language of vehicle center console.
(Note: Available maintenance functions vary depending on the vehicle make, year, and model.)
LAUNCH CRP919E Support Full OBD2 Function:
1.Reading Codes: Show the detailed description of the Diagnostic Trouble Code (DTCs)
2.Erasing Codes & Reset: Turns off Check Engine Light (MIL), clears codes and resets monitors.
3.Data Stream: Reads and displays live ECU/PCM data stream, plotting functions graphically and stores freeze frame data.
4.I/M Readiness Status: Shows whether the various emissions-related systems on the vehicle are operating properly and are ready for inspection and maintenance testing.
5.Read Live Data Stream: Show the information of continuous data stream from a vehicle in live graphic display.(3 data stream display modes available: figure/value/4 data stream in one graph)
6.View Freeze Frame Data: Check the certain vehicle conditions which are recorded by the on-board computer at the time the emission-related fault occurs.
7.O2 Sensor Test: Allows retrieval and viewing of O2 sensor monitor test results for the most recently performed tests from the vehicle's on-board computer.
8.On-Board Monitor Test: Retrieves and displays test results for emission-related powertrain components and systems.
9.Read Vehicle Information: Display the information such as VIN (Vehicle Identification Number), CID (Calibration ID) and CVN (Calibration verification number), etc.
10.Component Test: Certain vehicle components can be actuated by commands sent from the scanner to test their operability.
The LAUNCH CRP919E Car Reader meets the following protocols:
-ISO 14230-4 (KWP2000)
-ISO 11898-1:2015(CAN-FD)
-ISO 13400( DoIP)
-ISO 15765-4 (CAN)
-ISO 9141-2 (ISO)
-ISO 14229 (UDS)
-SAEJ 1850 (VPW & PWM)
The following vehicle models meet -ISO 11898-1:2015(CAN-FD) protocol:
2021 for Chevrolet Tracker/Suburban/Tahoe;
2020-2021 for Chevrolet Onix 1.0L(L4F/L4G/LIJ/LIF)/Onix 1.2L(LIF);
2021 for Cadillac Escalade/Escalade ESV;
2021 for GMC YUKON/YUKON XL;
2020 for Chevrolet Tracker
Technical Detailed:
Screen Size:7" Touch Screen
Operating System:Android 5.0
Resolution:1024*600 pixels
Battery Capacity:6000mAh
RAM: 3GB
ROM: 32GB
Size:251.4mm x 150.6mm x 40.4mm
OBD II Input voltage range: 9~18V
Charging via: DC 5V charging cable & power adaptor or Diagnostic cable through connection to vehicle's DLC
Working Temperature: -10℃ to 50℃ (14℉ to 122 ℉)
Storage Temperature: -20℃ to 70℃ (-4℉ to 158 ℉)
LAUNCH CRP919E Packing List
1.CRP919E Diagnostic Tool x1
2. OBD II Diagnostic Cable x 1
3. DC 5V Charging Cable x 1
4. US Plug Adapter x1;EU Plug Adapter x1;UK Plug Adapter x1
5. Multilingual Quick Start Guide x 1
6. User Manual x 1
7. Carrying Case x 1