Launch THINKCAR THINKSCAN 601 Professional Scanner Full OBD2 Car Diagnostic Tool For Engine ABS SRS Systems with Oil EPB SAS TPMS Reset
$125.42
Thinkscan 600/THINKSCAN 601/Thinkcar TS609
Thinkcar ThinkScan 601 OBD2 Scanner, Lifetime Free ECM/ ABS/ SRS Scanner with Resets, Car Code Reader with Oil/ Brake/ TPMS/ SAS Resets Services, Car Check Engine Scan Tool, OBD2 Reader, DTC Lookup
Read before buying
ThinkScan TS601 is designed for private car owners to check Engine, ABS, Airbag SRS, Oil light service reset,TPMS reset, SAS reset,EPB faults .It provides easy diagnosis on more than 38 American, Asian and European vehicle Brands .In addtion,free lifetime software let you stay current with latest technology.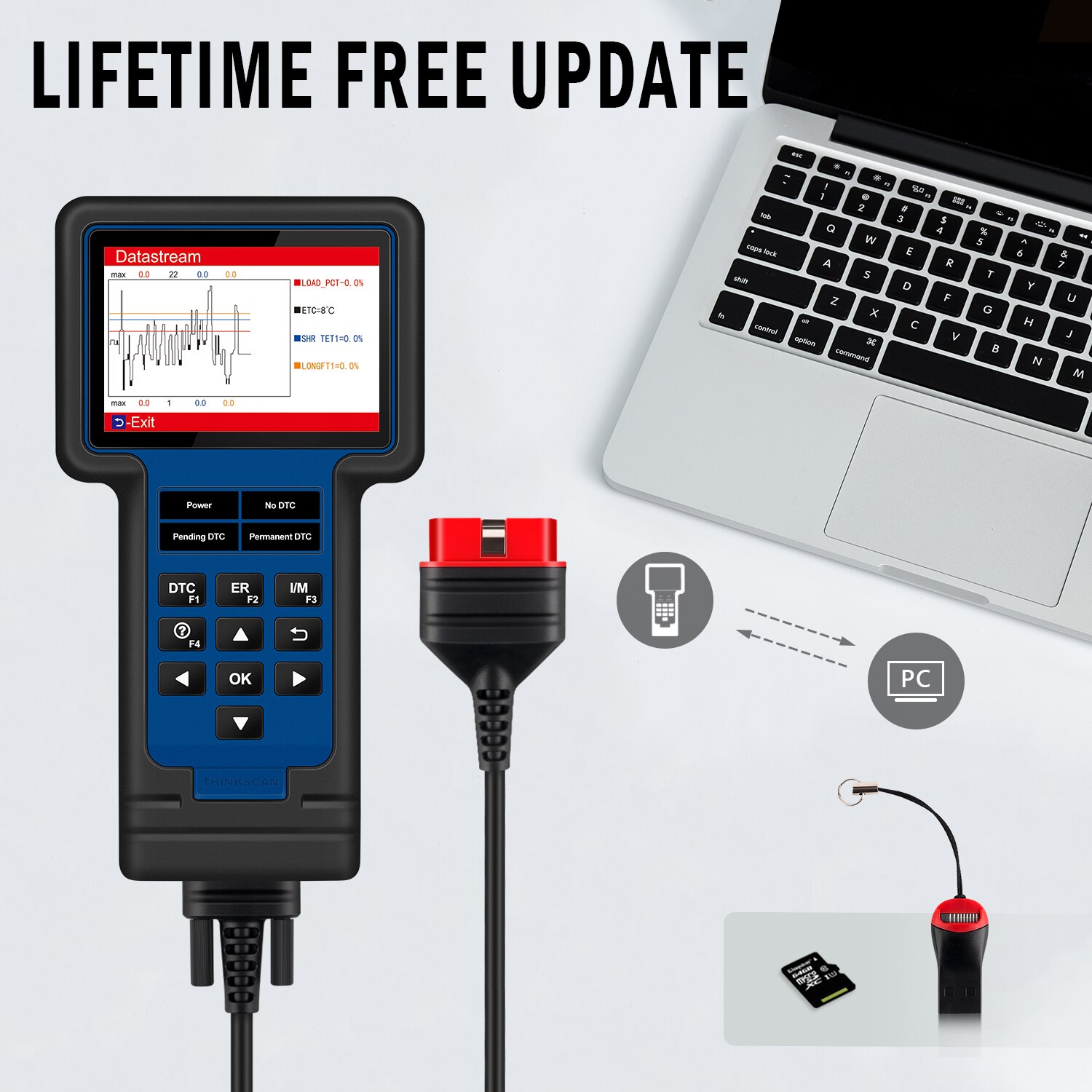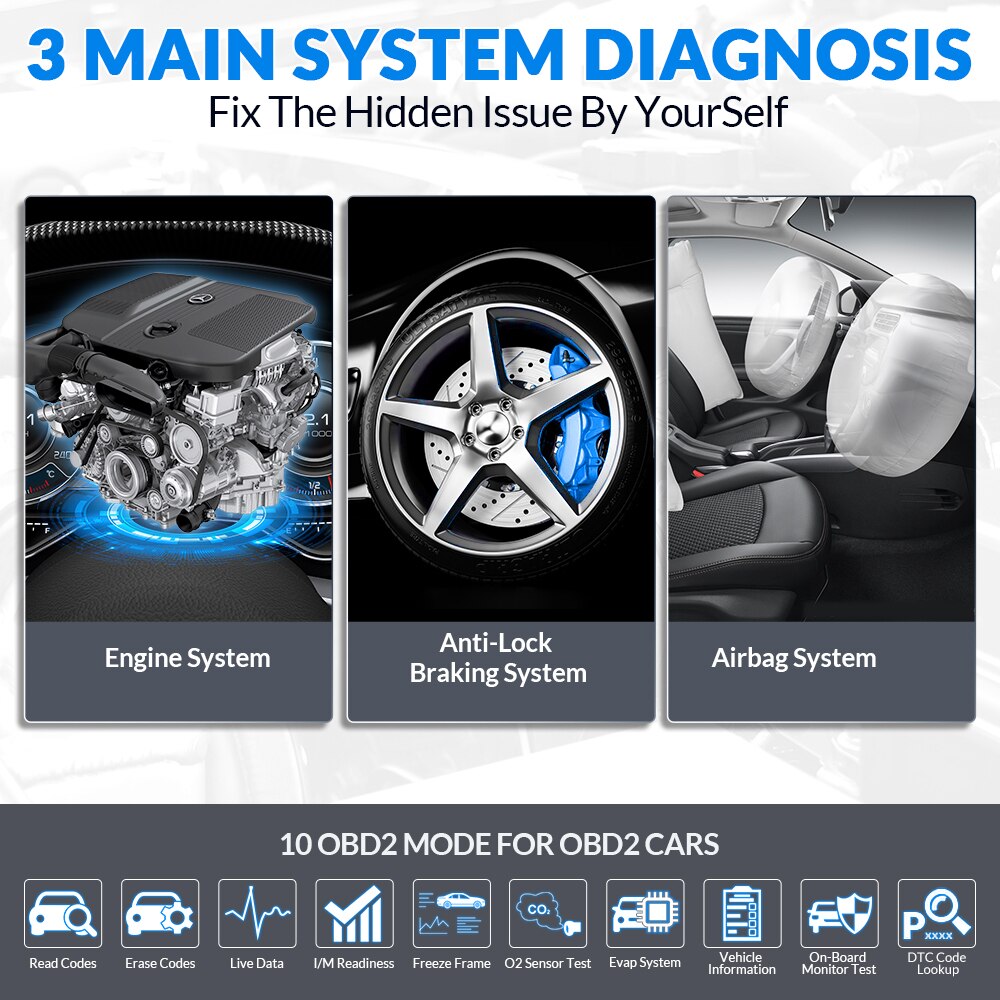 Why Choose TS601?
1.Thinkscan ts601 Support to diagnostic ABS/SRS/Engine scar system errors, and delete the errors. 2.Thinkscan ts601 supports to do Full obd 2 function,including Read/Clear codes,data stream,I/M readiness,O2 sensor,DTC look up and more.... 3. Thinkscan ts601 can do 4 reset revices functions, they are Oil lamp/EPB/SAS/Brake/TPMS reset functions.powerful than Launch x431 devices 4.You can do screen shortcuts via I/M key with Thinkscan ts601 devices, easy and fast 5.Thinkscan ts601 Support to printe Diagnostic Report data, checking errors 6.Thinkscan ts601 software update free lifetime. 7. TS601 supports Muli-language: English , French , Spanish , German , Russian, Italian , Portuguese , Japanese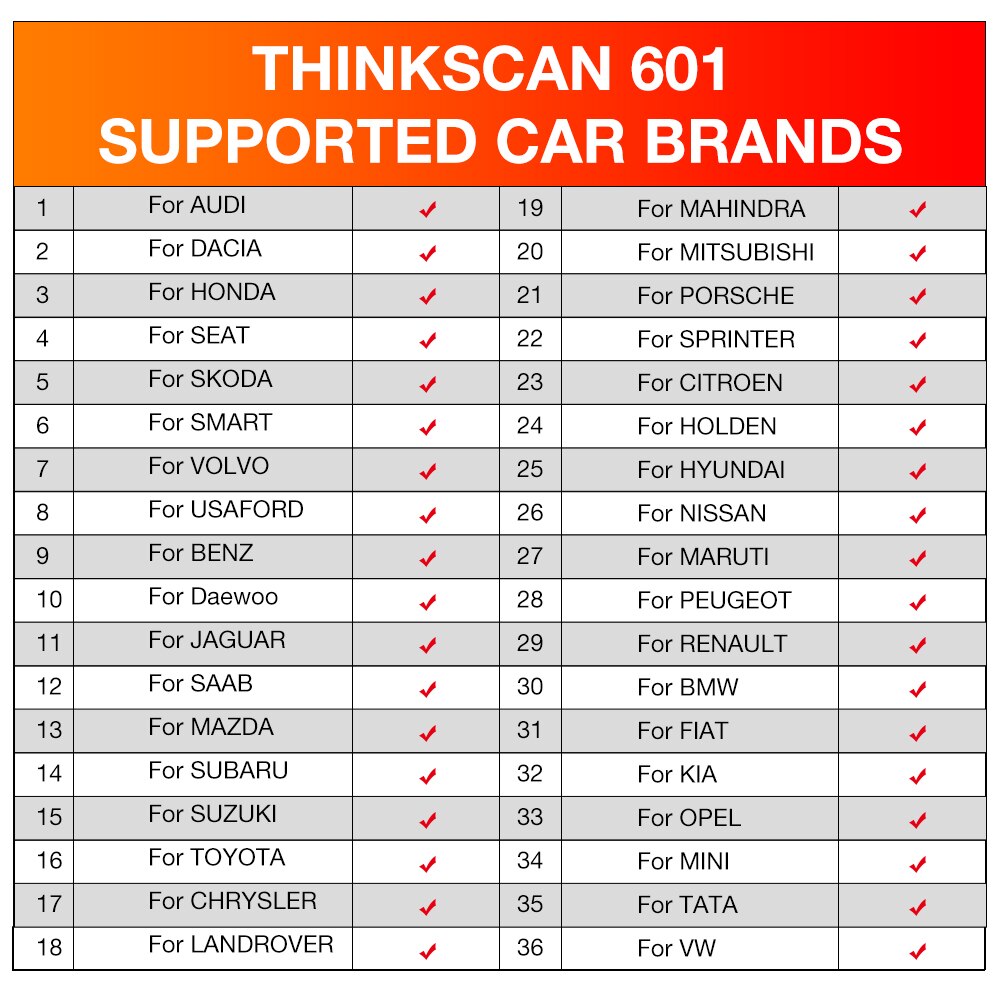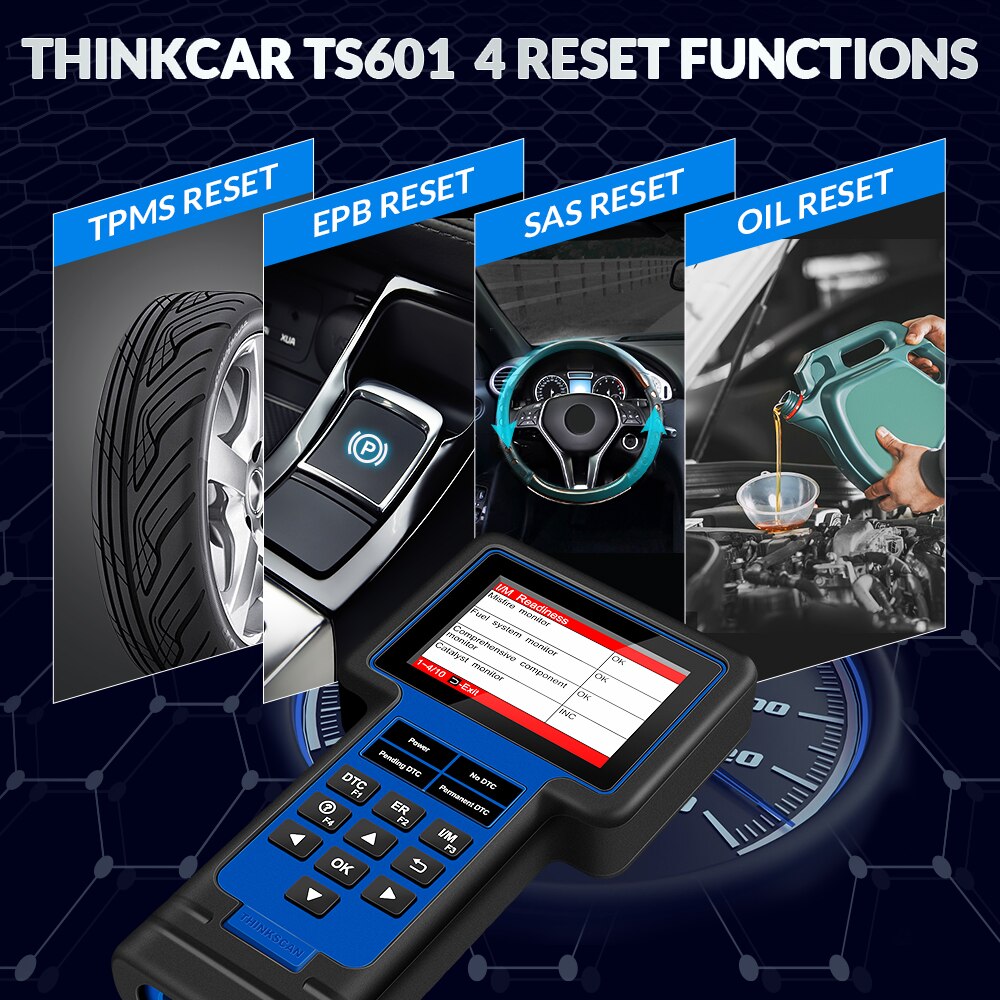 1.Support 3 System Diagnostic: This car obd2 scanner is capable of reading and clearing trouble codes of Engine, Airbag/SRS, ABS. 2.Engine system Diagnostic: You can diagnose the engine system via ecu obd2 port, support all 10 OBDII test modes, such as live data, O2 sensor test, component test and more;read and clear the engine error codes, find out the exactly problem, repair it, and turn off the MIL engine light. 3.ABS system Diagnostic: Diagnosing an ABS problem should always start with a visual inspection of all brake components, next you will need to retrieve ABS codes to tell you where the problem is, and this is what this scanner does for you. 4.SRS system Diagnostic: safety restraint system, is made up of impact sensors, a control module, and the airbags themselves, and this diagnostic device can detect every electronic parameter to check its health status.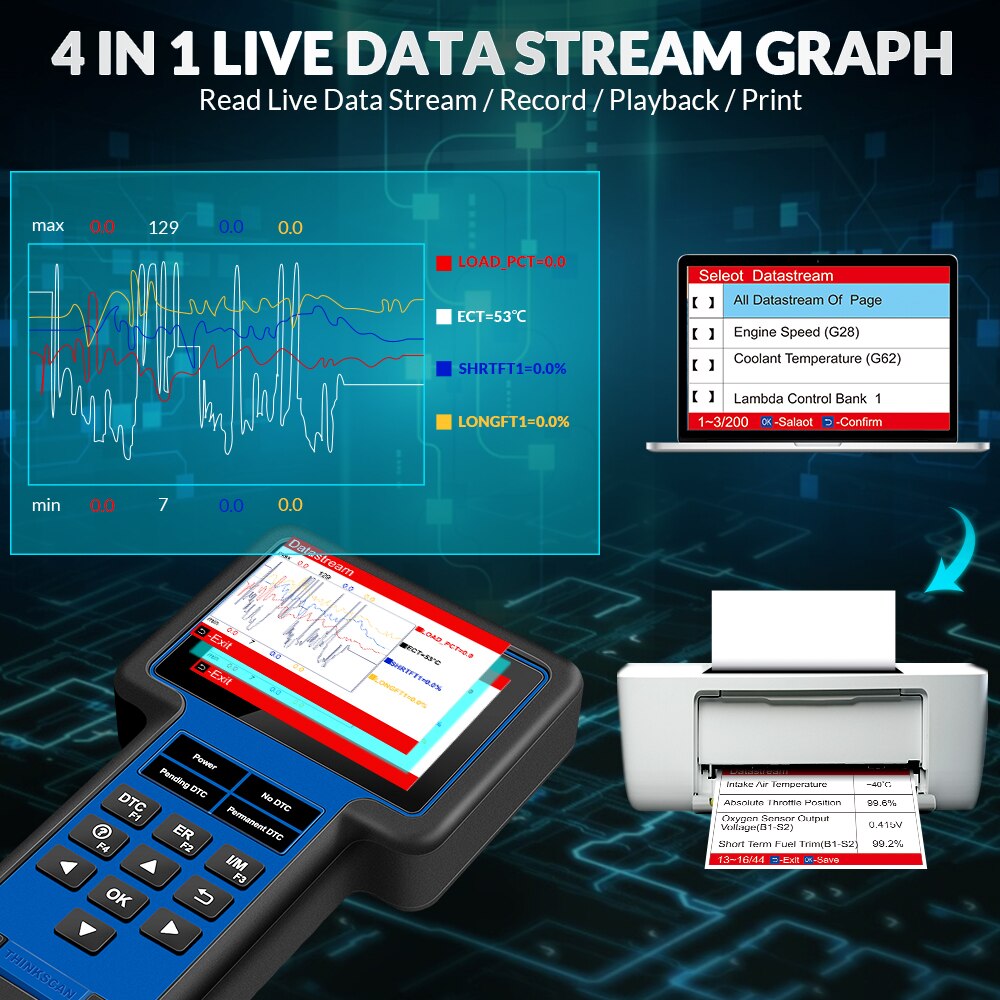 1. EPB Electronic Parking Brake Service Reset: Allows you to perform the service and maintenance of brake systems, including deactivation and activation of the brake control system, bleeding brake fluid, openingand closing brake pads, and setting brakes after disc or pad replacement. 2. Oil Light Service Reset: Oil Light Reset menu allows you to reset the service lamps on the instrument cluster. 3.SAS Reset Steering Angle Sensor Calibration let you perform calibration of the Steering Angle Sensor. 4.TPMS, Tire Pressure Monitoring System Programming allows you to check the tire sensor IDs from the vehicle ECU and to perform TPMS programming and reset after tires and/or TPM sensors are replaced and/or tires are rotated.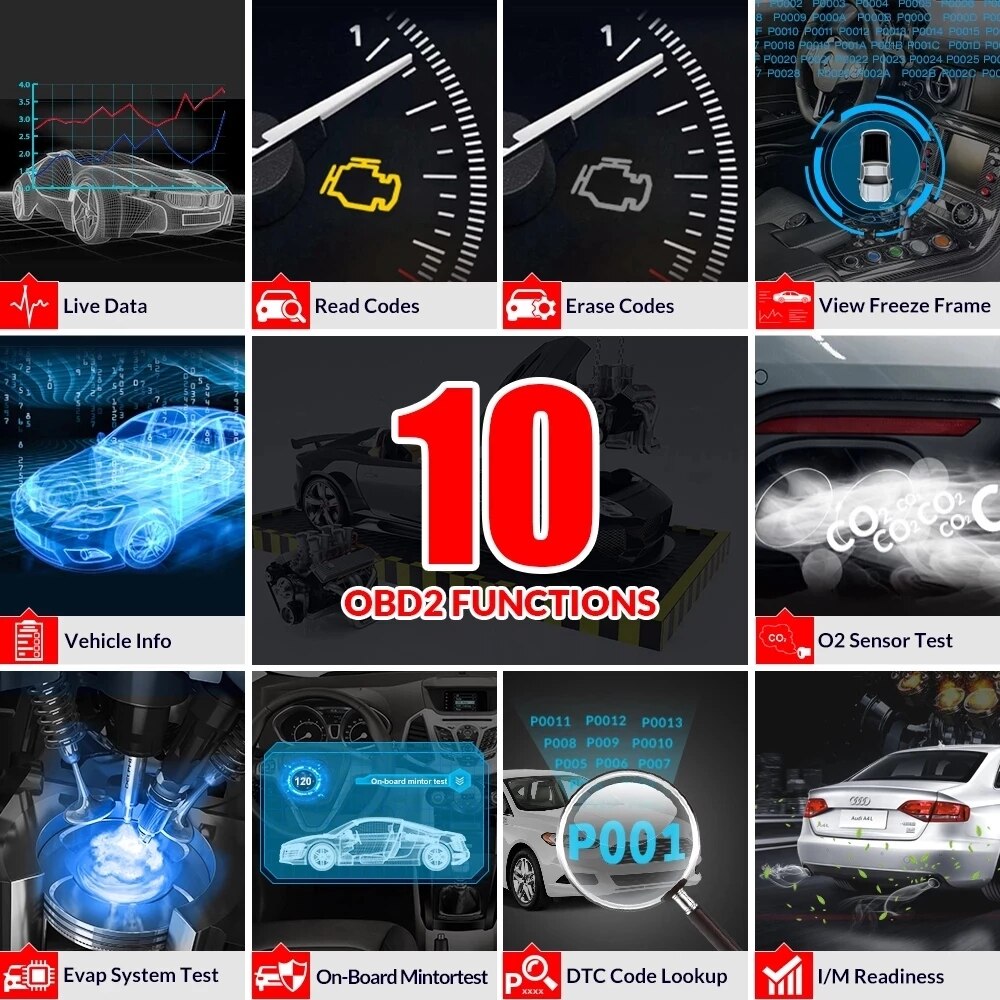 Reading Codes: Show the detailed description of the Diagnostic Trouble Code (DTCs) Erasing Codes & Reset: Turns off Check Engine Light (MIL), clears codes and resets monitors. Data Stream: Reads and displays live ECU/PCM data stream, plotting functions graphically and stores freeze frame data. I/M Readiness Status: Shows whether the various emissions-related systems on the vehicle are operating properly and are ready for inspection and maintenance testing. Read Live Data Stream: Show the information of continuous data stream from a vehicle in live graphic (waveform) display. View Freeze Frame Data: Check the certain vehicle conditions which are recorded by the on-board computer at the time the emission-related fault occurs. O2 Sensor Test: Allows retrieval and viewing of O2 sensor monitor test results for the most recently performed tests from the vehicle's on-board computer. On-Board Monitor Test: Retrieves and displays test results for emission-related powertrain components and systems. Read Vehicle Information: Display the information such as VIN (Vehicle Identification Number), CID (Calibration ID) and CVN (Calibration verification number), etc. Component Test: Certain vehicle components can be actuated by commands sent from the scanner to test their operability.