THINKCAR ThinkScan Max 2 Diagnostic Tools Full system Support CANFD IMMO 28 Reset ECU Coding

$399.00 $499.00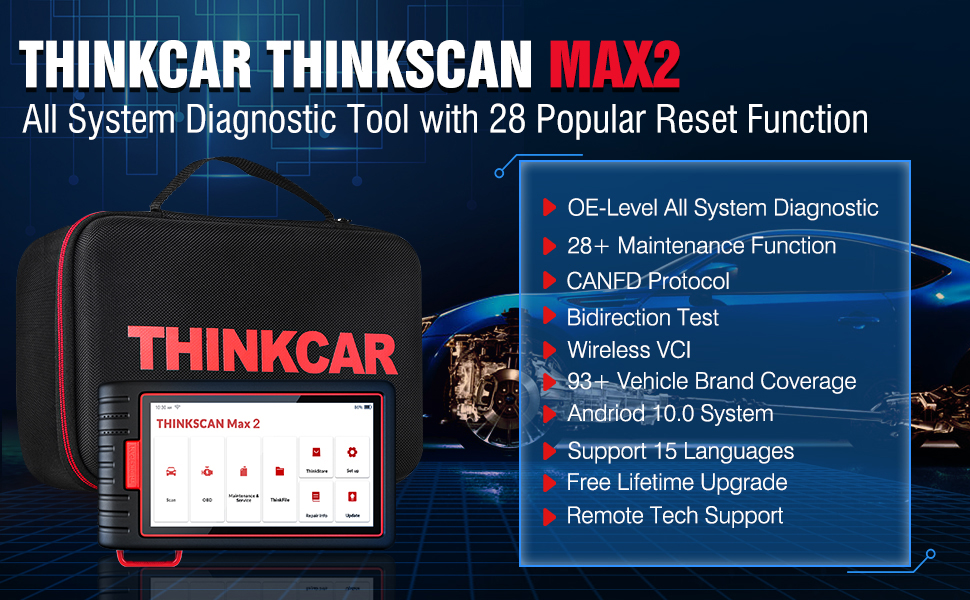 THINKCAR THINKSCAN MAX 2 Full Systems Automotive Diagnostic Tool Support CANFD For GM 2022 ECU CODING Active Test 28 Reset Function OBD2 Scanner Lifetime Free Update
( PK LAUNCH CRP909 CRP909X CRP909E CRP909C , Thinktool mini , ArtiDiag800 BT , AD800, THINKCAR MUCAR VO6 )
ThinkCar ThinkScan Max Language :
English, Portuguese, French, Russian, Spanish, Japanese, Korean, German, Traditional Chinese, Hungarian, Polish, Italian,Greek, Arabic,Slovak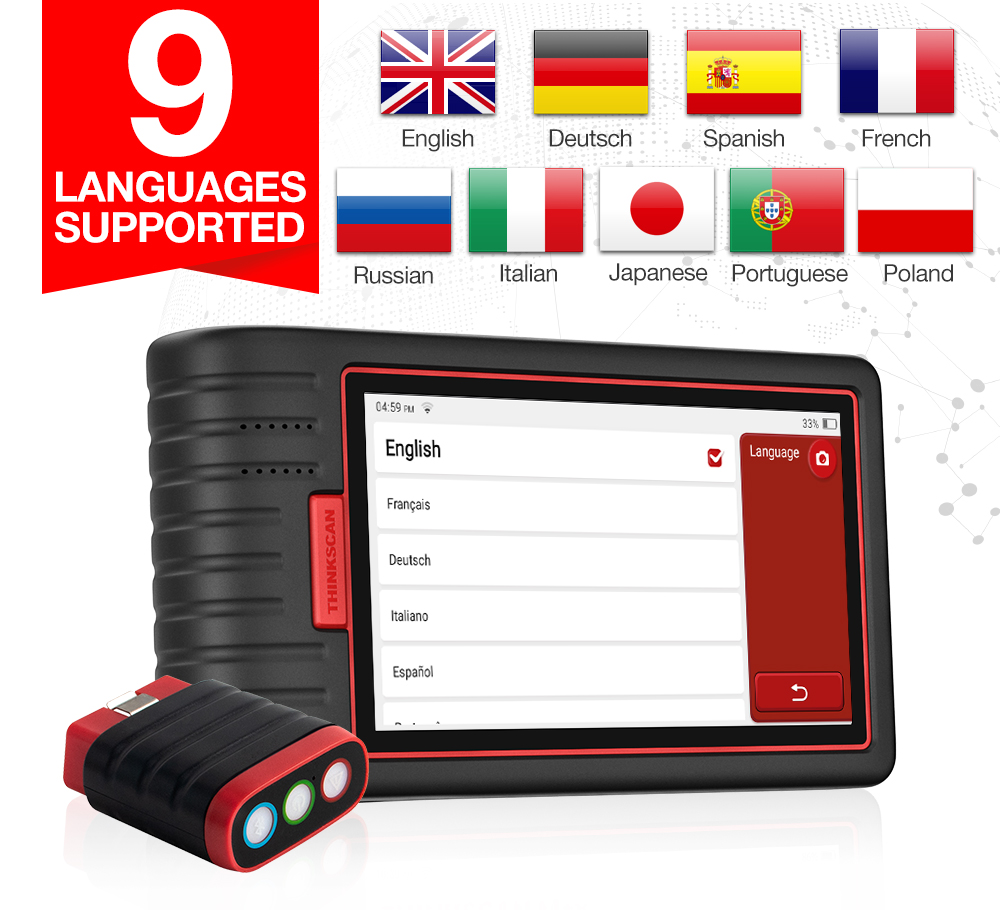 THINKCAR THINKSCAN 2 supports CANFD protocol , supports more cars .
ThinkScan MAX 2 automotive OBD2 scanner is the only product in this price range that is compatible with CAN-FD protocol and supports the latest For GM vehicles manufactured after 2020. Adopts advanced CRC algorithms to accommodate more data from 8 to 64 bytes in the CAN frame, which runs faster than other products and reduces the risk of undetected errors to greatly enhance the user experience.
Supports For Chevrolet Onix 2020-2021 year
Supports For Chevrolet Tracker 2020 year
Supports For Chevrolet Suburban 2021 year
Supports For Chevrolet Tahoe 2021 year
Supports For Buick
Supports For Cadillac Escalade 2021 year
Supports For Cadillac Escalade 2021 year
Supports For GMC Yukon 2021 year
Supports For GMC Yukon XL 2021 year
Supports For Holden
Supports For DAEWOO
Supports For Alpheon
Supports For Ravon
Supports For Pontiac
Supports For Saturn
Supports For Hummer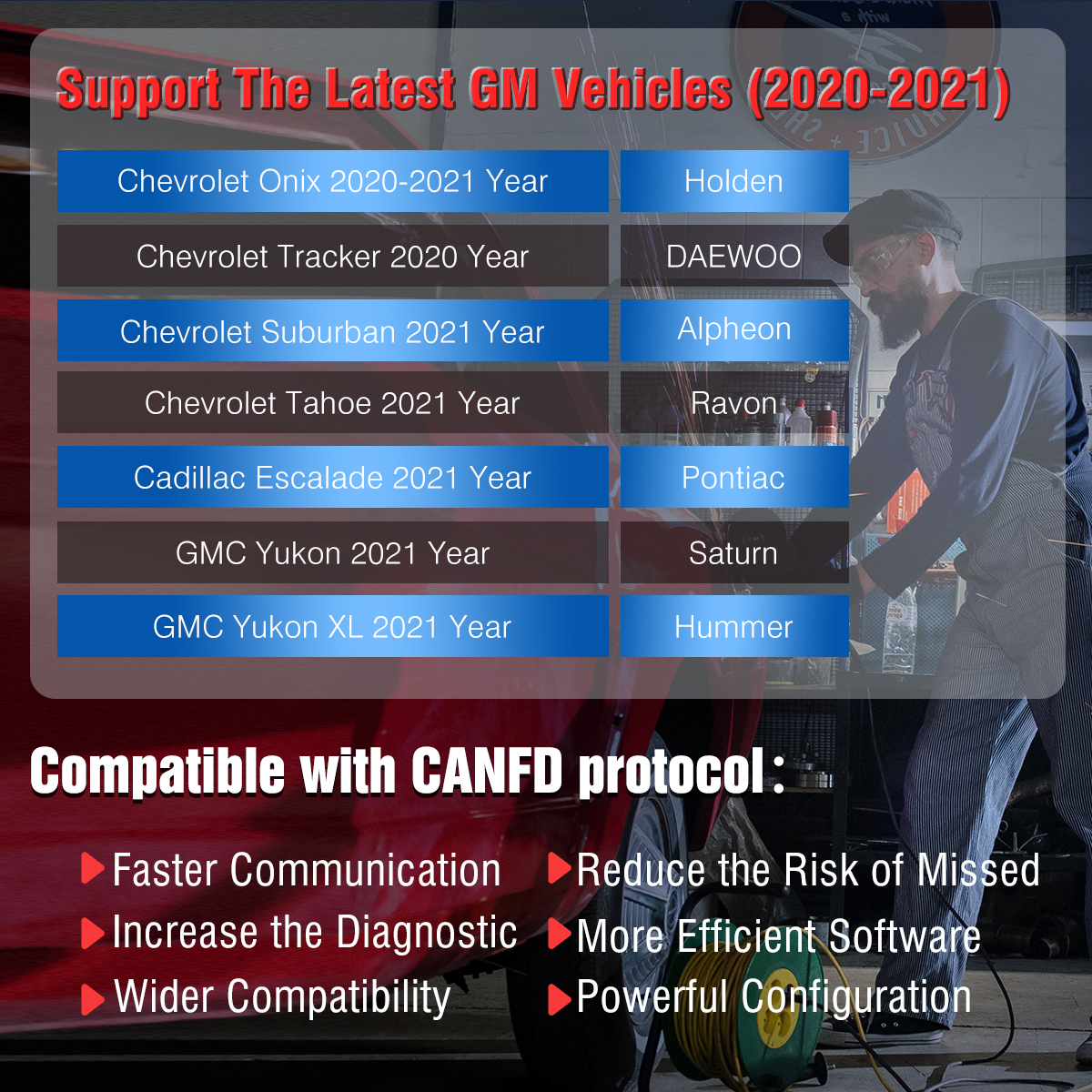 Why is ThinkScan MAX 2 the First and Best Choise ? What advantage Function does it have ?
The First reason:

ThinkScan MAX 2 supports ECU Coding and Active Test ( Bi-directional Control ) , this two function is very powerful , with them , you can solve almost problem of the car .

ECU coding can Carry out the customer's personalized customization of the car, can do some hidden function, such as setting alarms, door locks and outdoor lighting, etc .

Active Test (Bi-direction Tests) can test whether the actuator is normal or not , like turn on the radiator fan, adjust the throttle, open/close windows etc .

If you are car owner, with the two function , you can know the problem of the car more clearly , also can customize your car directly . Do not need go to the car repair shop , you can save a lot of Money .

If you are Car Repair shop, ThinkScan MAX can supply All demand, you do not need with a tool with so expensive , only thinkscan max ( about US$300 ) !!!

What is more , ThinkScan MAX is the only one can support ecu coding and Active Test (Bi-direction Tests) functions in the scanner with similar price , the others like MK808 , CRP909E , CRP909X, ArtiDiag800 BT etc, all does not support .

The Second Reason :

THINKSCAN MAX is with Lifetime Free Update ! All system Diagnose function , OBD2 function and 28 reset Function , All are Lifetime Free Update !

If you are regular in Auto repair industry , you will know , no matter LAUNCH , Autel or other products , the update need pay , like launch x431 products , it need US$399/year for the update , it will cost lot for update year by year !

But if you own ThinkScan MAX , the update is not a problem , you do not need pay any more , still can update year by year, this can help you save more money ! Doesn't this impress you ?

All in All , no matter you are car owner or auto repair shop , I recommand ThinkScan MAX to you !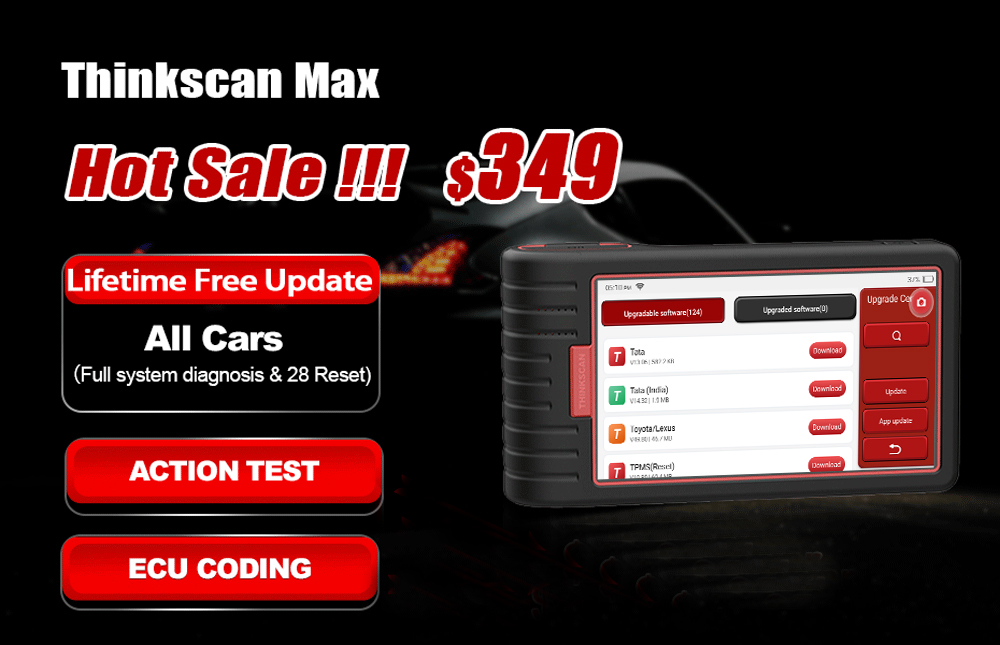 THINKSCAN Max 2, one of the diagnostic products launched by THINKCAR TECH INC, isthe highest-level OBD product of the THIiNK series for DIY users.Equipped with Androidoperating system, it features powerful functions and can be updated online. Moreover, fullcommunication protocols make it cover a wider range of vehicle models.

Through the simple Bluetooth communication between diagnostic dongle and the hostcomputer, it achieves full car model and full system vehicle trouble diagnosis,whichinclude Reading DTCs, Clearing DTCs,Reading Data Stream, Actuation Test and SpecialFunctions.
What is Active Test &Bi-directional control?
Bi-Directional Control capability and is capable of performing Active Tests to access vehicle-specific subsystems and component tests. The tester outputs commands to the ECU to drive the actuators in order to determine the integrity of the system or parts by reading the ECU data, or by monitoring the operation of the actuators .For example , x431 v have the ability to actuate relays, injectors, coils, or perform system tests, etc. Also it will actuate solenoids valve and actuators for active testing to identify the error easily moreover. The bidirectional functions are quite extensive. even open an e.g.r. valve and seeing the difference in idle response and oxygen sensor voltage. Please note: Active tests are NOT universal for all vehicles, check compatibility with VIN number before purchase. Active tests vary depending on the manufacturer, year, and model, and only the available tests display in the menu.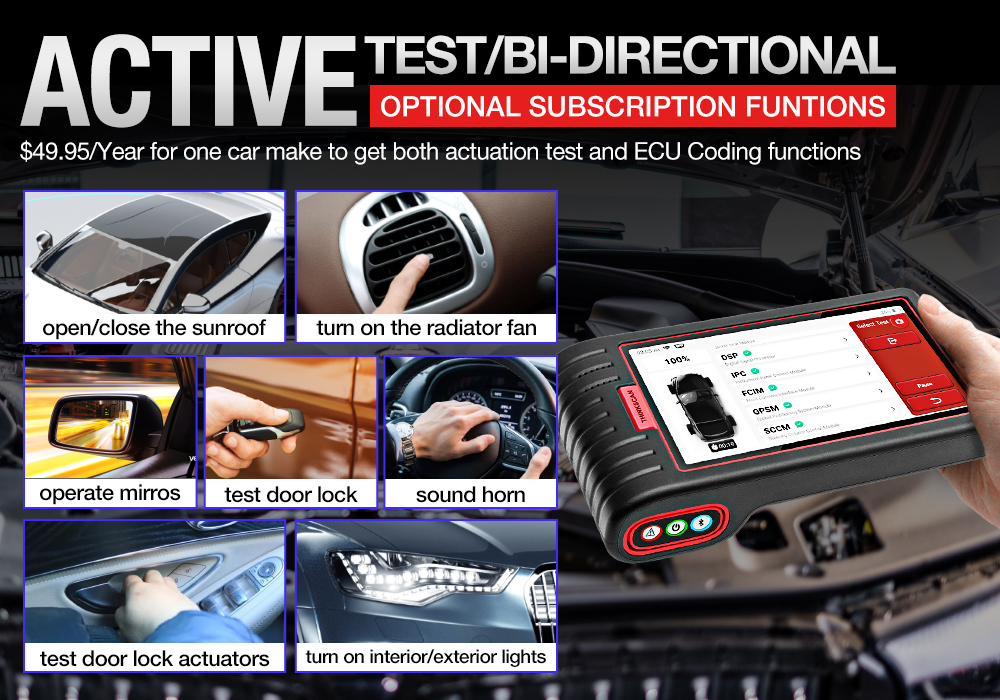 What is ECU Coding?
The advanced coding function is used to re-flash the vehicle control modules, which allows you to update the computer software on the vehicle to the latest version, as well as to reprogram adaptive data for certain components after making repairs or replacements, providing solutions for the issues of drivability, fuel efficiency, power loss, fault codes, durability of mechanical parts etc. But please note, ecu coding are NOT universal for all vehicles, please check compatibility with VIN number before purchase.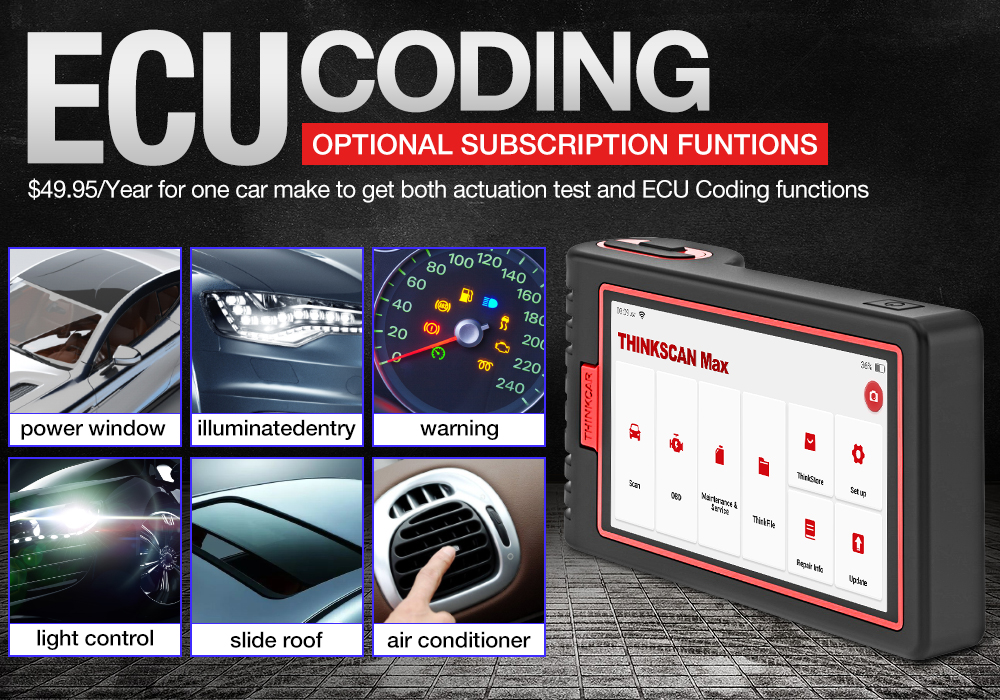 ThinkCar ThinkScan Max 2 supports Full system of the cars :
Engines/Auto Transmission/Airbags/
Immobilizer/Key Coding/ABS/Cruise Control/
Instruments/ Self Leveling Suspension systems/
Seats/Doors/Gateway/Steering Angle/Air Suspension/Body Systems/Electronic Power Steering & Motor Assisted/Power Steering/Tyre Pressure/Rain Sensors/4WD System/
Stabilizer/Intelligent Parking Assist/Door Motors/Audio Systems/Air Conditioning/Tiptronic/Anti Theft/Soft Top/Headlamp Leveling/Central Locking/Automatic Clutch/ DPF Reset/Electric Windows/Plip Programming/Heated Rear Window/Xenon Headlights/Wash Wipe/Fuel Burning Heater/Transfer Box/Seat Memory/Oil Life Service Reset/Sliding Doors/Electronic Throttle/Navigation System/Rollover Sensor/Cruise Control/ Multi Function Steering Wheel/Aux Heating/Electronic Parking Brake/Clutch Electronics etc.( Great for car repair shops and mechanics to improve business)

It supports the detailed Function :

--read fault codes: read and decode the DTCs to identify where the fault location is;
--clear fault codes: erase the DTCs to turn off the MIL after repairs;
--retrieve ecu information: allows you to retrieve vehicle information;
--Graph live data stream: view the dynamic data stream to determine vehicle condition

With the Diagnose Function , you can enhance performance, save energy, reduce emissions and more as following:

For Engine: detect common issues as Poor lubrication, Failing oil pump, Oil deposits and debris, Inadequate fuel and air compression, Leaking engine coolant, Blocked engine radiators, Prolonged engine detonation, Damaged oxygen sensors, Aged spark plugs, etc.

For SRS: pinpoint the trouble area as: a bad seat belt, a corroded crash sensor, or some water intrusion in a connector, etc.

For ABS: diagnose Blown sensor fuse, Low brake fluids, and Faulty sensor, etc.

For Transmission: avoid Grinding or shaking sensation in gear, Whining, humming or clunking noises, Burning smells, Gears Slipping, Low or Leaking Transmission Fluid, etc.

For TPMS: verify problems of Low tire pressure, Faulty in tire pressure monitor control module, Unknown tire sensor, Failure to identify tire sensor, etc.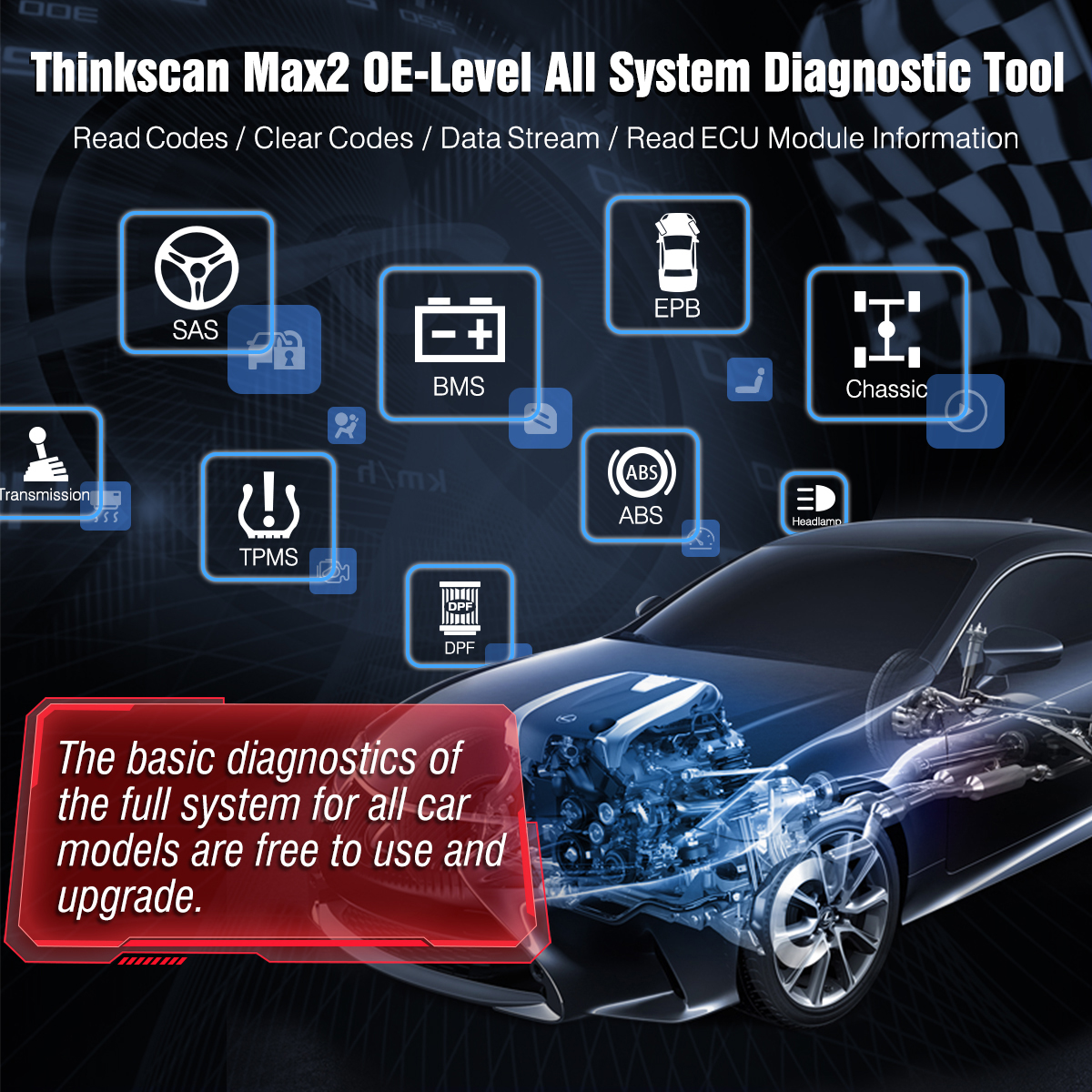 THINKCAR ThinkScan Max 2 has 28 service functions which allows you to reset various systems in your vehicle. support more function than other scanners priced similarly :
1 Oil Reset ( Supports 53 Brands )

The lightening of the car maintenance light indicates that the vehicle needs maintenance.Reset themileage or driving time to zero after the maintenance, so the maintenance light will go out and the systemwill start a new maintenance cycle.

2 Elec.Throttle Adaption ( Supports 37 Brands )

Elec. Throttle Adaption is to utilize the car decoder to initialize the throttle actuator so that the learningvalue of the ECU returns to the initial state.By doing these, the movement of the throttle (or idle motor)can be more accurately controlled, thus adjust the intake volume.

3 SAS - Steering Angle Reset ( Supports 44 Brands )

To reset the steering angle, first find the relative zero point position for the car to drive in straight line.Taking this position as reference, the ECU can calculate the accurate angle for left and right steering.After replacing the steering angle position sensor, replacing steering mechanical parts (such as steeringgearbox, steering column, end tie rod, steering knuckle), performing four-wheel alignment, or recoveringcar body, you must reset the steering angle.

4 Battery Matching ( Supports 33 Brands )

This function enables you to perform a resetting operation on the monitoring unit of vehicle battery, inwhich the original low battery fault information will be cleared and battery matching will be done.

5 ABS Bleeding ( Supports 34 Brands )

When the ABS contains air, the ABS bleeding function must be performed to bleed the brake system torestore ABS brake sensitivity. lf the ABS computer,ABS pump, brake master cylinder, brake cylinder, brakeline, or brake fluid is replaced, the ABS bleeding function must be performed to bleed the ABS.

6 Brake Reset ( Supports 41 Brands )

lf the brake pad wears the brake pad sense line, the brake pad sense line sends a signal sense line to theon-board computer to replace the brake pad.After replacing the brake pad, you must reset the brake pad.Otherwise, the car alarms.

7 DPF Regeneration ( Supports 39 Brands )

DPF regeneration is used to clear PM (Particulate Matter) from the DPF filter through continuouscombustion oxidation mode (such as high temperature heating combustion, fuel additive or catalyst reducePM ignition combustion) to stabilize the filter performance.

8 Gear Learning ( Supports 22 Brands )

The crankshaft position sensor learns crankshaft gear machining tolerance and saves to the computerto more accurately diagnose engine misfires. lf gear learning is not performed for a car equipped withDelphi engine, the MlL turns on after the engine is started.The diagnostic device detects the DTC P1336'gear not learned'. In this case, you must use the diagnostic device to perform gear learning for the car.After gear learning is successful, the MIL turns off. After the engine ECU, crankshaft position sensor, orcrankshaft flywheel is replaced, or the DTC 'gear not learned" is present, gear learning must be performed.

9 IMMO Service ( Supports 46 Brands )

To prevent the car being used by unauthorized keys, the anti-theft key matching function must beperformed so that the immobilizer control system on the car identifies and authorizes remote control keysto normally use the car. When the ignition switch key, ignition switch, combined instrument panel,ECu,BCM, or remote control battery is replaced, anti-theft key matching must be performed.

10 Injector Coding ( Supports 47 Brands )

Write injector actual code or rewrite code in the ECU to the injector code of the corresponding cylinder soas to more accurately control or correct cylinder injection quantity. After the ECU or injector is replaced,injector code of each cylinder must be confirmed or re-coded so that the cylinder can better identifyinjectors to accurately control fuel injection.

11 TPMS Reset ( Supports 39 Brands )

After the tire pressure MIL turns on and maintenance is performed, the tire pressure resetting functionmust be performed to reset tire pressure and turn off the tire pressure MIL.Tire pressure resetting mustbe performed after maintenance is performed in the following cases: tire pressure is too low, tire leaks, tirepressure monitoring device is replaced or installed, tire is replaced, tire pressure sensor is damaged,andtire is replaced for the car with tire pressure monitoring function.

12 Suspension Matching ( Supports 14 Brands )

This function can adjust the height of the body. When replacing the body height sensor in the airsuspension system, or control module or when the vehicle level is incorrect, you need to perform thisfunction to adjust the body height sensor for level calibration.

13 AFS Reset ( Supports 21 Brands )

This feature is used to initialize the adaptive headlamp system.According to the ambient light intensity, theadaptive headlamp system may decide whether to automatically turn on the headlamps, and timely adjustthe headlamp lighting angle while monitoring the vehicle speed and body posture.

14 A/T Learning ( Supports 14 Brands )

This function can complete the gearbox self-learning to improve gear shifting quality. When the gearbox isdisassembled or repaired (after some of the car battery is powered off), it will lead to shift delay or impactproblem. In this case, this function needs to be done so that the gearbox can automatically compensate according to the driving conditions so as to achieve more comfortable and better shift quality.

15 Sunroof Initialization ( Supports 4 Brands )

This function can set the sunroof lock off, closed when it rains,sliding / tilting sunroof memory function,temperature threshold outside the car etc.

16 EGR Adaption ( Supports 10 Brands )

This function is used to learn the EGR (Exhaust Gas Recirculation) valve after it is cleaned or replaced.

17 ODO Reset ( Supports 10 Brands )

a) ODo reset is to copy,write, or rewrite the value of kilometers in the chip of odometer by using a cardiagnostic computer and data cable, so that the odometer shows the actual mileage.
b)Usually when the mileage is not correct due to the damaged vehicle speed sensor or odometer failure, it is necessary to do ODo reset after maintenance.

18 Airbag Reset ( Supports 12 Brands )

This function resets the airbag data to clear the airbag collision fault indicator. When the vehicle collidesand the airbag deploys, the corresponding fault code of the collision data appears, the airbag indicatorlights up, and the fault code cannot be cleared. Since the data inside the airbag computer is disposable,it is required that all new accessories must be replaced, but after performing this function, the data of theairbag computer can be recovered and the fault code can be cleared, the airbag light will go out, and theairbag computer can continue to use.

19 Transport Mode ( Supports 13 Brands )

ln order to reduce power consumption, the following functions may be disabled,including limiting thevehicle speed, not waking up the door opening network, and disabling the remote control key, etc. At thistime, the transport mode needs to be deactivated to restore the vehicle to normal.

20 A/F Reset ( Supports 5 Brands )

This function is applied to set or learn Air/Fuel ratio parameters.

21 Stop/Start Reset ( Supports 5 Brands )

This function is used to open or close the automatic start-stop function via setting the hidden function inECU(provided that the vehicle has a hidden function and supported by hardware).

22 NOx Sensor Reset ( Supports 12 Brands )

NOx sensor is a sensor used to detect the content of nitrogen oxides (NOx) in engine exhaust. lf theNOx fault is re-initialized and the NOx catalytic converter is replaced, it is necessary to reset the catalyticconverter learned value stored in the engine ECu.

23 AdBlue Reset (Diesel Engine Exhaust Gas Filter - Supports 8 Brands)

After the diesel exhaust treatment fluid (car urea) is replaced or flled up, urea reset operation is required.

24 Seat Calibration ( Supports 26 Brands )

This function is applied to match the seats with memory function that are replaced and repaired.

25 Coolant Bleeding ( Supports 5 Brands )

Use this function to activate the electronic water pump before venting the cooling system.

26 Tyre Reset ( Support 13 Brands )

This function is used to set the size parameters of the modified or replaced tire.

27 Windows Calibration ( Supports 24 Brands )

This feature is designed to perform door window matching to recover ECU initial memory, and recover theautomatic ascending and descending function of power window.

28 Language Change ( Supports 22 Brands )

This function is used to change the system language of the vehicle central control panel.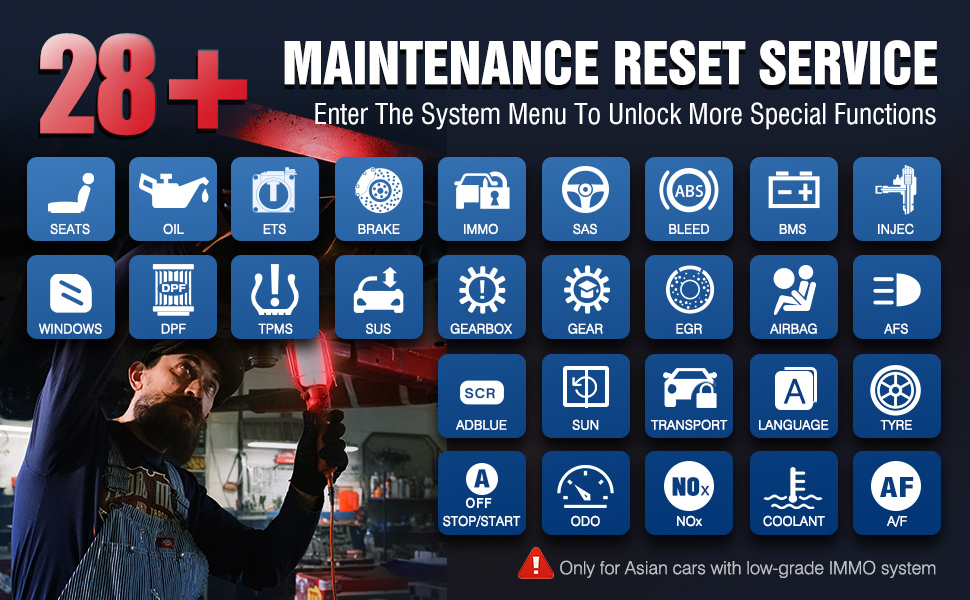 ThinkCar ThinkScan Max 2 Full OBD Function :
Reading Codes: Show the detailed description of the Diagnostic Trouble Code (DTCs)

Erasing Codes & Reset: Turns off Check Engine Light (MIL), clears codes and resets monitors.

Data Stream: Reads and displays live ECU/PCM data stream, plotting functions graphically and stores freeze frame data.

I/M Readiness Status: Shows whether the various emissions-related systems on the vehicle are operating properly and are ready for inspection and maintenance testing.

Read Live Data Stream: Show the information of continuous data stream from a vehicle in live graphic (waveform) display.

View Freeze Frame Data: Check the certain vehicle conditions which are recorded by the on-board computer at the time the emission-related fault occurs.

O2 Sensor Test: Allows retrieval and viewing of O2 sensor monitor test results for the most recently performed tests from the vehicle's on-board computer.

On-Board Monitor Test: Retrieves and displays test results for emission-related powertrain components and systems.

Read Vehicle Information: Display the information such as VIN (Vehicle Identification Number), CID (Calibration ID) and CVN (Calibration verification number), etc.

Component Test: Certain vehicle components can be actuated by commands sent from the scanner to test their operability.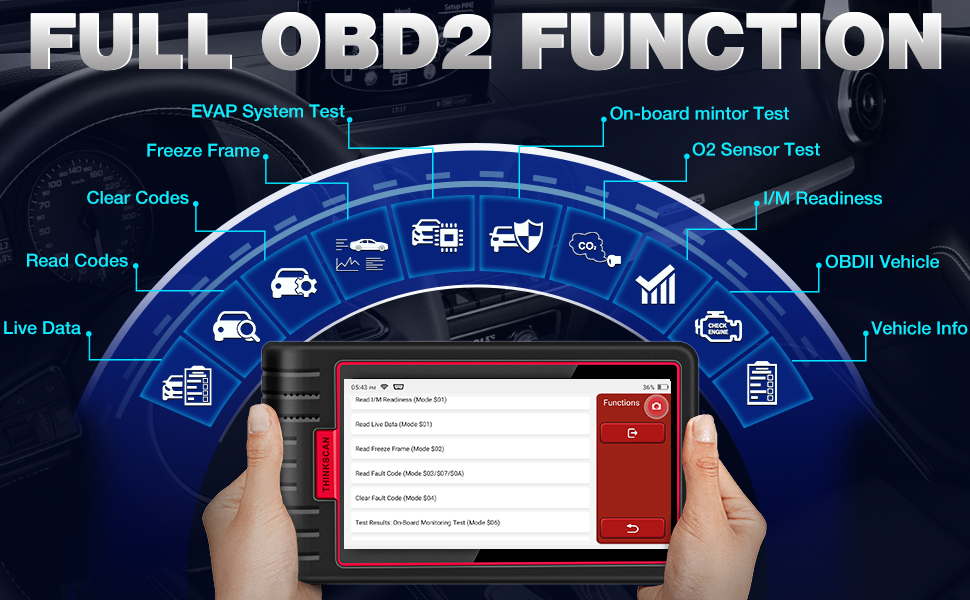 The Other Function of ThinkCar ThinkScan Max 2 :
AUTOVIN SCAN: click "diagnose" and "autosearch" after connecting to the vehicle. Then the thinktool mini automotive diagnosti tool will begin to scan the VIN automatically.

One-Key Wifi Update: no need to update on computer. Just click update after connecting wifi, then all softwares will start to update. (you will enjoy lifetime update through one-key wifi update, which is rare in diagnostic market as other diagnostic tools only offer one year free update.)

One-Key Screenshot: use the feature to capture and save the diagnostic process for you rather than take pictures by telephone.

One-Key Screen Recorder: you will hardly find this feature on other scanners. This is one of the biggest advantage of thinktool Mini, which will be a big surprise to those who like recording video of the whole diagnostic process. With this feature, you don't need to hand up a telphone during the diagnosis.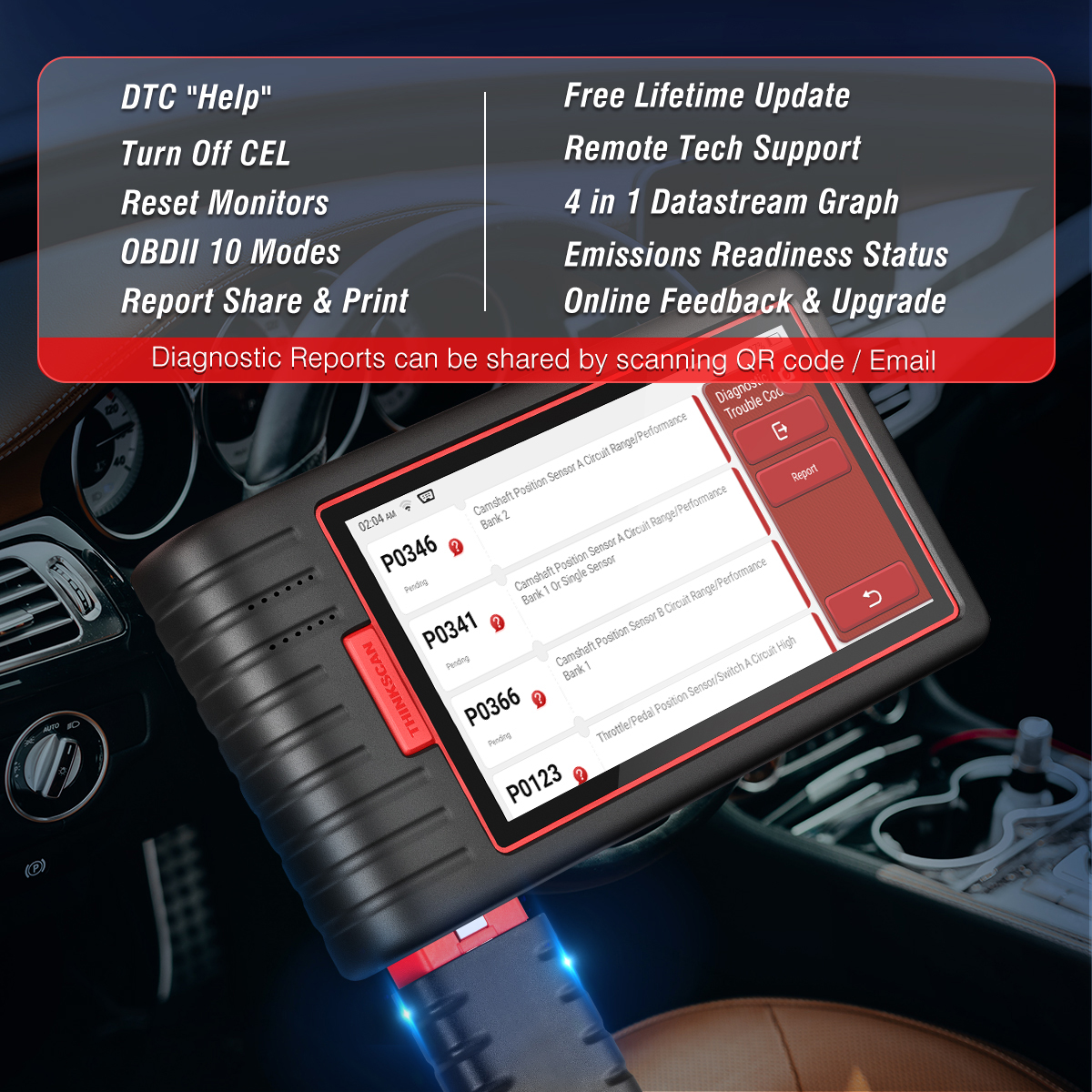 Wide vehicle coverage and is compatible with 90% of all car models from the US, Europe, Asia and China.
For Amercian

for Buick, for Chrysler, for Cadillac, for Chevrolet, for Doge, for AU Ford, for Brazil Fiat, for Brazil GM, for Ford, for GM, for Jeep, for Lincoln, for SGM

For European

for Aston Martin, for Audi, for Alfa Remeo, for Abarth, for BMW, for Bentley, for Bugatti, for Citroen, for DR, for Dacia, for EU Ford, for Ferrari, for Fiat, for GAZ, for Iveco, for IZH, for Jaguar, for Land Rover, for Lamborghini, for Lancia, for Mercedes, for Maserati, for Maybach, for Mini, for Opel, for Opel (south africa), for PAZ, for Peugeot, for Porche, for Renault, for Rover, for Rolls-royce, for SAAB, for Seat, for Skoda, for Smart, for Sprinter, for UAZ, for VAZ, for Volvo, for Volkswagen, for Vauxhall, for ZAZ

For Asian

Acura, for Daewoo, for Daihatsu, for AU Holden, for Honda, for Hyundai, for Ikco, for Isuzu, for Infiniti, for Kia, for Luxgen, for Lexus, for Mahindra (India), for Maruti (India), for Tata (India), for Mahindra, for Maruti, for Mazda, for Mitsubishi, for MVM, for Nissan, for Nissangtr, for Perodua (Malaysia), for Proton (Malaysia), for Perodua, for Proton, for Renault Samsung, for Saipa, for Ssangyong, for Subaru, for Suzuki, for Toyota, for Tlisuzu, for United Pakistan

For China Car :

For BAIC SENOVA , For BAIC WEIWANG, For BAIC , For BRILLIANCE , For BYD , For CHANGAN , For CHANGANFORD , For CHANGHE , For CHBUICK , For CHCADILLAC , For CHCHEVROLET , For CHERY , For CHSUZUKI , For DFCITROEN , For DFNISSAN , For DFPEUGEOT , For DFSK , For ECUAID , For FAW(TIANJIN) , For FOTON , For GONOW , For GWM , For HAFEI , For HAIMA , For HCBMW , For HONDA(GAC) , For JAC , For JINLONG , For JMC , For JOYLONG , For LIFAN , For LUXGEN , For LYNKCO , For MAXUS , For MG(SAIC) , For MITSUBISHI(GAC) , For NJFIAT , For POLARSUN , For QOROS , For SGMW , For TOYOTA(CHINA) , For XINKAI , For YQMAZDA , For ZOTYE , For ZX AUTO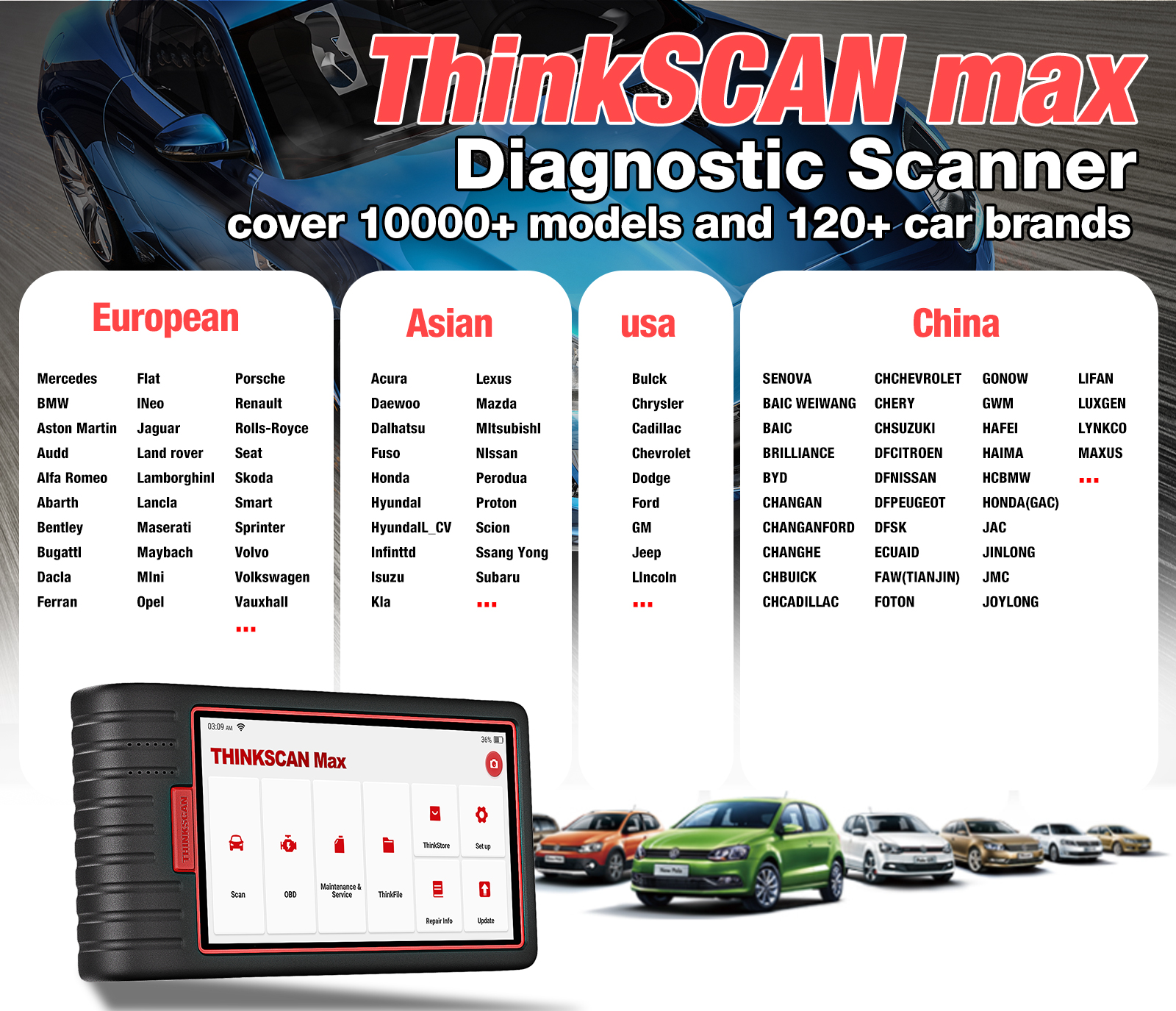 ThinkCar ThinkScan Max Two Ways Connect car :
wireless diagnosis VS wire diagnosis

wireless diagnosis: thinktool mini + wireless connector

diagnostic distance: 5-10 m

wire diagnosis: scanner+ diagnostic cable

diagnostic distance: 1m

Many traditional diagnostic scan tools are equipped with diagnostic cables and you have to connect the car scanner with the OBDII port via cable during the diagnosis, which limits the diagnostic distance within 1m. While thinktool mini offers wireless connector, making it convenient and efficient during the work. The diagnostic distance can be 5-10 m.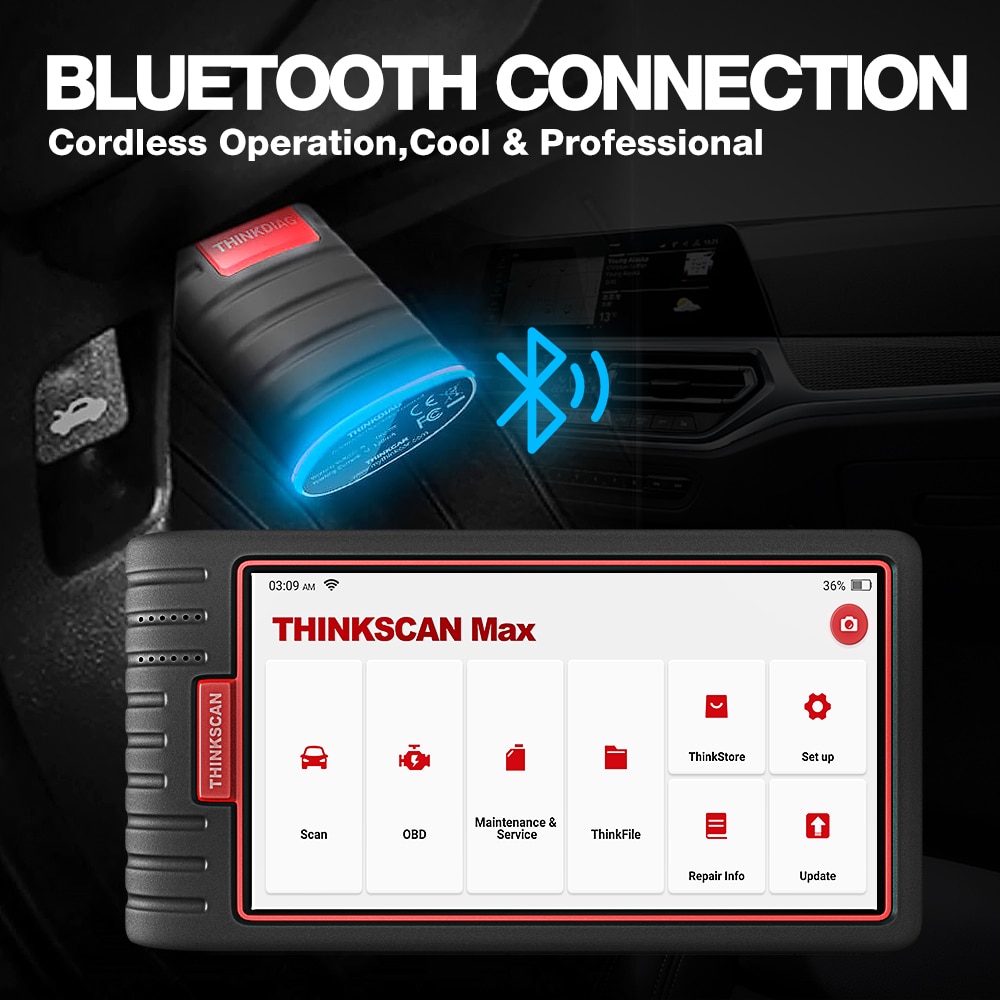 How To Print of ThinkCar ThinkScan Max ?
Easy to Operate , Share the diagnose report via email , then go to Print out !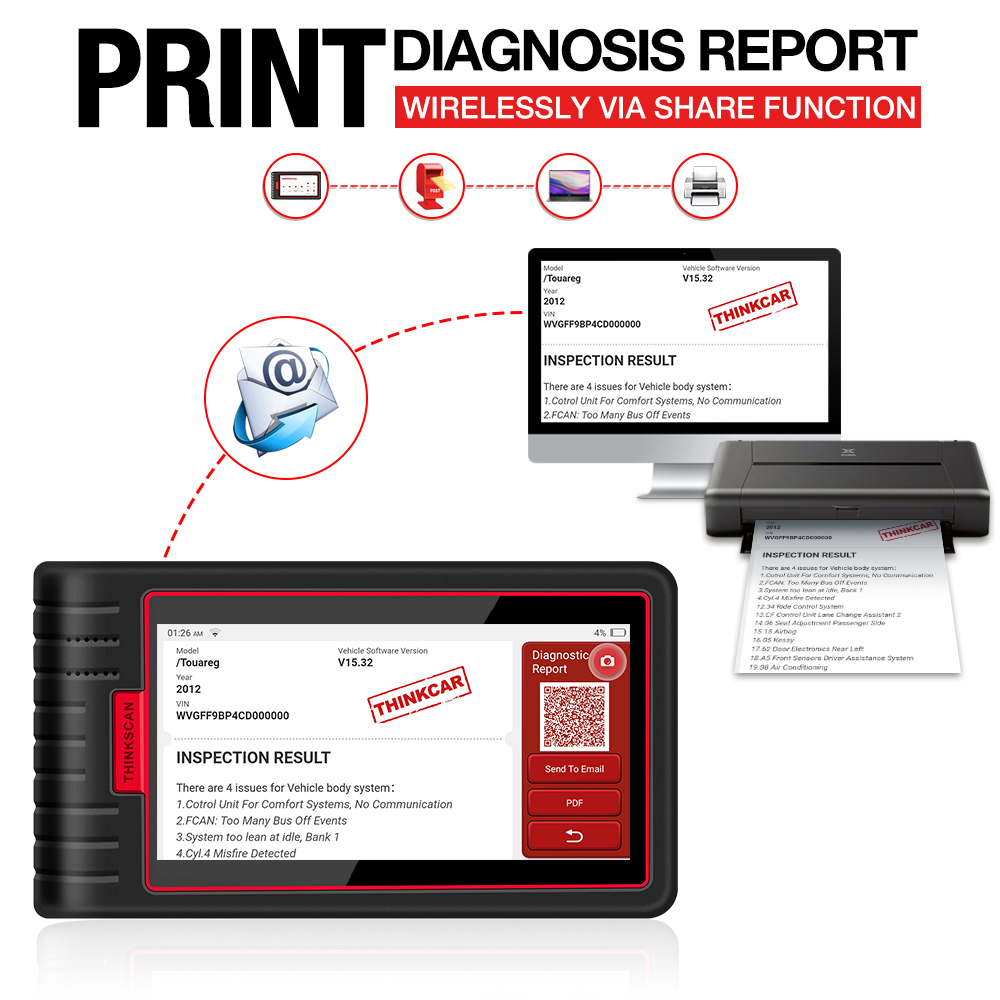 How to Register ThinkCar ThinkScan Max ?
Step 1 : Choose Time Zone

Step 2 : Agree the agreement term

Step 3 : New Registration , Create APP Account .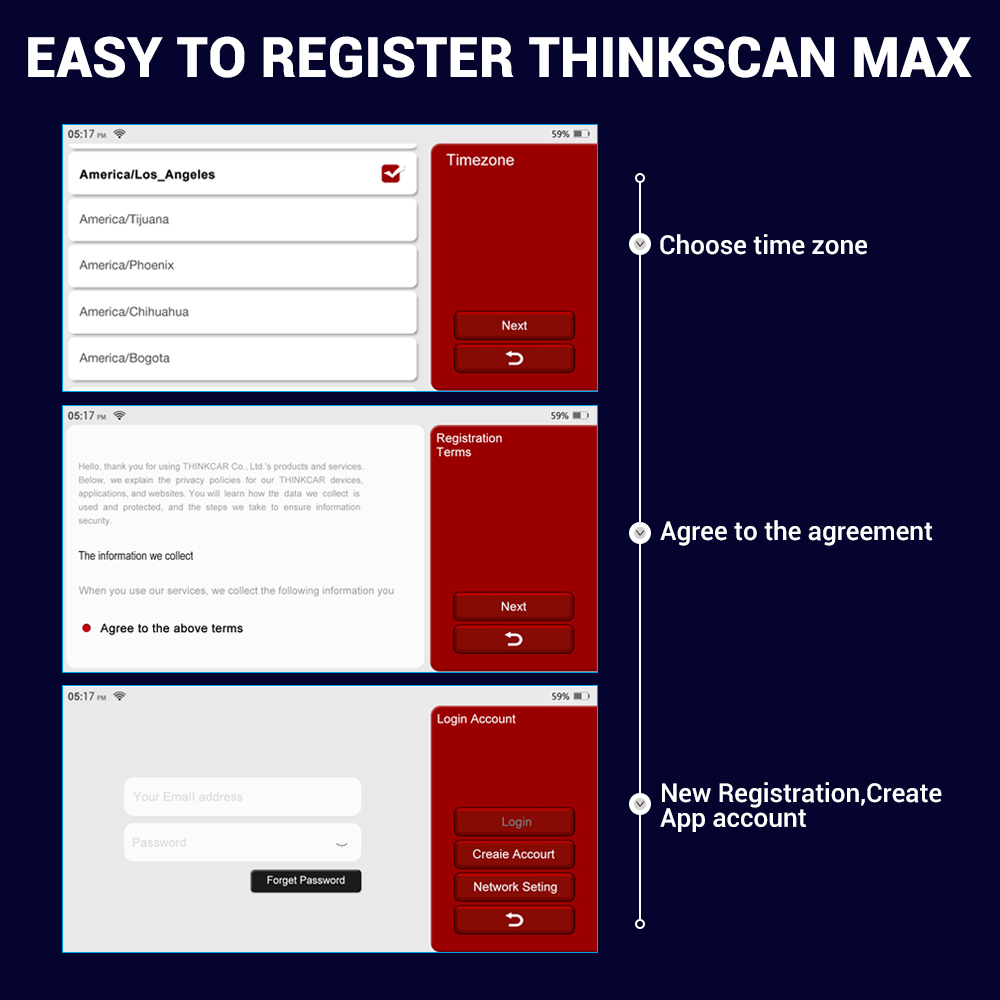 ThinkCar ThinkScan Max hardware configuration :
Battery Capacity:3150mAh/7.6V

Screen Size: 5.99 inches

Resolution: 720*1440 pixel

Working Voltage: 5V

Working Current: ≤2.5A

Working Environment: 14 °F ~122°F(-10°℃ ~50°C)

Storage Environment: -4 °F ~140°F(-20°℃~60°C)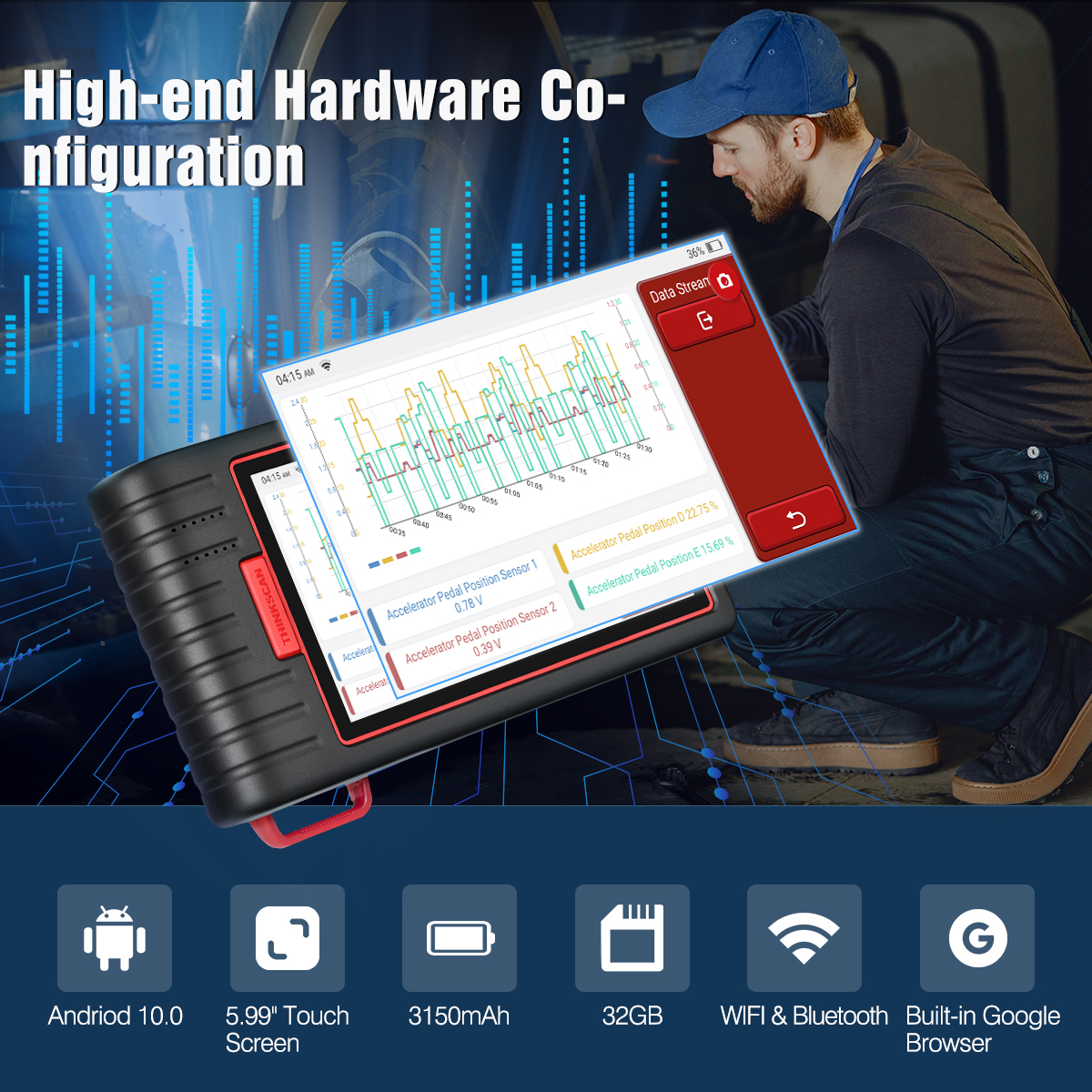 ThinkCar ThinkScan Max Packing List :