THINKCAR Thinkscan SD4 OBD2 Scanner Resets Full System Car Diagnostic Tool Code Reader Professional Scanner Tool
$129.00
ThinkCar Thinkscan SD4, 4 Systems Free Scanner Resets Full System Car Diagnostic Tool Code Reader Professional Scanner Tool
Thinkscan SD4, new generation of mid-to-high end DIY product based on Android system launched by THINKCAR, can online upgrade diagnostic software. Its main functions include OBD/EOBD standard protocol diagnosis, more importantly, professional vehicle diagnostic software and maintenance software, which can perform a comprehensive diagnosis of all vehicle electronic control systems. Different series support different systems and functions.
Support 8 Languages
Russian ,English, French, German, Spanish, Italian, Portuguese, Japanese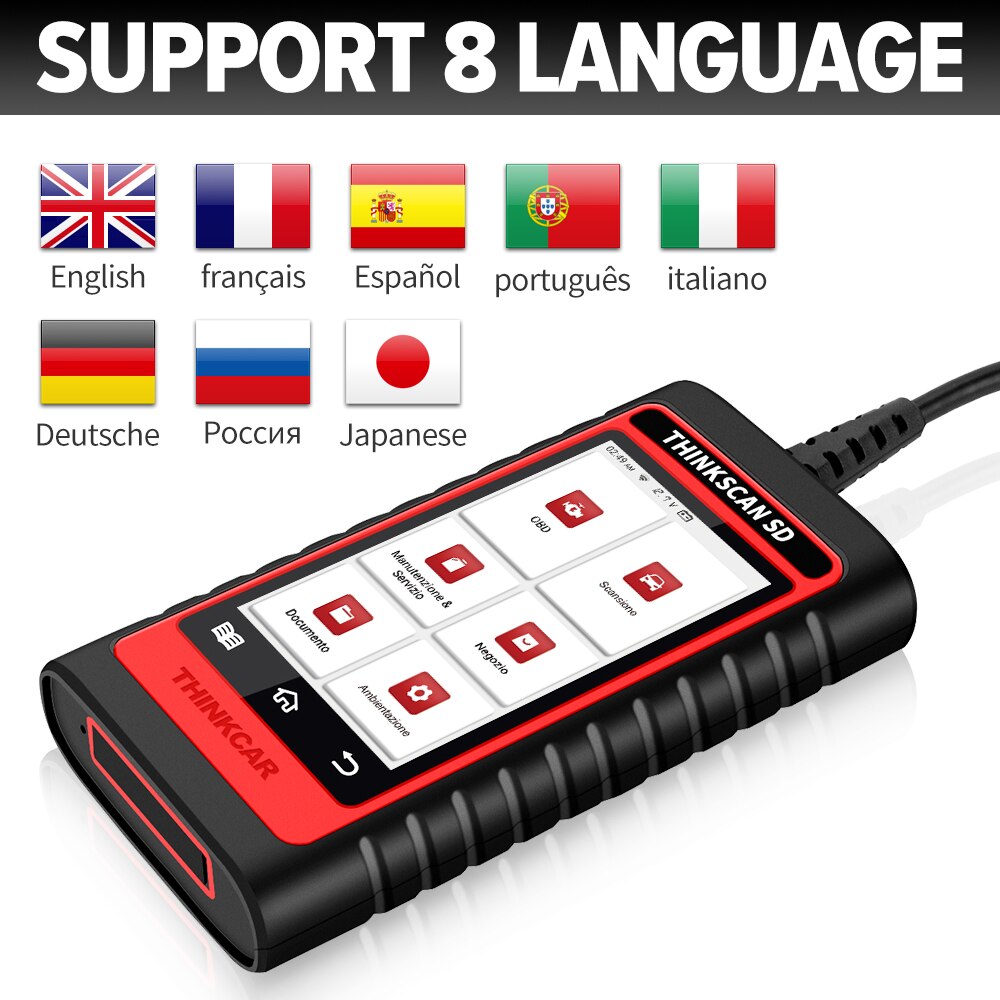 1. Engine System
The diagnostic tool can help detect the engine ignition, fuel injection, air and fuel ratio, and exhaust emission conditions in Engine system to enhance vehicle performance, save energy and reduce exhaust emission.
2. Transmission System
It makes great sense in the safe driving when your car is slipping or difficult to shift. This diagnostic scanner can figure the problems out via reading codes in the Transmission system, or check the health status via live data viewing.
3. ABS System
Read and clear DTCs data flow in the ABS system. Performs various tests to check the operating conditions of Anti-lock Braking System, and turn off the warning light.
4. SRS Airbag System
Safety restraint system, is made up of impact sensors, a control module, and the airbags themselves, and this diagnostic device can detect every electronic parameter to check its health status.Read and clear fault code in SRS (Airbag) system and turn off warning light of airbag for making sure engine work properly and safely.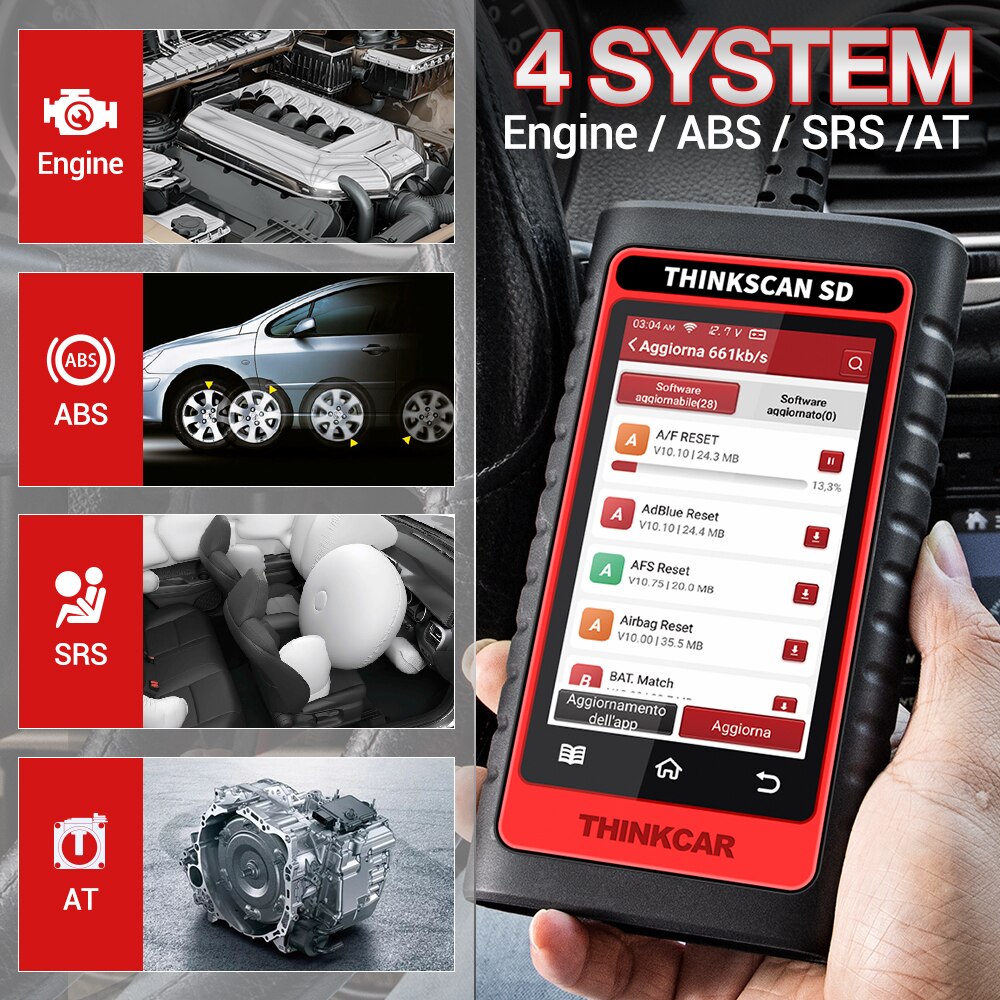 28 Kind of Special Functions
1. Oil Lamp, Oil Reset Service
This obd2 scanner allows you to perform reset for a new calculation of Engine Oil Life system once changed the oil, clear the oil light.
2. BMS, BAT, Batery Maintenance, Battery Reqister
allows the scan tool to evaluate the battery charge state, monitor the close-circuit current, register the battery replacement, and activate the rest state of the vehicle.
3. DPF, Diesel Particulate Filter Regeneration
specially works for Diesel Particulate Filter system with DPF regeneration, DPF component replacement teach-in and DPF teach-in after replacing the engine control unit.
4. SAS, Steering Angle Calibration
Helps clear the fault steering angle sensor memories and plays an important role in the steering angle sensor calibration.
5. TMPS,Tire Pressure Monitor System Reset
makes sense in displaying sensor IDs from the vehicle's ECU, inputting TPMS sensor replacement IDs and testing sensors.
6. ABS Bleeding
ABS brake bleeding to get a firm brake pad after air exhaustion.
7. Throttle,Electronic Throttle Position reset/learn
The throttle body is a tube containing a pivoting flat valve (butterfly) that is used to control the amount ofair entering an engine. In an electronically fuel injected car, a throttle position sensor and air flow sensorcommunicate with the computer, which supplies the corresponding amount of fuel needed at the injectors. It must need re-learning throttle sensor position after clearing or repair.
8. Gear Learning
The scan tool monitors certain camshaft position sensors signals to determine if all conditions are met to continue with the procedure for Engine running.
9. Injector Coding
Leaking injectors and some dead injectors can be missed even when an injecto
Note:
These special function NOT for all car models, if you are confused, Please send your car brand, model and release year to seller to check it for you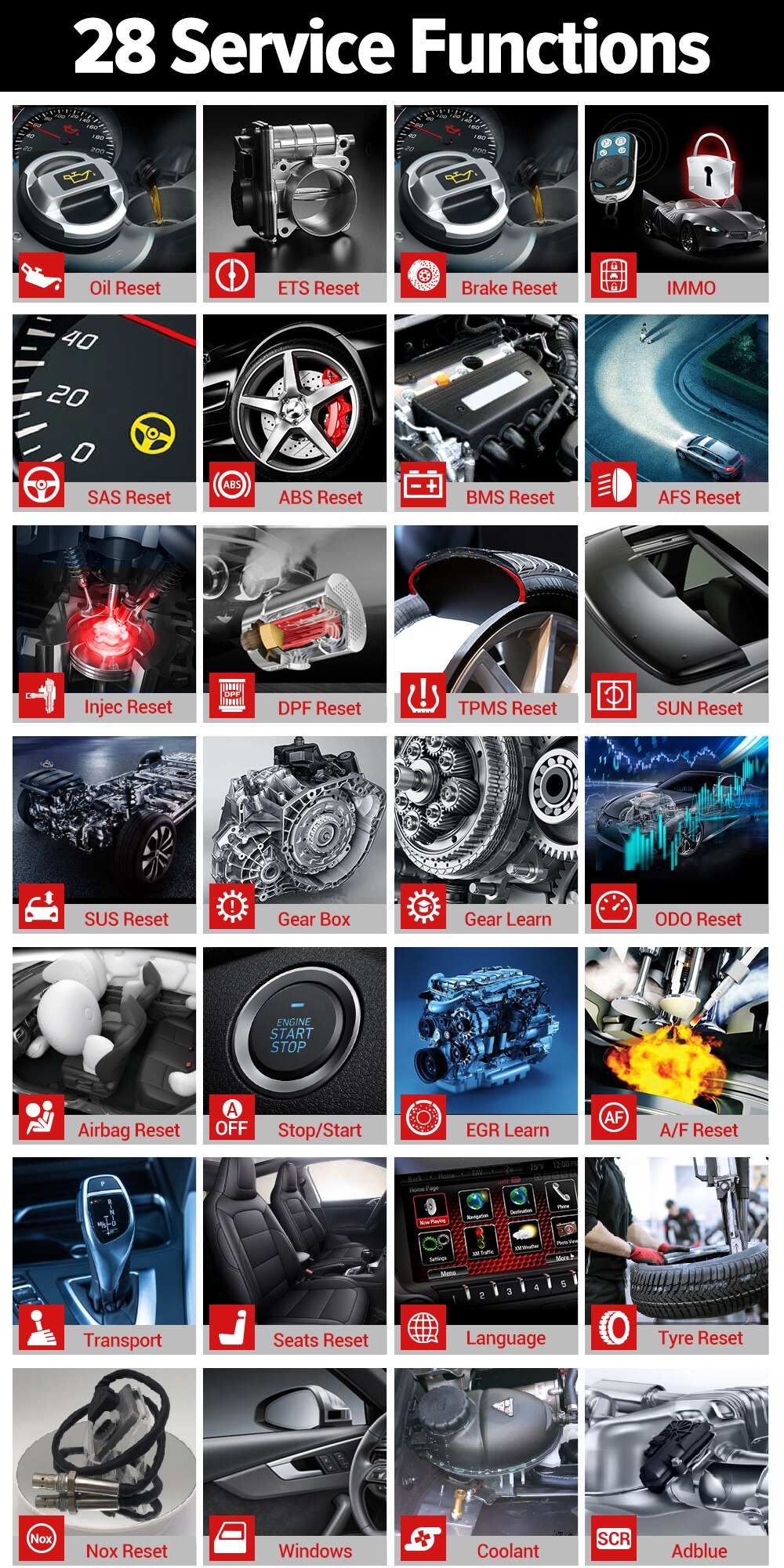 Support Car list
*1000+ Car brands
*Support most obdII car after 1996