Thinkcar Thinktool SD4 OBD2 Scanner ENG ABS SRS AT Scan tool DPF TPMS SAS OIL EPB IMMO Reset

$129.00
Product Code:

1005003125209816

Availability:

In Stock

Weight:

0.50kg
ThinkCar ThinkScan SD4, ABS SRS ECM TCM Auto Diagnostic Tool with 28 Reset Function ( 3 reset Function Free optional ) Lifetime Free Update + 8 Langauge Support OBDII Code Reader Scanner
Thinkscan SD4 is a new generation of mid-to-high end DIY products based on Android system launched by THINKCAR, which can realize online upgrade of diagnostic software. Its main functions include not only OBD/EOBD standard protocol diagnosis, but more importantly, it has professional vehicle diagnostic software and maintenance software, which can perform a comprehensive diagnosis of all vehicle electronic control systems. Different series support different systems and functions.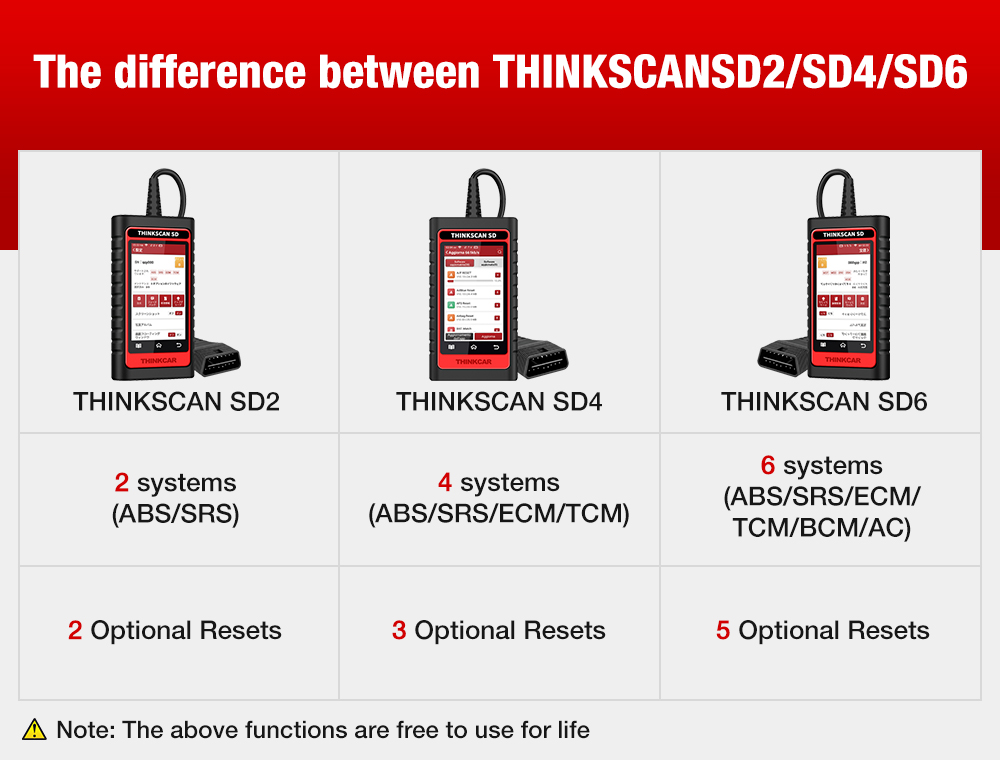 ThinkScan SD4 Support Language
Russian, English, French, German, Spanish, Italian, Portuguese, Japanese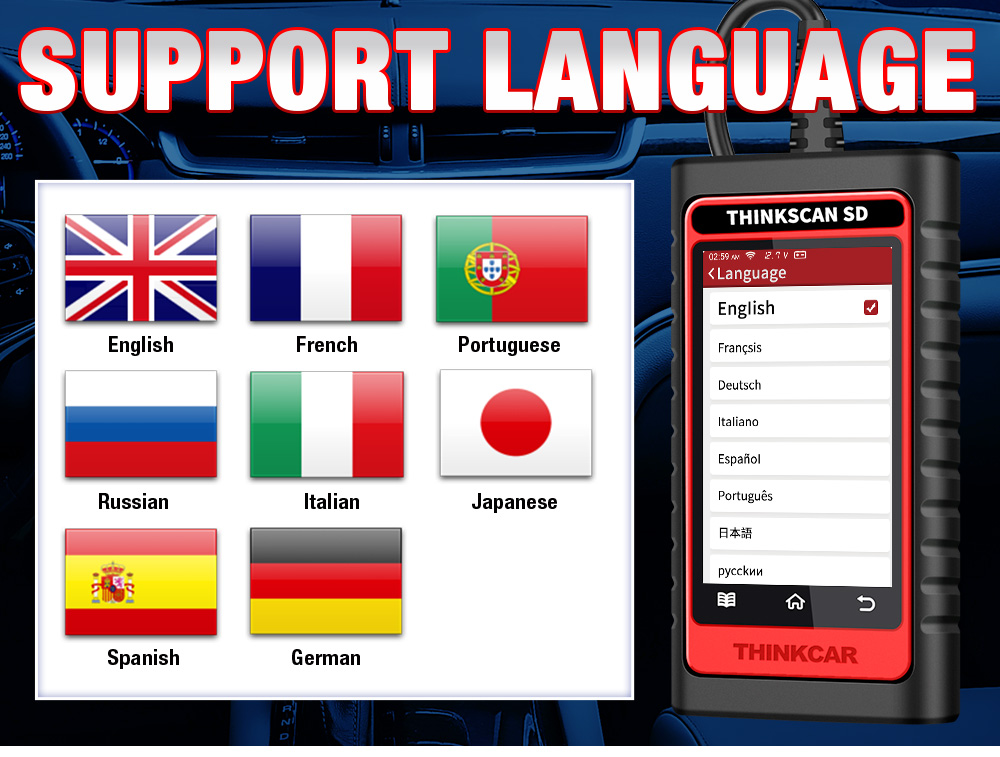 Thinkscan SD6 Supports ABS/SRS/ECM/TCM system diagnose Function :
Diagnostic ABS System:
Diagnosing an ABS problem should always start with a visual inspection of all brake components, next you will need to retrieve ABS codes to tell you where the problem is, and this is what this scanner does for you.
Diagnostis SRS Airbag System:
SRS, safety restraint system, is made up of impact sensors, a control module, and the airbags themselves, and this diagnostic device can detect every electronic parameter to check its health status.
Diagnostic ECM ( Engine ) System
The diagnostic tool can help detect the engine ignition, fuel injection, air and fuel ratio, and exhaust emission conditions in Engine system to enhance vehicle performance, save energy and reduce exhaust emission.
Diagnostic TCM ( Transmission ) System
It makes great sense in the safe driving when your car is slipping or difficult to shift. This diagnostic scanner can figure the problems out via reading codes in the Transmission system, or check the health status via live data viewing.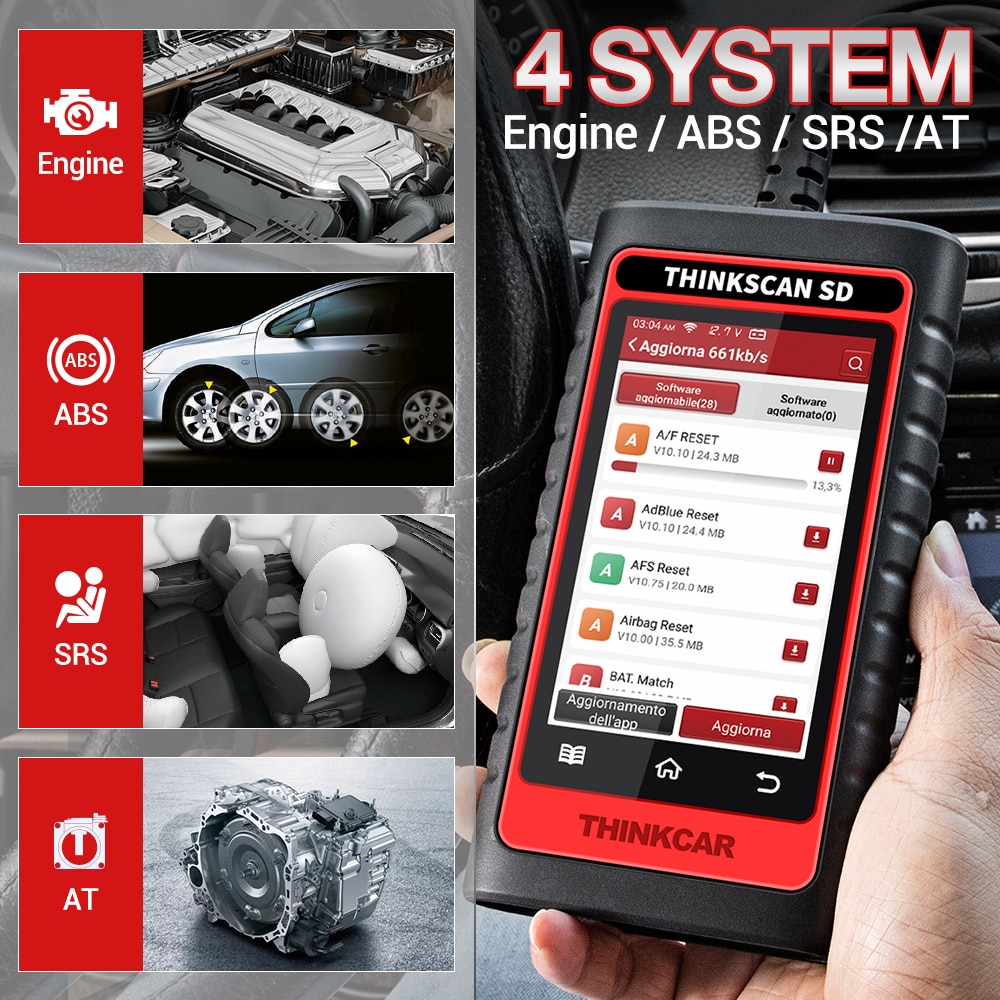 ThinkSCAN SD4 Supports 28 Reset Function :
Pls note: Can choose only 3 Reset Function Free, the others reset function need subscrible: US$29.95 per reset function 1 year Free.
1. Oil Reset
The lightening of the car maintenance light indicates that the vehicle needs maintenance. Reset themileage or driving time to zero after the maintenance, so the maintenance light will go out and the systemwill start a new maintenance cycle.

2. Elec.Throttle Adaption
Elec. Throttle Adaption is to utilize the car decoder to initialize the throttle actuator so that the learningvalue of the ECU returns to the initial state. By doing these, the movement of the throttle (or idle motor) can be more accurately controlled, thus adjust the intake volume.

3. Steering Angle Reset
To reset the steering angle, first find the relative zero point position for the car to drive in straight line. Taking this position as reference, the ECU can calculate the accurate angle for left and right steering. After replacing the steering angle position sensor, replacing steering mechanical parts (such as steeringgearbox, steering column, end tie rod, steering knuckle), performing four-wheel alignment, or recoveringcar body, you must reset the steering angle.

4. Battery Matching
This function enables you to perform a resetting operation on the monitoring unit of vehicle battery, inwhich the original low battery fault information will be cleared and battery matching will be done.

5. ABS Bleeding
When the ABS contains air, the ABS bleeding function must be performed to bleed the brake system torestore ABS brake sensitivity. lf the ABS computer, ABS pump, brake master cylinder, brake cylinder, brakeline, or brake fluid is replaced, the ABS bleeding function must be performed to bleed the ABS.

6. Break-pad Reset
lf the brake pad wears the brake pad sense line, the brake pad sense line sends a signal sense line to theon-board computer to replace the brake pad.After replacing the brake pad, you must reset the brake pad.Otherwise, the car alarms.

7. DPF Regeneration
DPF regeneration is used to clear PM (Particulate Matter) from the DPF filter through continuouscombustion oxidation mode (such as high temperature heating combustion, fuel additive or catalyst reduce PM ignition combustion) to stabilize the filter performance.

8. Gear Learning
The crankshaft position sensor learns crankshaft gear machining tolerance and saves to the computerto more accurately diagnose engine misfires. lf gear learning is not performed for a car equipped withDelphi engine, the MlL turns on after the engine is started.The diagnostic device detects the DTC P1336'gear not learned'. In this case, you must use the diagnostic device to perform gear learning for the car.After gear learning is successful, the MIL turns off. After the engine ECU, crankshaft position sensor, orcrankshaft flywheel is replaced, or the DTC 'gear not learned" is present, gear learning must be performed.

9. IMMO Service
To prevent the car being used by unauthorized keys, the anti-theft key matching function must beperformed so that the immobilizer control system on the car identifies and authorizes remote control keysto normally use the car. When the ignition switch key, ignition switch, combined instrument panel, ECu, BCM, or remote control battery is replaced, anti-theft key matching must be performed.

10. Injector Coding
Write injector actual code or rewrite code in the ECU to the injector code of the corresponding cylinder soas to more accurately control or correct cylinder injection quantity. After the ECU or injector is replaced,injector code of each cylinder must be confirmed or re-coded so that the cylinder can better identifyinjectors to accurately control fuel injection.

11. TPMS Reset
After the tire pressure MIL turns on and maintenance is performed, the tire pressure resetting functionmust be performed to reset tire pressure and turn off the tire pressure MIL.Tire pressure resetting mustbe performed after maintenance is performed in the following cases: tire pressure is too low, tire leaks, tirepressure monitoring device is replaced or installed, tire is replaced, tire pressure sensor is damaged, and tire is replaced for the car with tire pressure monitoring function.

12. Suspension Matching
This function can adjust the height of the body. When replacing the body height sensor in the airsuspension system, or control module or when the vehicle level is incorrect, you need to perform thisfunction to adjust the body height sensor for level calibration.

13. AFS Reset
This feature is used to initialize the adaptive headlamp system.According to the ambient light intensity, theadaptive headlamp system may decide whether to automatically turn on the headlamps, and timely adjustthe headlamp lighting angle while monitoring the vehicle speed and body posture.

14. A/T Learning
This function can complete the gearbox self-learning to improve gear shifting quality. When the gearbox isdisassembled or repaired (after some of the car battery is powered off), it will lead to shift delay or impactproblem. In this case, this function needs to be done so that the gearbox can automatically compensateaccording to the driving conditions so as to achieve more comfortable and better shift quality.

15. Sunroof Initialization
This function can set the sunroof lock off, closed when it rains, sliding/tilting sunroof memory function, temperature threshold outside the car etc.

16. EGR Adaption
This function is used to learn the EGR (Exhaust Gas Recirculation) valve after it is cleaned or replaced.

17. ODO Reset
a) ODo reset is to copy, write, or rewrite the value of kilometers in the chip of odometer by using a car diagnostic computer and data cable, so that the odometer shows the actual mileage.
b) Usually when the mileage is not correct due to the damaged vehicle speed sensor or odometer failure, it is necessary to do ODo reset after maintenance.

18. Airbag Reset
This function resets the airbag data to clear the airbag collision fault indicator. When the vehicle collidesand the airbag deploys, the corresponding fault code of the collision data appears, the airbag indicator lights up, and the fault code cannot be cleared. Since the data inside the airbag computer is disposable, it is required that all new accessories must be replaced, but after performing this function, the data of theairbag computer can be recovered and the fault code can be cleared, the airbag light will go out, and theairbag computer can continue to use.

19. Transport Mode
ln order to reduce power consumption, the following functions may be disabled,including limiting thevehicle speed, not waking up the door opening network, and disabling the remote control key, etc. At thistime, the transport mode needs to be deactivated to restore the vehicle to normal.

20. A/F Reset
This function is applied to set or learn Air/Fuel ratio parameters.

21. Stop/Start Reset
This function is used to open or close the automatic start-stop function via setting the hidden function in ECU (provided that the vehicle has a hidden function and supported by hardware).

22. NOx Sensor Reset
NOx sensor is a sensor used to detect the content of nitrogen oxides (NOx) in engine exhaust. lf theNOx fault is re-initialized and the NOx catalytic converter is replaced, it is necessary to reset the catalyticconverter learned value stored in the engine ECu.

23. AdBlue Reset (Diesel Engine Exhaust Gas Filter)
After the diesel exhaust treatment fluid (car urea) is replaced or flled up, urea reset operation is required.

24. Seat Calibration
This function is applied to match the seats with memory function that are replaced and repaired.

25. Coolant Bleeding
Use this function to activate the electronic water pump before venting the cooling system.

26. Tyre Reset
This function is used to set the size parameters of the modified or replaced tire.

27. Windows Calibration
This feature is designed to perform door window matching to recover ECU initial memory, and recover theautomatic ascending and descending function of power window.

28. Language Change
This function is used to change the system language of the vehicle central control panel.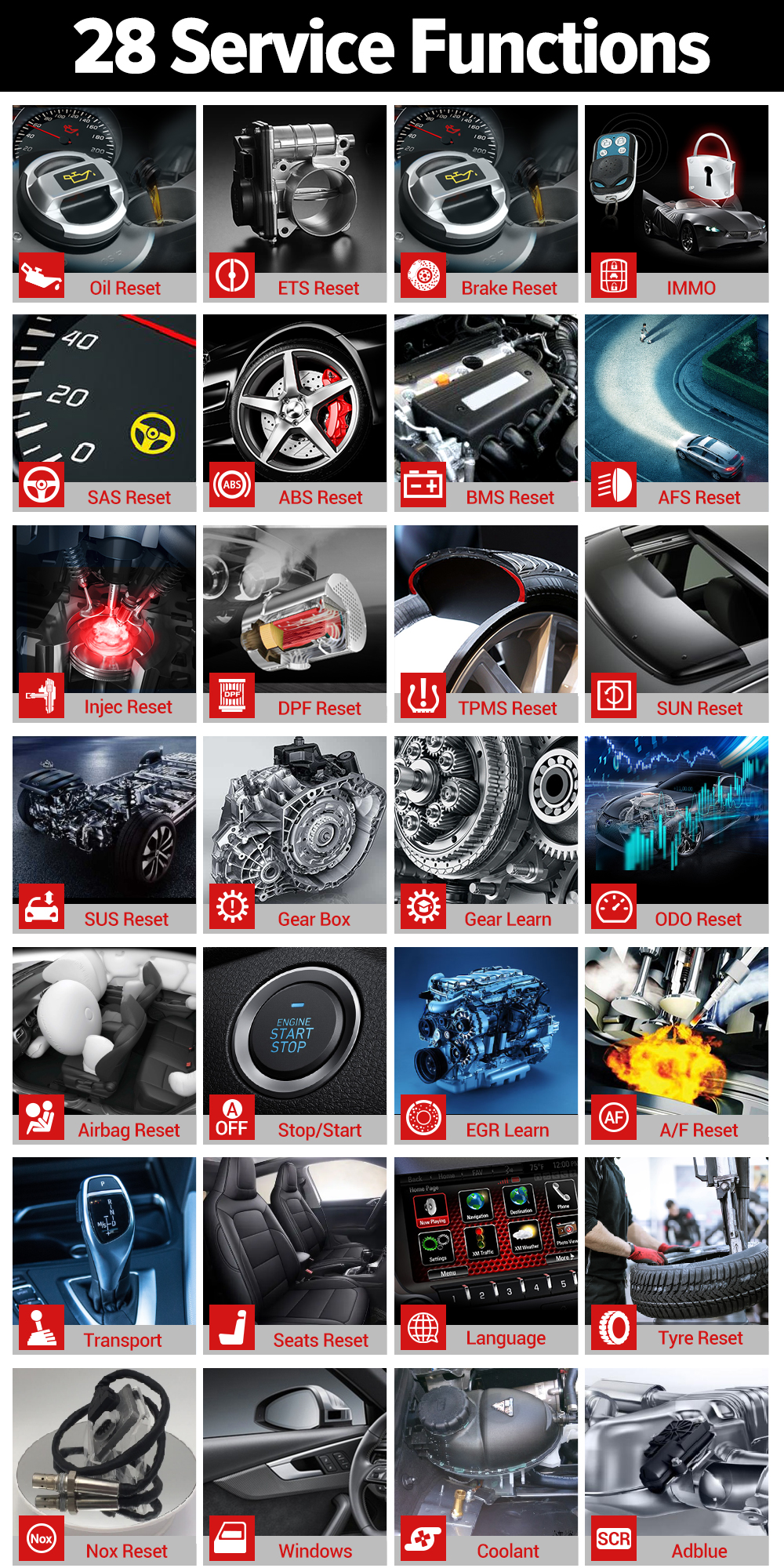 The Other Function of ThinkScan SD4
ThinKCar Store:
1. Can subscribe other Reset Function as you want , US$29.95 per reset function
2. Can subscribe ecu coding / active test function , USD$49.95 per Brand .
Retrieve Vehicle Information
ThinkScan SD4, OBD2 code reader can easily get access to the car's ECU and retrieve its information, including VIN (Vehicle Identification Number) for accurate diagnoses. No need to look around for the VIN.
Live Data Stream
Thinkscan SD4 shows you live sensors data and provides data graphing for intuitive diagnostics and monitoring your vehicle performance, help customers to better analyze the abnormal parameter.
Voltage Monitoring
If the charging system is not working properly, the battery will not get the proper charging voltage and it could go flat. This OBDII scanner can display the instantaneous voltage across the battery terminals in a graphical way. This helps you to get early warnings for possible battery and the charging system problems.
Helpful Diagnostic Report
ThinkScan SD4 obd2 scanner will automatically generate and store a basic diagnosis report on the vehicle as a reference for vehicle inspection and maintenance. The vehicle operating data provided in this report are the static data, you can share and print it for technical assistance.
ThinkScan SD4 Supports Car List :
American Car: from 2000 - now
for Chrysler, for Ford, for GM, For Jeep, for lincoln, for Buick, for Cadillac, for Chevrolet, for Dodge, for HM...
European Car : from 2003 - now
for BENZ, for SMART, for SPRINTER, for BMW, for VW, for SKODA, for AUDI, for OPEL, for Lamborghini, for PORSCHE, for Maybach, for Euro Ford, for LANDROVER, for Jaguar, for ASTONMARTIN, for Bentley, for Rolls-Royce , for ROVER , for MINI , for VAUXHALL, for DR , for FERRARI, for FIAT, for Abarth, for LANCIA, for Alfa Romeo , for Maserati, for BUGATTI, for PEUGEOT, for CITROEN, for RENAULT, for SAAB, for VOLVO, for OPEL, for GM, for GMSA, for Dacia, for SEAT..
Japanese/Korean Car: from 2006 - now
for HONDA, for Acura, for TOYOTA, for SCION, for LEXUS, for MAZDA, for NISSAN, for Infiniti, for JPISUZU, for ISUZU, for TLISUZU, for DAIHATSU, for SUZUKI, for MITSUBISHI, for SUBARU, for SAMSUNG, for DAEWOO, for SSANGYONG, for HYUNDAI, for KIA...
Chinese Car: from 2009 to now
for GREAT WALL, for HUACHEN, for GEELY, for DFHONDA, for LIFAN...
Russian Car: from 2012 to now
for GAZ, for VAZ, for LADA, for IZH, for PAZ,for SeAZ, for UAZ, for ZAZ...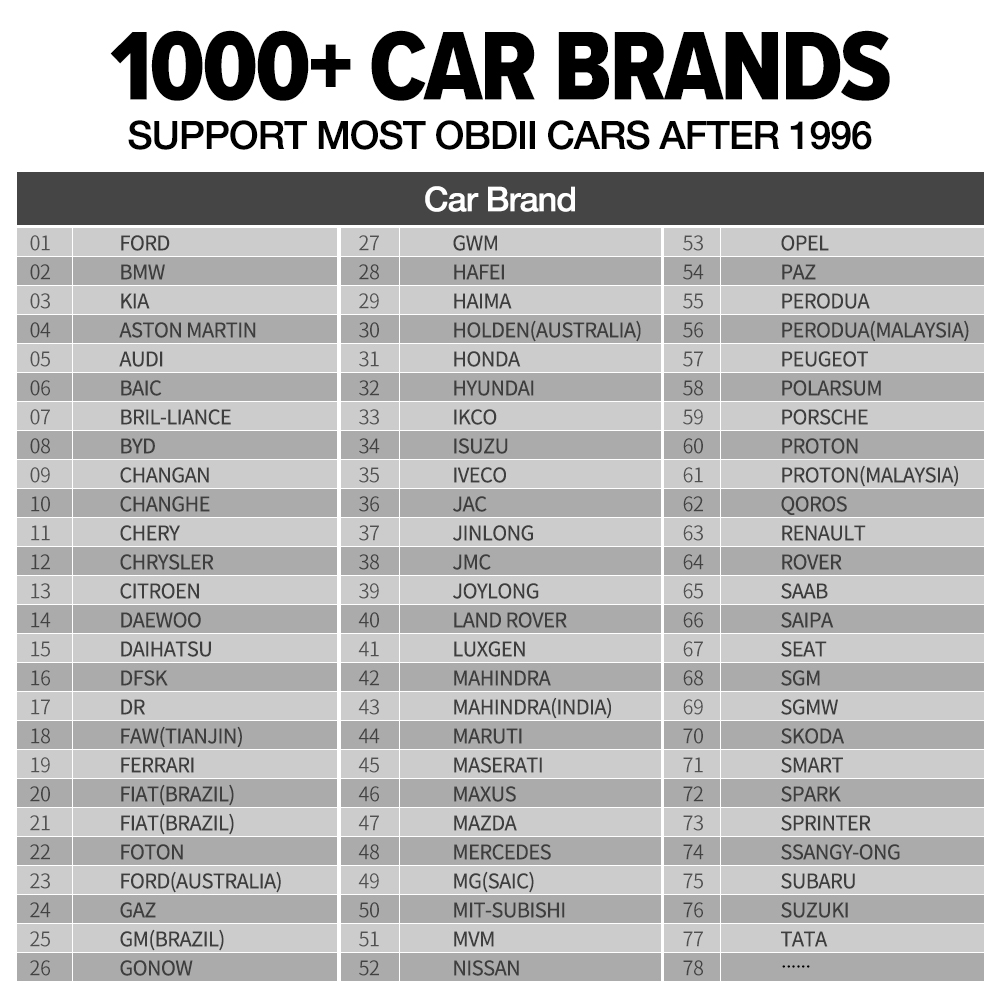 ThinkScan SD4 Parameter :
Screen: 5.99 inch 720*1440 Touch Screen
Operation System: Android
Lenth of OBD Cable: 119CM
Memory: 16GB
wifi: 2.4GHz + 5GHz Dual-Band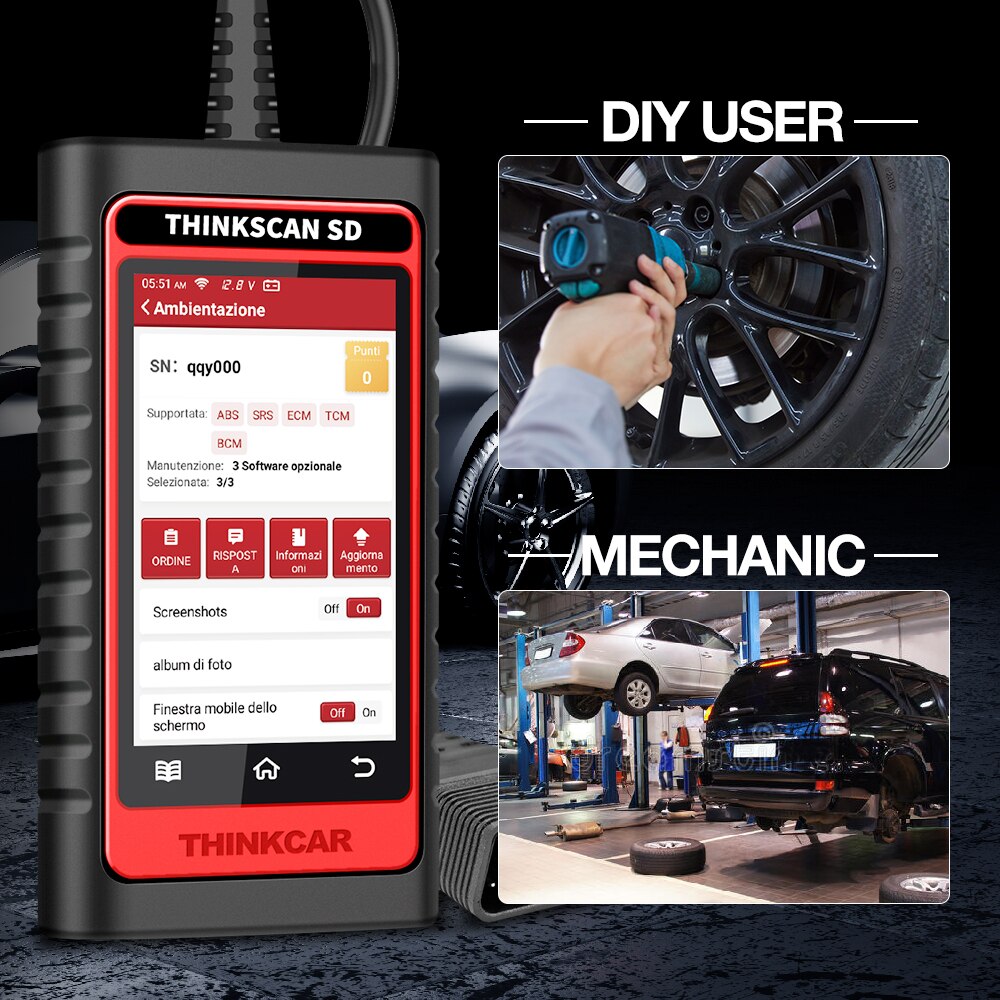 ThinkScan SD4 scanner Packing List :
1. ThinkScan SD4 Main unit

2. USB Cable

3. Manual paper ( With 8 languages , same as the tool language )