Thinkcar Thinkplus Full System AI Automotive Quick Scan Tool Automatically Uploaded Professional Report Easy Auto Full System Check
$990.00
Brand: Launch
Product Code:

SP356

Availability:

In Stock

Weight:

2kg

Views:

4750 times
Thinkcar Thinkplus Full System AI Automotive Quick Scan Tool Automatically Uploaded Professional Report Easy Auto Full System Check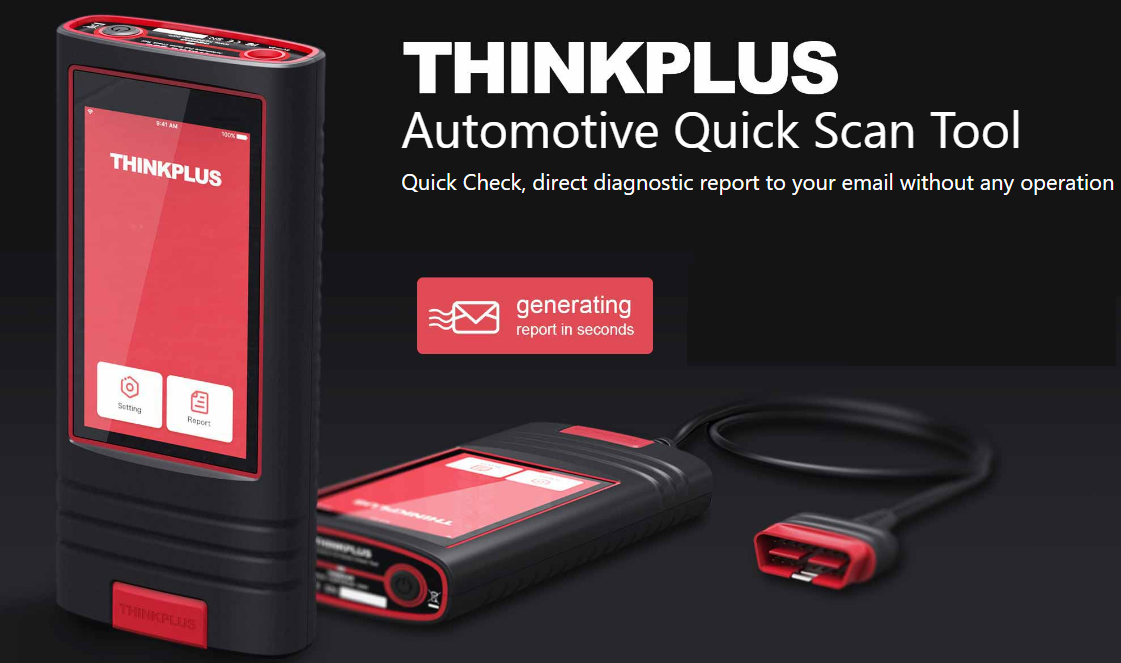 Highlights:
1. One Year Free Update Online
2. The First Intelligent Inspections Tool in world
3. Only 2 mimutes to finish all system test
4. With 3 kinds of Diagnostic mode
5. 5 email receive diagnostic report automatically
6. With 6000mAh Lithium-ion battery that charges itself when connected to a vehicle via the OBD II port.
Language: English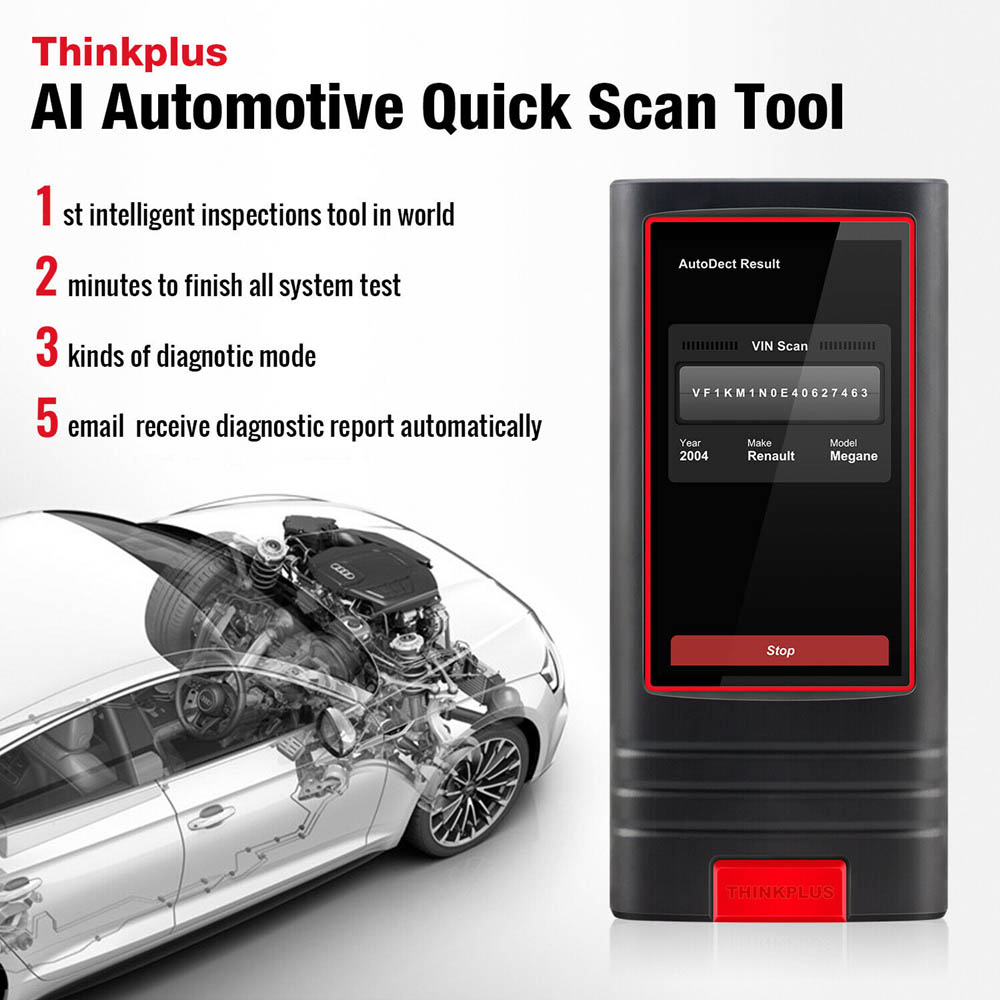 Description:
THINKPLUS automatically scans all makes, models, and modules. Then sends an email report to the default email address.
No human interaction is needed, just plug THINKPLUS into the OBD-II port and it starts scanning one of the pre-selected modes (OBD only, Full report w/o DataStream, Full report w/ DataStream).
THINKPLUS communicates as it calls out each module being scanned.
The THINKPLUS is the perfect solution for Collision/MSO shops that require a Pre and or Post scan report, without the need of a trained scan tool technician or reoccurring remote diagnostics service.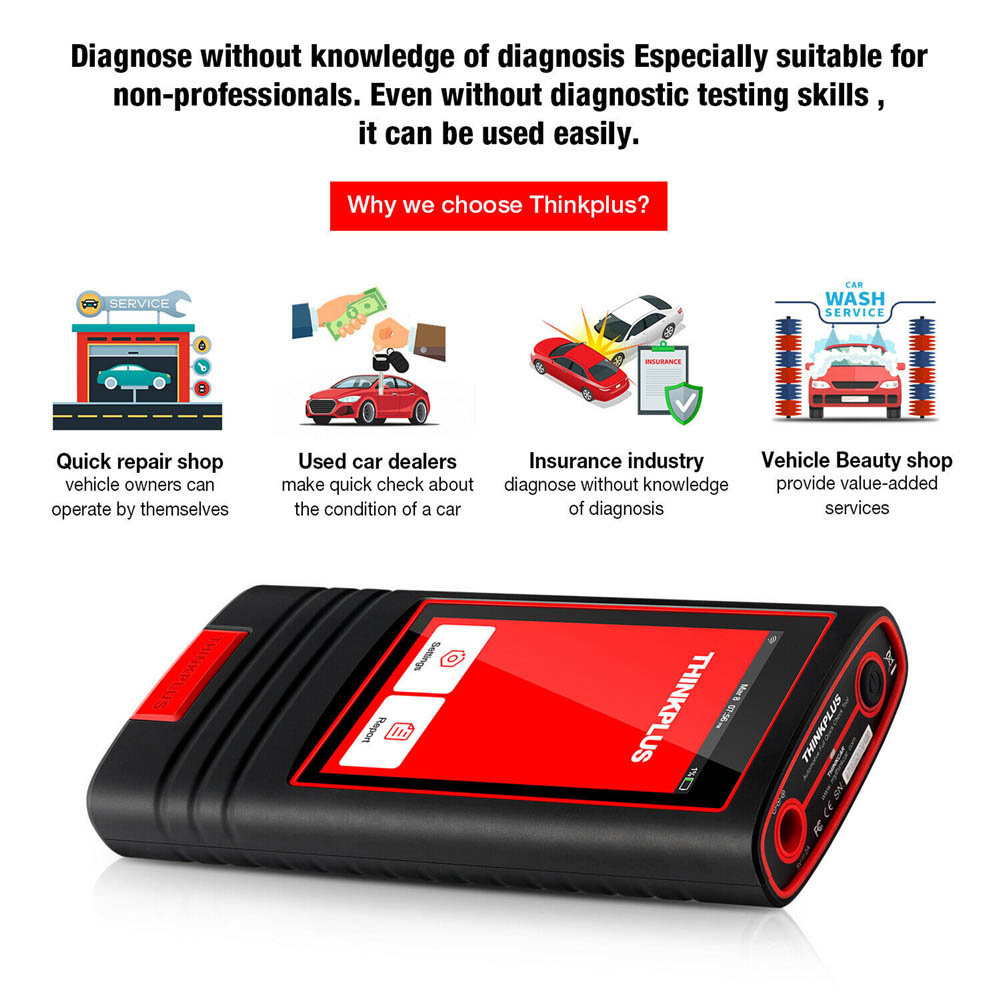 Features of Thinkcar Thinkplus:
Amazing Full automatic vehicle quick diagnostic tool , Save your time & Wage burden , Better Service for Customers
1. Testing start once OBD plugged in , without no extra operations
2. Diagnose Automatically: Generate diagnosis reports and send them to email box automatically
3. Complete Diagnostic Functions: OBD2 + Full System Diagnosis can satisfy diagnosis requirements
4. Update automatically: Software will be update automatically while connecting with WIFI
5. Real-time voice broadcast
6. Automatic Vehicle Detection and Scan Initialization as soon as you plug in - No interaction needed
7. WIFI enabled (WIFI or Mobile Hot Spot)
8. Easy to operate-Just Plug in and go
9. 5" Color Touch Screen Display
10. Long Battery life (up to one month on standby)
11. Rugged industrial Design
12. Enhanced All Module Scan: Fault Codes and Data Stream
13. Generic OBD II Only with Readiness Monitor Status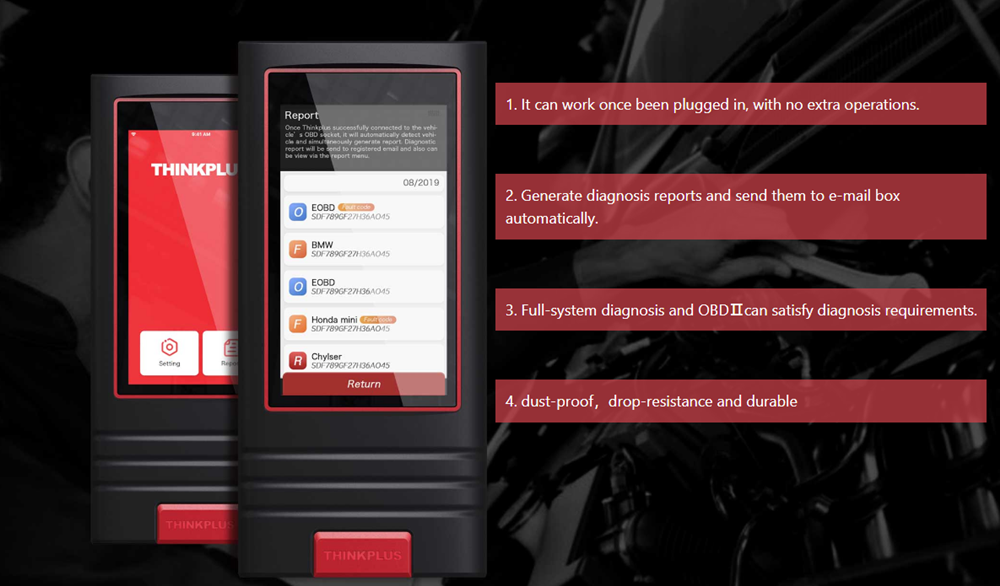 Function:
AI intelligent diagnosis, the world's first fully intelligent diagnostic tool, you only need to register the product when you get it, later
1). Full intelligent automatic upgrade;
2). Send the detection report to the registered binding mailbox automatically;
3). Automatically identify the VIN of the two cars and check the status of the two cars (three modes: OBD monitoring, full system diagnosis, full system diagnosis + data flow)
1. Thinkplus Full system system:
Thinkplus can diagnose the electronic control system of prevailing vehicle models covering Asian, European, American and China. Full range car models and full car system diagnose make it a professional automotive diagnostic tool.
Diagnosis functions include: Read DTCs, Clear DTCs, Read datastream, Special functions etc;
1) To diagnose Brake System if you feel the brake pedal is mushy and notice unusual odor or noise, etc. A properly operating brake system is critical to ensure safe vehicle control and operation;
2) To diagnose Emission System if the system is affected by vehicle age or poor quality fuel. A good emission system reduces harmful gases to a large degree and protects you from being fined;
3) To diagnose Fuel system if vehicle won't start or "Check Engine" light is illuminated. Check car's fuel system regularly ensures the best performance of your car with the lowest emissions;
4) To diagnose Transmission if your car is slipping or difficult to shift. The system plays an important part in the overall performance of your car;
5) To diagnose Wiper System if you observe chattering or streaking wiper. If the car is not regularly checked, the accident might happen because you can't see clearly;
6) To diagnose Light System if you see rapid signal blinking or dimming lights.
And many more ...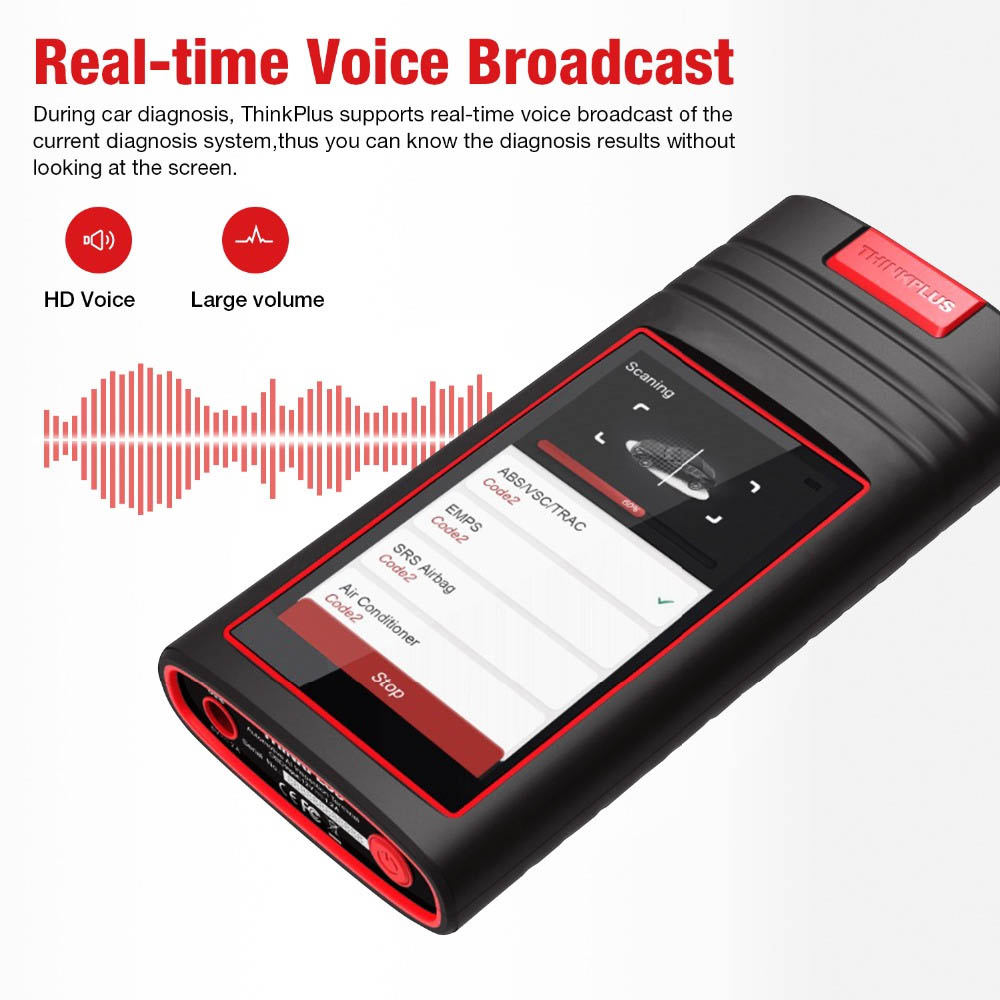 2. Different Diagnostic Mode of Thinkcar Thinkplus:
1). Full System Diagnostic ( Data Stream Not Included )
2). Full system Diagnostic ( Data Stream Included )
3). OBD Diagnostic Only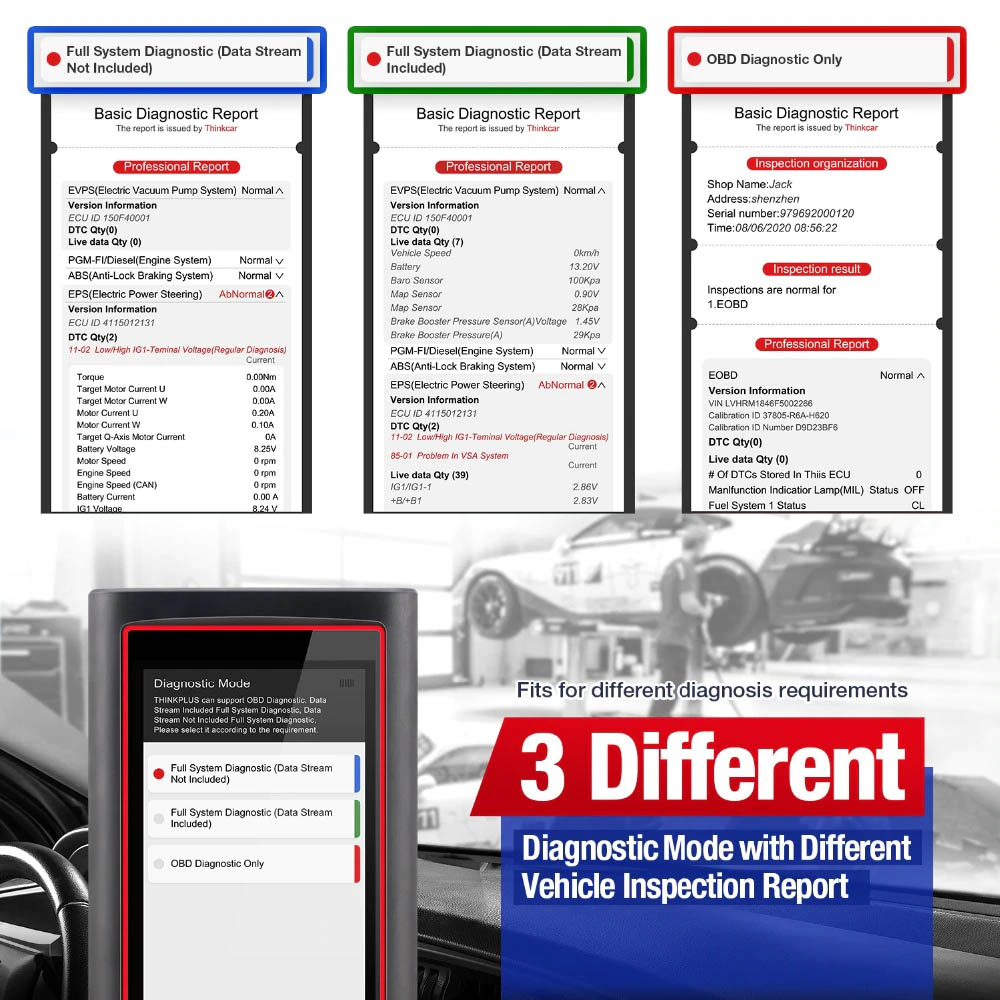 3. Thinkplus Powerful Diagnostic Functions:
1). Read/Clear Codes
Support reading system fault codes,and clear system fault codes
2). Live Data Stream
Read vehicle' S live data, and present by graph. Optional combination of multiple data.
3). Special Functions
Depends on different vehicles, we offer the special functions such as reduction of steering anglemaintenance light turn to zero.
4). Actuation Tests
Use smartphone in the App to control vehicle doors or windows..Test each system actuator is normal
5). Communicating with ECU
Communicating with ECU to get information within ThinkDiag App on smartphone,be aware of vehicle operation data.
6). Real-time Voice Broadcast Function of Thinkcar Thinkplus :
During car diagnosis , Thinkplus supports real-time voice broadcast of the current diagnosis system , thus you can know the diagnosis results without looking at the screen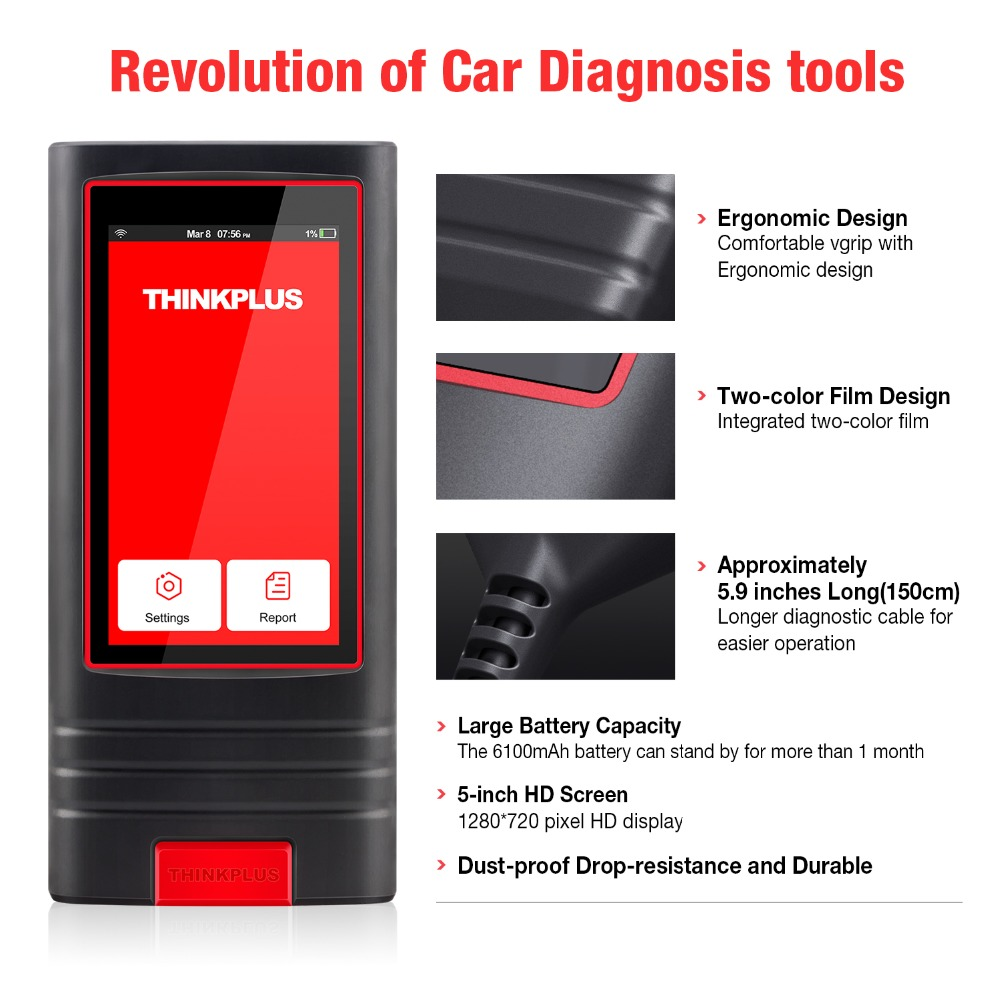 AUNCH Thinkcar Scanner SPEC:
Android™ 7.1
Screen: 5″ touch screen
Built-in Storage: 8GB
Battery: 6000mAh - Li-ion
Working Temperature: -10 ~ 50°C
Storage Temperature: -20 ~ 60°C
Package List:
1pc x Thinkcar Thinkplus Full System Scanner
1pc x OBD II Diagnostic Cable
1pc x DC 5V Charging Cable
1pc x User Manual
1pc x Power Adapter