Launch THINKCAR Thinkdiag Full System OBD2 Diagnostic Tool Powerful than Launch Easydiag With 1 year All Softwares

$88.00 $122.00
Brand: Launch Thinkcar
Product Code:

SC511

Availability:

In Stock

Weight:

0.30kg

Views:

19513 times
Launch THINKCAR Thinkdiag Full System OBD2 Diagnostic Tool Powerful than Launch Easydiag With 1 year All Softwares
NEW BOOT ThinkDiag ALL Car Brands All Reset Service 1 Year Free 2021 Elite Version OBD2 Diagnostic Tool Supports Active Test ECU Coding more functions Surpass old boot Thinkdiag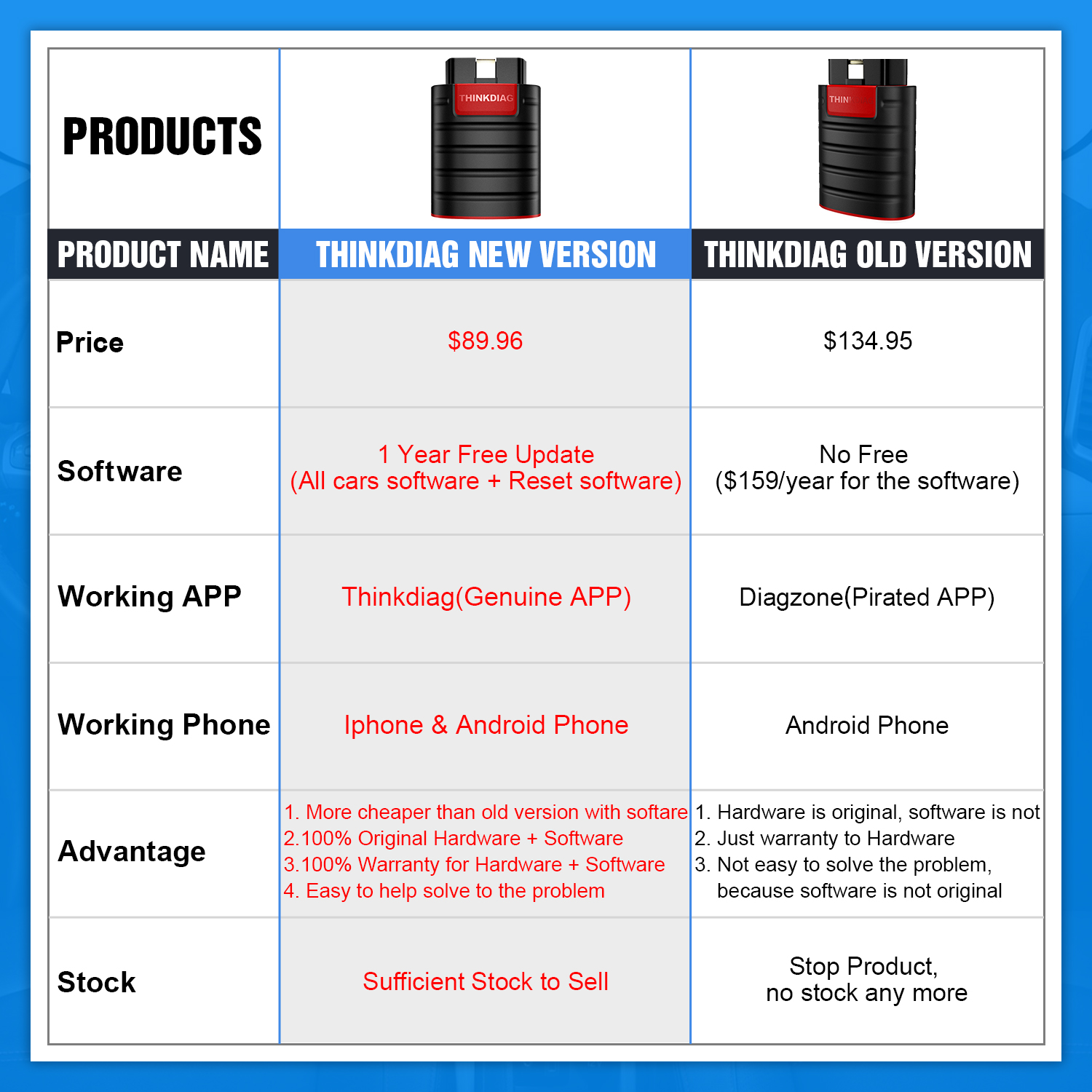 THINKCAR THINKDIAG is an Automotive Diagnostic Device same like easydiag. It supports full systems diagnsis for the car, and 15 kinds of reset functions.
You can delete car errors codes and reset the system if you have the thinkdiag.
ThinkDiag will be a $3000 level professional scan tool.
ThinkDiag is perfect to use with our unique App. Easy and convenient, anytime and anywhere.
Comprehensive functions include diagnostic module, ThinkStore module, ThinkMoments module, Me module, etc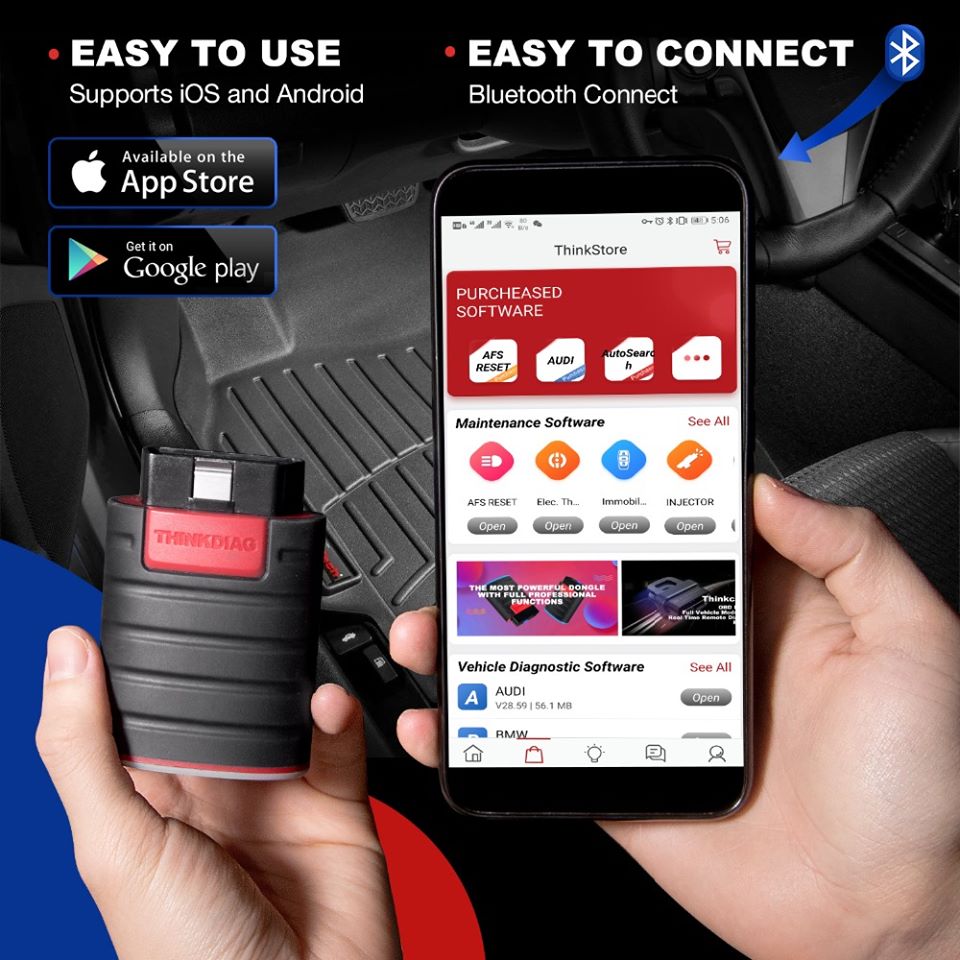 Launch Thinkdiag Advantages:

1. Connect car via bluetooth on smartphone, app name is ThinkDiag
2. Plug ThinkDiag into the OBD port, open ThinkDiag App on the smartphone to do the vehicle diagnosis.
3. 16 kinds of reset service
4. Full System Diagnosis
6. Cover Up to 115 Major Vehicle Manufacturers: ThinkDiag covers 115 major vehicle manufacturers in the market, and keep updating
7. Free Update Online for One Year.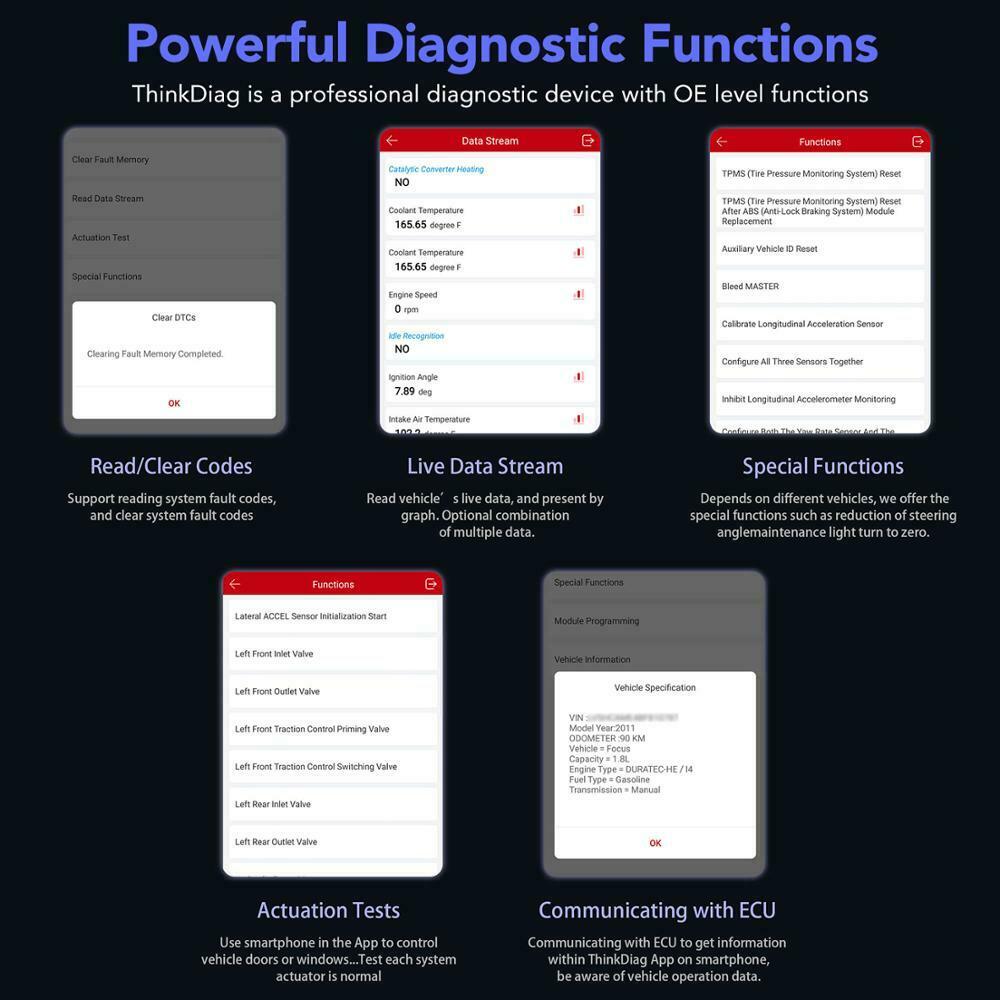 Launch Thinkdiag Functions:

1. All Systems Full Functions Diagnosis, reading system fault codes, and clear system fault codes
2. Read vehicle's information automatically
3. Start communicating with ECU, scanning fault codes
4. Read vehicle's live data, and present by graph. Optional combination of multiple data.
5. Generate a diagnostic report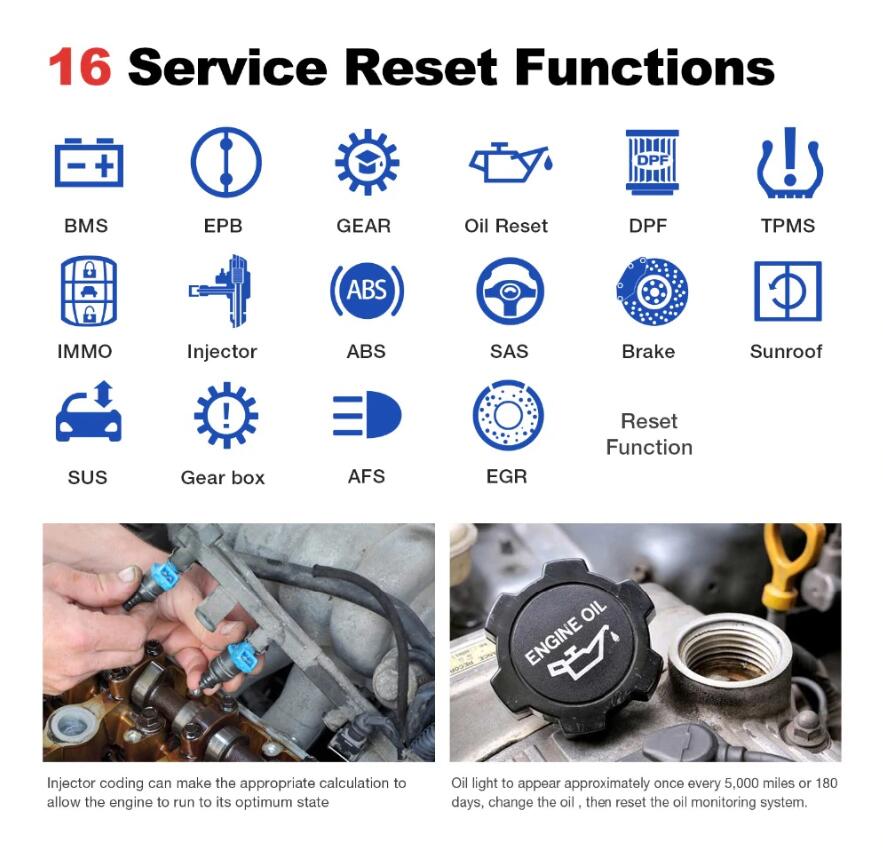 Launch Thinkdiag Coverage Systems:

1.Oil Reset Service
2.Steering
Angle Calibration
3.Electronic Parking Brake Reset
4.Battery Register & Battery Maintenance
5.ABS Bleeding
6.Electronic Throttle Position Reset & Learn
7.Diesel Particulate Filter (DPF) Regeneration
8.Tire Pressure Monitor System Reset
9.Tooth Learning
10.Anti-theft Matching
11.Injector matching MaEET
12.Air Suspension Reset
13. Gearbox Reset
14.Sunroof RESET
15.AFS Reset (EGR)
16.EGR Reset
Note: These special function NOT for all car models, if you are confused, Please send your car brand, model and release year to seller to check it for you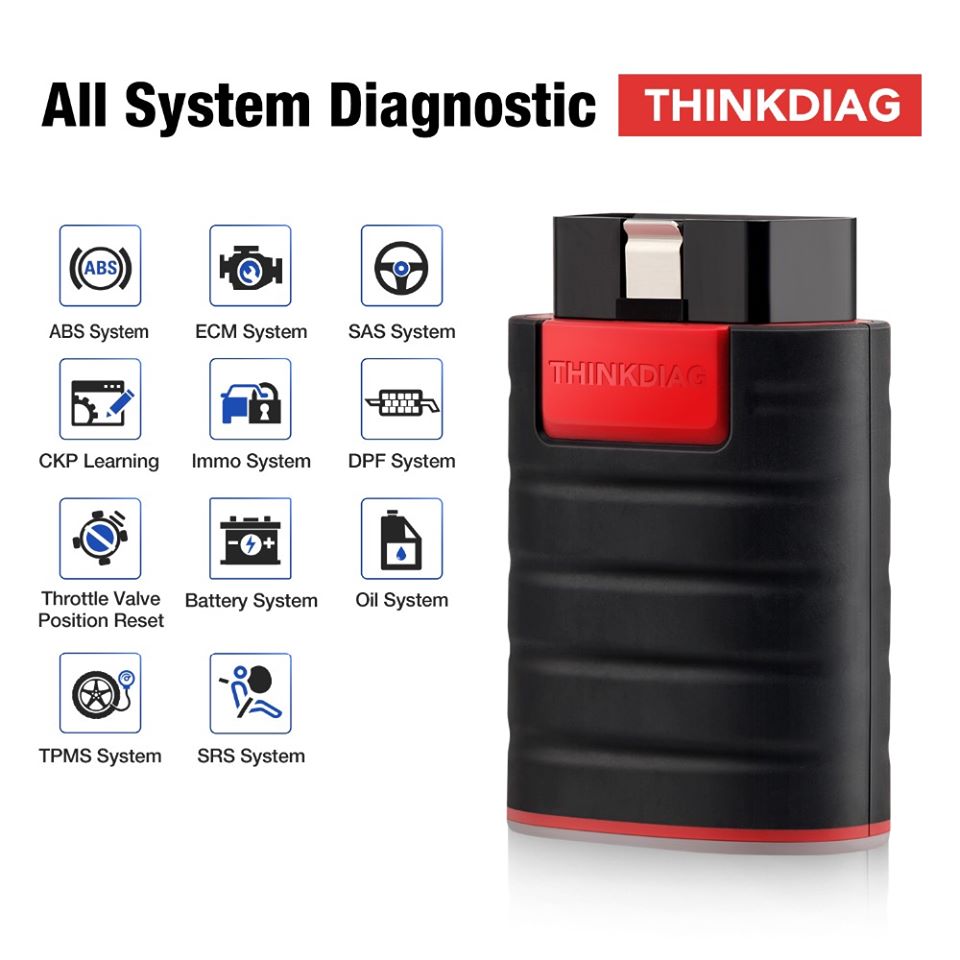 Launch Thinkdiag Support Car List:

Aston Martin,Audi,Benz,BMW,Chrysler,Honda,JP-Isuzu,KIA,Land Rover,Maserati,Porsche,Renault,Rover,SAAB,Seat,Subaru,Suzuki,Toyota,USA Ford,Volvo,Citroen,Daewoo,Mitsubishi,Skoda,Hyundai,Mazda,Ferrari,Nissan,Smart,Peugeot,SGM,Fiat,Opel,Sprinter,Ssangyong,VW,GM...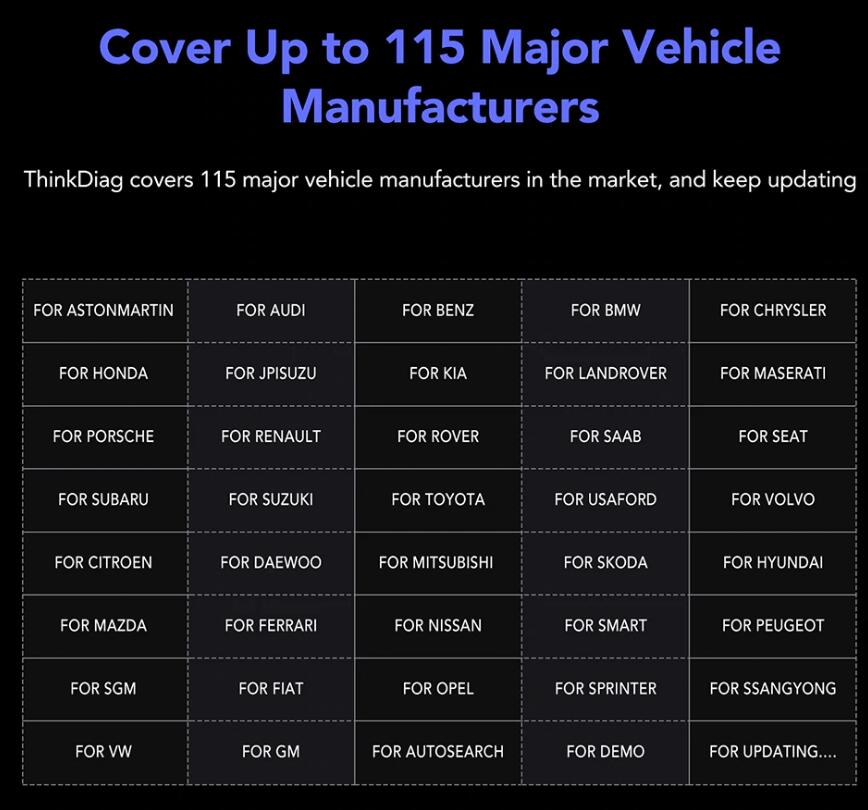 Launch Thinkdiag Specifications:

Smartphone Support: Android & iOS
Bluetooth: Yes
Software Subscriptions: Free 1-Year Subscription
Dimensions: 4.6 x 3 x 1.5 inches
Warranty: 1-Year Manufacturer Warranty
Compatible OBD II Protocols: ISO 14230-4(KWP2000), ISO 15765-4(CAN), ISO9141-2(iso), ISO14229(uds), SAEJ1850(VPW & PWM)

Launch Thinkdiag FAQs:

Q1:Does ThinkDiag require an internet connection?
A1:ThinkDiag device required Bluetooth connection with your smartphone. If you need to update your vehicle diagnostic software, your smartphone needs an internet connection.

Q2:Can I share my test reports with others?
A2:Yes, you can share your reports on Facebook, Twitter, or in the ThinkDiag app's community ThinkMoments.

Q3:What format are the reports saved or exported in?
A3:The reports can be exported as PDF so you can easily share or print it.

Q4:Does ThinkDiag need charging?
A4:ThinkDiag is powered directly by the vehicle's OBD II port.

Q5:Can ThinkDiag be used on more than one car?
A5:Yes, it can be used with different vehicles as long as you download the corresponding diagnostic software.

Q6:Can my ThinkDiag device connect to multiple smartphones?
A6:Yes, simply use the same account to log into a new smartphone. You can restore the previously purchased software by downloading it on the new phone.

Q7:Do I need to pay extra to use ThinkDiag?
A7:not need, this is all brand software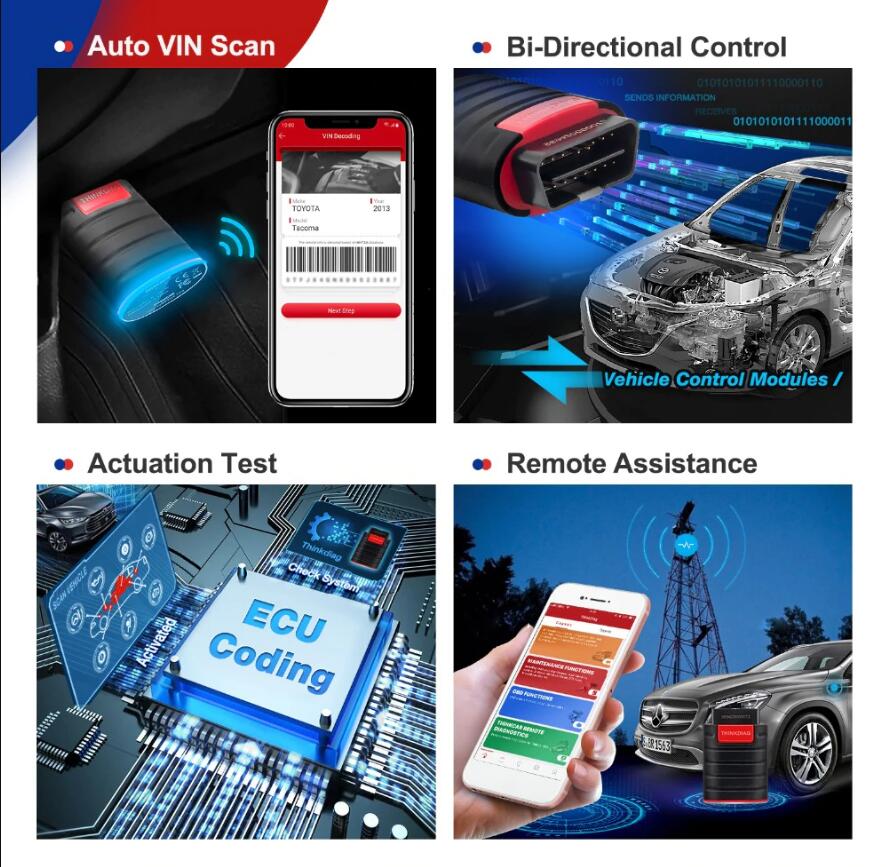 Launch Thinkdiag Package Includes:

1pc x Launch Thinkdiag OBD2 unit
1pc x User Manual
Free 1-Year all Manufacturer Software Subscription