LAUNCH X431 PAD V Car Diagnostic Tools J2534 CAN FD DolP Online ECU Programming Coding Auto OBD OBD2 Scanner pk X431 V PRO3S+

$1,998.00 $2,550.00
Brand: Launch
Product Code:

1005005005315416

Availability:

In Stock

Weight:

10kg

Views:

16459 times
LAUNCH Elite X431 PAD V Car Diagnostic Tools, Support Online Programming Coding, Full System Diagnosis , Active Test (Bi-Direction Control), Many Reset Service, Support J2534, DolP, CAN FD Protocols, Dual WIFI, Remote Diagnosis, 4GB RAM + 64GB ROM ROM(can extend up to 128GB), 8 core Cortex-A53 2.0GHz processor and Docking & charging station included with QC3.0 Quick Charge technology , Free update extended to 2 Years
What situation needs to perform programming ?
1. Programming new ECUs: Replace new ECU(Determine if programming or coding is required based on fault code prompts). It can read and back up the original ECU data of the vehicle. (Note: The newly purchased spare part numbers need to be equal to the original ones.)

2. Reprogramming second-hand ECUs: Clear second-hand ECU data for reprogramming(if the second-hand has the anti-theft data, it needs to be used with LAUNCH X-PROG3 to clear anti-theft data first, and then match it with the original anti-theft data before reprogramming.).

3.Update the ECU: Some of the ECU has BUGs so it will cause some faults that are difficult to repair. ( For BMW 2889 DME intake valve, carbon deposition, and some of F serious machine oil lamps can't be zero.)

4. Fixing lost data of ECU: When the software in the ECU corrupts the program due to battery or grounding issues(the Hardware is normal), re-programming can rectify it back to normal operation.

5. Reprogramming on failed programming ECU: If the programming fails but the hardware didn't damage, the LAUNCH X431 PAD V can reprogram the module in Manual Mode which is compatible with VW/Audi/Ben/BMW. And it supports Programming Backup/Restoration that is applied to match anti-theft data for Mercedes-Benz engine modules and transmission modules, which requires purchasing X-431 PROG3 additionally (If the programming fails, ECU will not communicate and you will not be able to access the system ).
Please Note: Programming is no IP Limited except Spain and Portugal.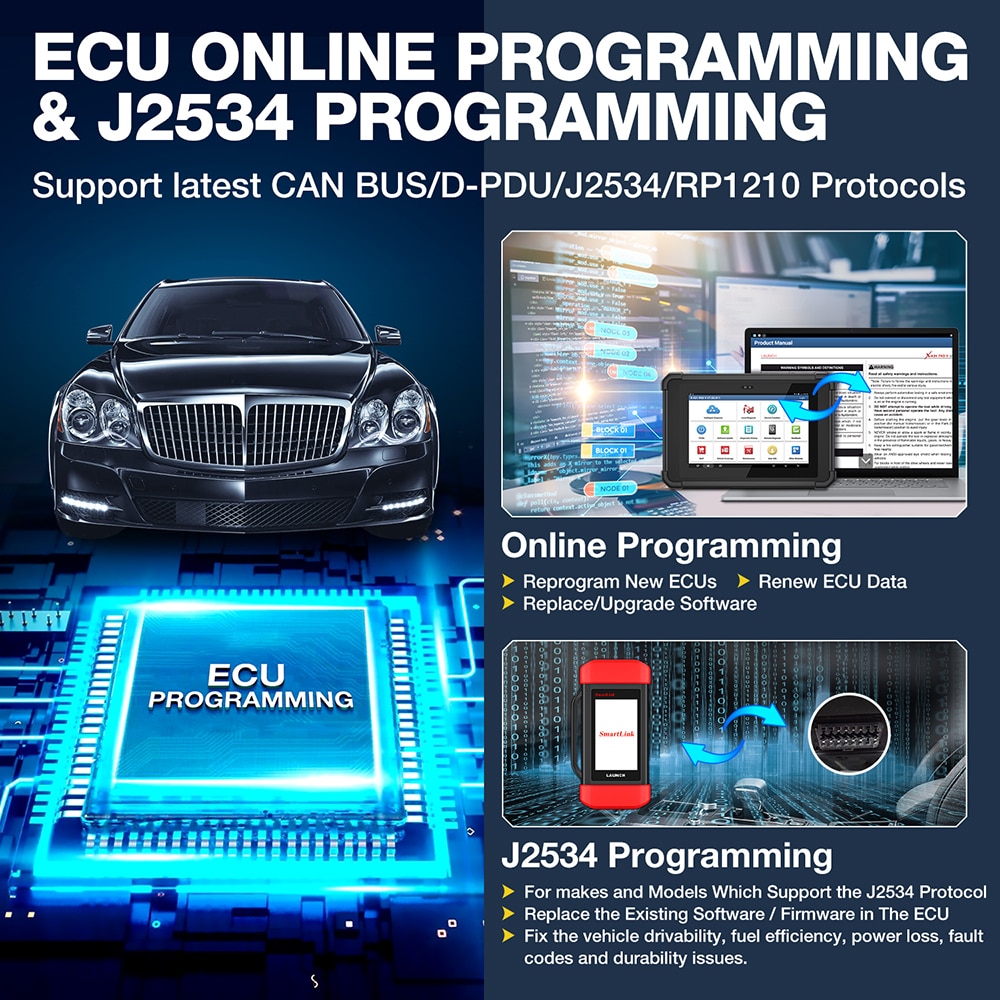 Good New!!!
LAUNCH PAD V added 1 year free update , total get 2 years free update
Multi-Language Supports
Support English, French, Spanish, German, Russian, Korean, Japanese, Portuguese, Italian, Polish, Dutch, Hungarian, Finnish, Simplified, Czech, Turkish, Greek, Arabic, Danish, Persian, Romanian, Serbian, Swedish, Chinese Traditional
Language is free, switch at will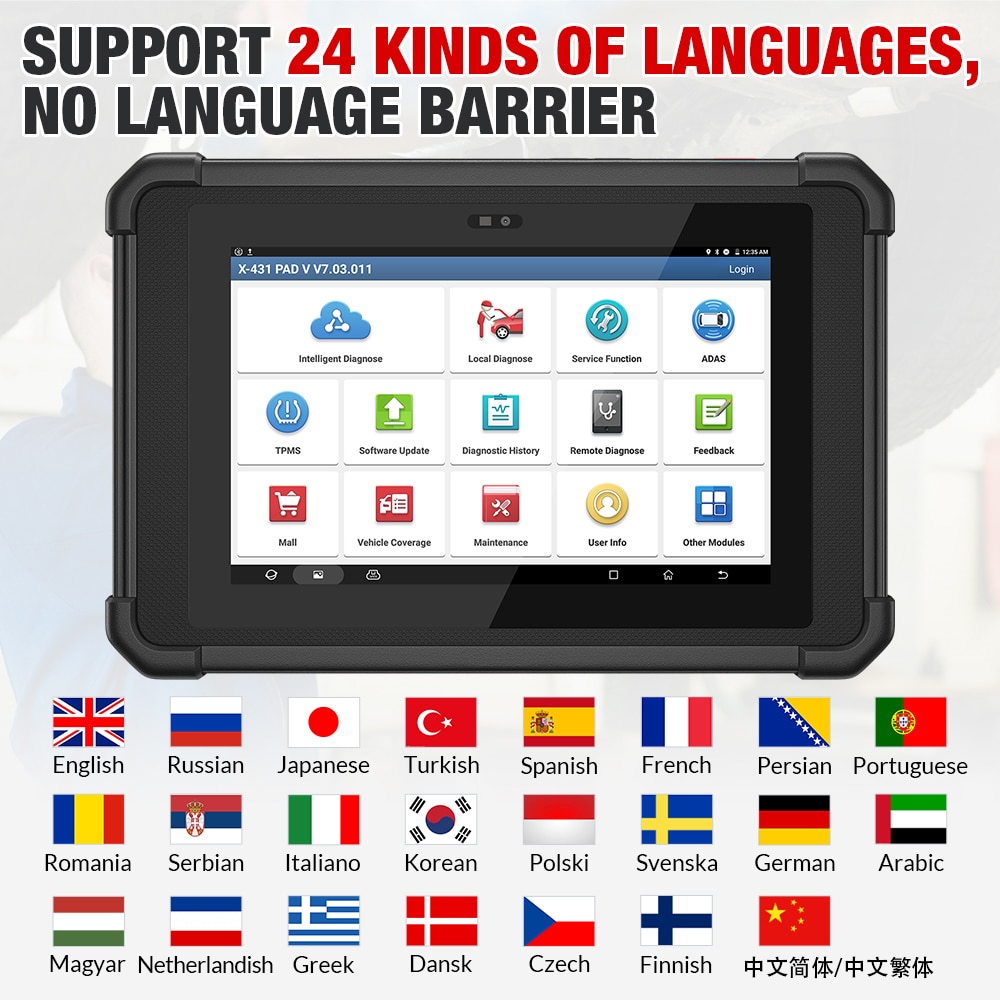 Highly recommended by auto repair shops and mechanics!!!
Compared with the programming products supported in the market, LAUNCH X431 PAD V supports more models and more comprehensive functions
a. Support 30+ Car Brands, overing European cars, American cars, Asian cars and Chinese cars ,and keep increating

b. function including: Online Coding, Online Programming,Online Parametric Configuration,On-Line Matching And Calibration, Fuel Quality Defect Firmware Upgrade and more

c. Applicable vehicle models for online programming : For Mercedes Benz, for Porsche, for FAW Volkswagen, for Kia, for bmw, for Nissan, for SKODA, for Mazda ,for VW, for Beijing Hyundai, For Seat, for Fiat, for Audi, For SAIC Rongwei, for Renault, for China GM, For SAIC MG, for GAC MOTOR, for Ford, for Shanghai Volkswagen , for Hyundai, keep increasing...

Vehicle Programming Benefits

1.For Great Wall : support Great Wall, Haval (ECM/AT #), WEY, Oula

2.for Volkswagen Audi advantages: online programming (support for programming and resurrection), firmware upgrade for fuel quality defects, online parametric configuration, part number upgrade, support for manual programming ( more online codes, more online parametric configurations, more online matching and calibration)

3. for Benz advantages : manual control unit programming; clone.

4. for BMW advantages: the code setting data is up to March 22, and it supports modification. Brush hiding has function help, and brush hiding has expert mode.

5. for Mercedes Benz advantages : 13 years ago, it had initialization startup (programming, code setting, anti-theft, initialization). After 13 models, the engine module and transmission module can be cloned.

6. for Ford advantages: Since 2018, all models and functions of FORD original factory have been online.
Basic function: After 18 years, X-431 is offline
Special function: After 18 years, X-431 will be online
The original manufacturers of Chrysler and FIAT have gradually put all models and functions online since 2018. X-431 all functions online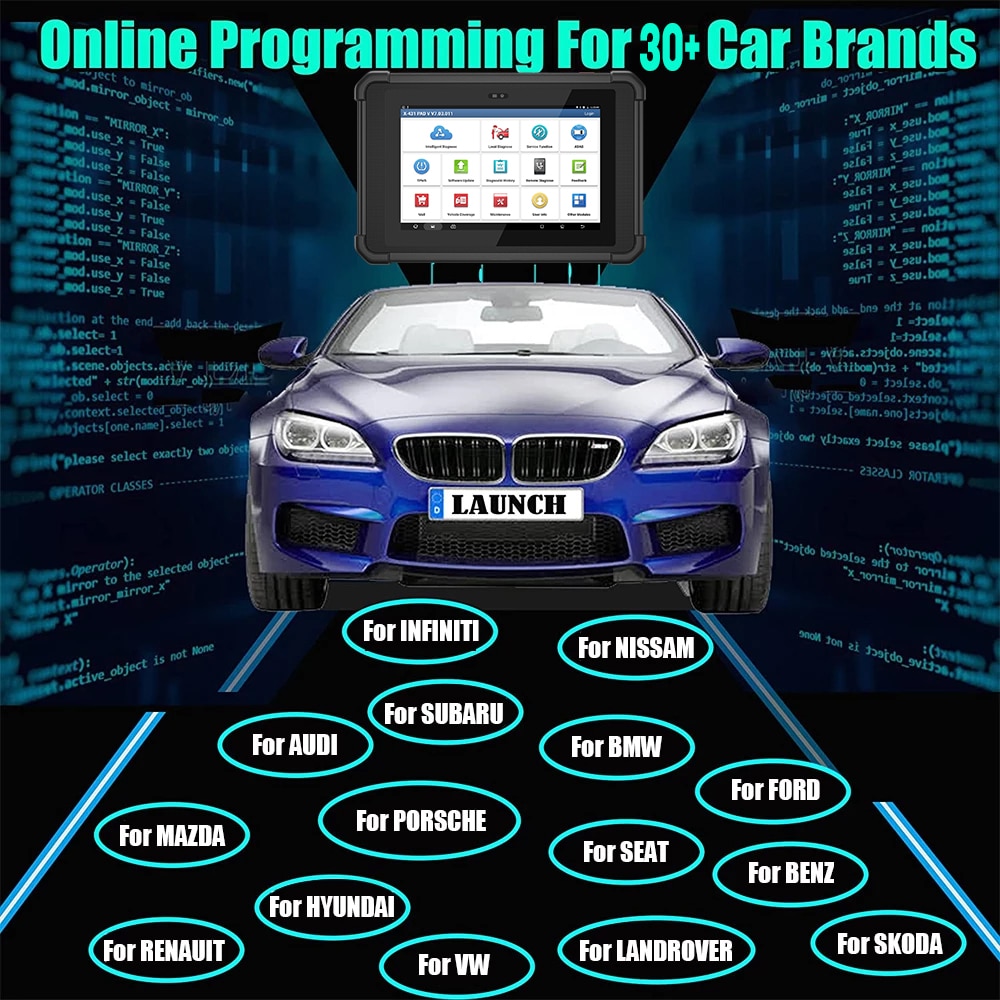 What is Programming Function ? What different is Online Programming and Offline/J2534 Programming ?
Programming Function is to finish program/ rewrite/ code/ match new ECU after new module replacement. Taking your business to a new height, it can for :
1) program the new adaptive data to the on-board modules;
2) replace the existing software/firmware in the ECUs;
3) match the component control modules after repair or replacement;
4) flash the hidden functions and
5) enhance the vehicle performance.

Online Programming is download the original data from automaker service directly , it is ensures the correctness and latest version of the data you get , Improves the success rate of programming !!!

Offline/J2534 Programming is for you had the data , just write it to you ecu directly( if you do not have the data , you can not do programming function ).

LAUNCH X431 PAD V supports Online Programming + Offline/J2534 programming , it is more powerful and Cost-effective than other J2534 tool :

* X-431 PAD V online programming does not require an expensive online account, just connect to WIFI, saving maintenance costs.

* smartbox adopts dual WIFI communication to improve programming speed, thereby reducing the possibility of programming errors

* When using J2534 tool, in addition to the connector, it is also necessary to consider issues such as adapting the computer, installation costs, and complete functions, which is not cost-effective.
Support J2534, DolP, CAN FD and other protocols with SmartBox 3.0 connector
J2534 / RP1210 Diagnostic Protocols Cover More Vehicle Type,you can perform OE-level diagnosis and programming for more accurate diagnosis and efficient car repair jobs to win more business!

DoIP/CAN FD Protocols for High-Speed CAN Cover New Vehicle Models
OE-Level Full System Diagnosis and support Topological Graph
1. Support full-make, full-system, full-function rapid diagnosis, read DTC, clear DTC, read data stream, actuation test, etc.

2. LAUNCH X431 PAD V auto scan tool new-added topology module mapping,it is easy to view the communication structure between modules.you can directly access all system to perform functions,view live data in graph. Better to let you know the car clearly and simple !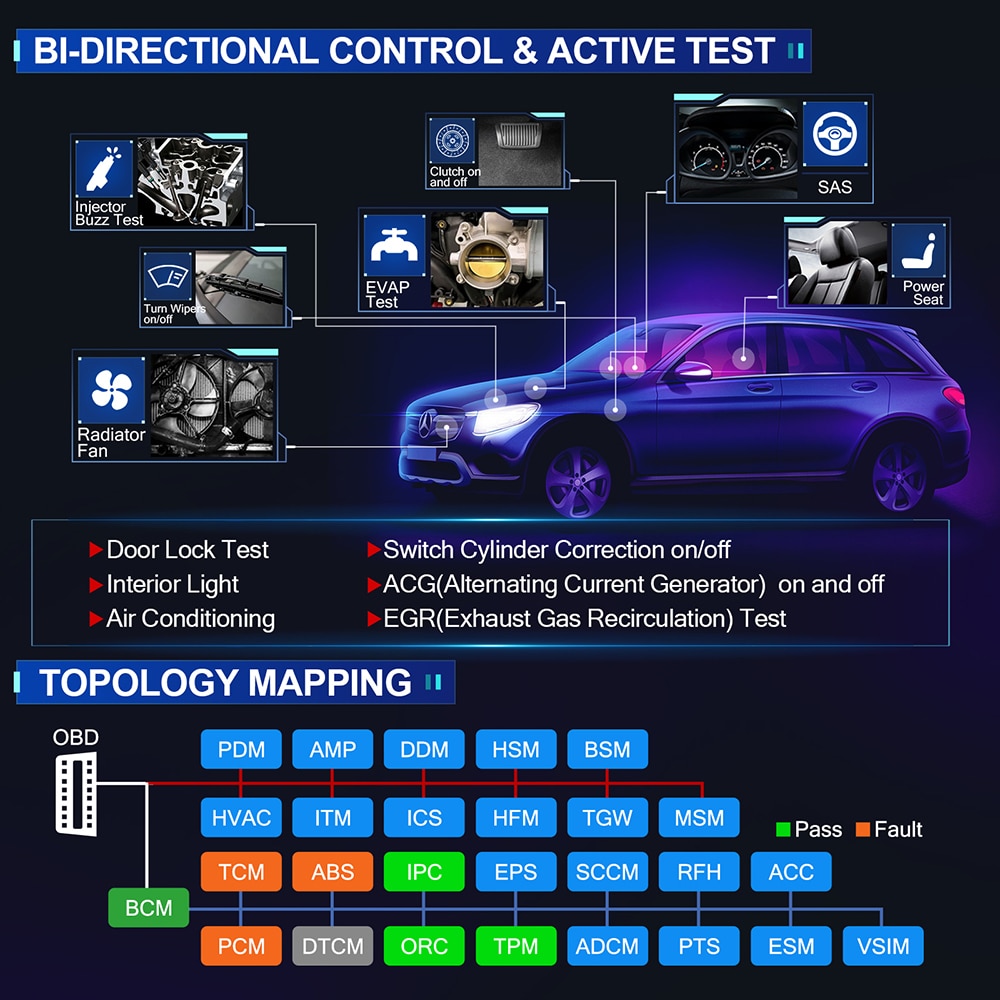 Bi-Directional Control ( Active Test )
The launch scanner x431 pad v support: Injector Buzz Test , Idle Speed Adjustment, Window Lock Test, Door Lock Test, Glow On/Off, ACG On/Off, Pump and Valve Test, Fuel Pump, EGR Test, IMRC Test, EVAP Test, A/C Compressor Activation, Turn on the Radiator Fan, Clutch On and Off, Acceleration Device Test, Modulate the Throttle, Solenoid Valve, tank Ventilation, Switch Cylinder Correction Off/On, etc.
ECU Coding: Alter the Car on Your Demand
From manufacturer-specific reprogramming to full diagnostic capability, this LAUNCH diagnostic scanner also has the magic power "ECU Coding" to keep you on the cutting edge:
1) You can match, relearn, and code the newly installed ECU module after making repairs or replacements. 2) You can change the market-specific settings to activate higher-level car functions and disable unneeded features, breaking limitations.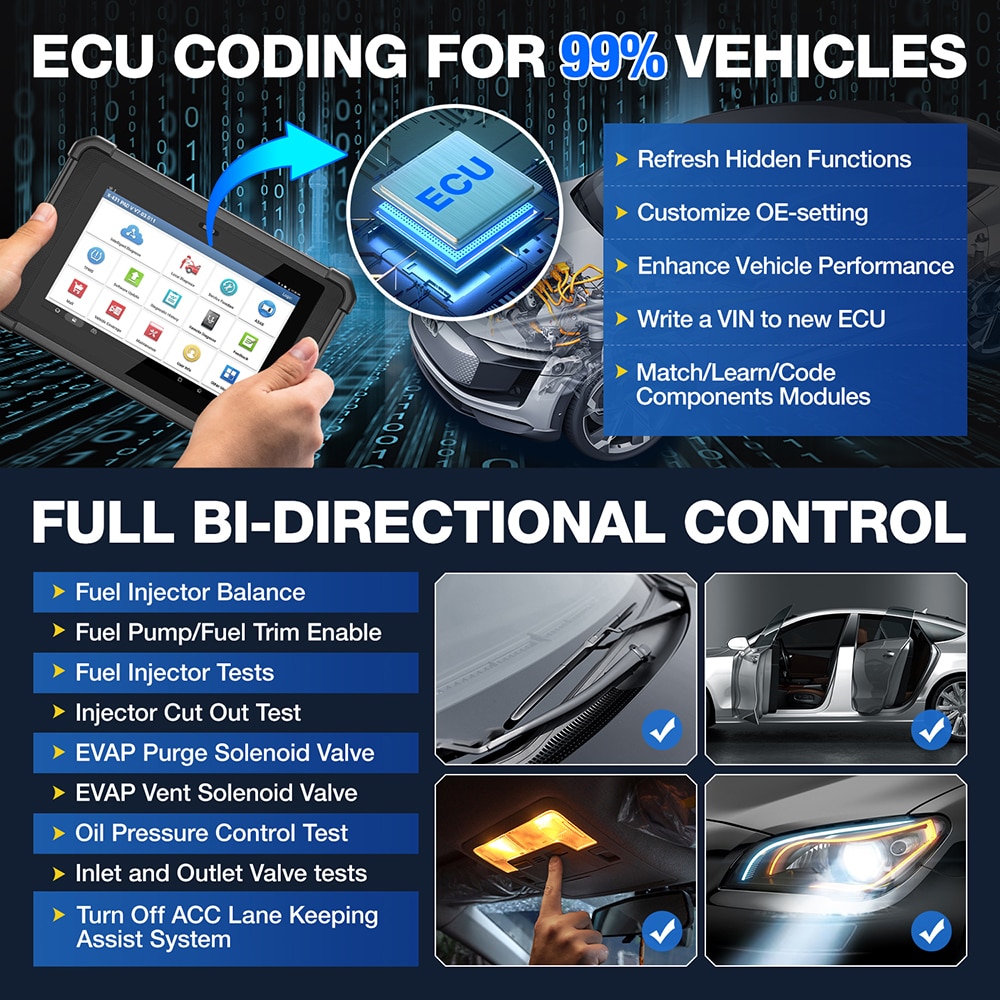 50+ HOT Services. Handle Your Daily Car Maintenance.
1. Oil Reset Service

reset the oil service for the engine oil life system, which calculates an optimal oil life change interval depending on the vehicle driving conditions and weather events.It needs to be performed in the following cases:
1. If the service lamp is on, run car diagnostics first for troubleshooting. After that, reset the driving mileage or driving time, so as to turn off the service lamp and enable a new driving cycle.
2. If the service lamp is not on, but you have changed the engine oil or electric appliances that monitor oil life, you need to reset the service lamp.

2. Electronic Parking Brake Rese

reset the brake pad after replacing the brake pad.It needs to be performed in the following cases:
1. The brake pad and brake pad wear sensor are replaced.
2. The brake pad indicator lamp is on.
3. The brake pad sensor circuit i
3 Steering Angle Calibration
reset the steering angle, after replacing the steering angle position sensor, replacing steering mechanical parts (such as steering gearbox, steering column, end tie rod, steering knuckle), performing four-wheel alignment, or recovering car body

4. ABS Bleeding

perform various bi-directional tests to check the operating conditions of Anti-lock Braking System (ABS). It needs to be performed in the following cases:
1. When the ABS contains air.
2. When the ABS computer, ABS pump, brake master cylinder, brake cylinder, brake line, or brake fluid is replaced.

5. Tire Pressure Monitor System Reset

quickly look up the tire sensor IDs from the vehicle's ECU, reset tire pressure and turn off the tire pressure MIL. It needs to be performed in the following cases: Tire pressure is too low, tire leaks, tire pressure monitoring device is replaced or installed, tire is replaced, tire pressure sensor is damaged, and tire is replaced for the car with tire pressure monitoring function.

6 .Gear Learning

perform tooth learning for the car, to turn off the MIL. It needs to be performed in the following cases:
1. After the engine ECU, crankshaft position sensor, or crankshaft flywheel is replaced.
2. The DTC 'tooth not learned' is present.

7. Injector Coding

write injector actual code or rewrite code in the ECU to the injector code of the corresponding cylinder, so as to more accurately control or correct cylinder injection quantity. It needs to be performed in the following cases: After the ECU or injector is replaced.


8 . Battery Maintenance System Reset

perform a resetting operation on the monitoring unit of vehicle battery, in which the original low battery fault information will be cleared and battery matching will be done. It needs to be performed in the following cases:
1. The main battery is replaced.
2. The battery monitoring sensor is replaced.

9. Diesel Particulate Filter (DPF) Regeneration

clear PM (Particulate Matter) from the DPF filter through continuous combustion oxidation mode (such as high temperature heating combustion, fuel additive or catalyst reduce PM ignition combustion) to stabilize the filter performance. It needs to be performed in the following cases:
1. The exhaust back pressure sensor is replaced.
2. The PM trap is removed or replaced.
3. The fuel additive nozzle is removed or replaced.
4. The catalytic oxidizer is removed or replaced.
5. The DPF regeneration MIL is on and maintenance is performed.
6. The DPF regeneration control module is replaced.

10. Electronic Throttle Position Reset

make initial settings to throttle actuators and returns the learned values stored on ECU to the default state. Doing so can accurately control the actions of regulating throttle (or idle engine) to adjust the amount of air intake.
11 EGR Adaption
learn the EGR (Exhaust Gas Recirculation) valve after it is cleaned or replaced.

12 .Gearbox Matching

This function can complete the self-learning of the gearbox and improve the shift quality. It needs to be performed in the following cases: When the gearbox is disassembled or repaired.

13 .AdBlue Reset (Diesel Engine Exhaust Gas Filter)

After the diesel exhaust treatment fluid (car urea) is replaced or filled up, urea
reset operation is required.

14 .Transport Mode

To lower vehicle power consumption, user may perform the following operations: limit vehicle speed, not wake up the network for door open and disable remote key etc. In this case, deactivating transport mode is needed to recover vehicle being normal.

15. Windows Calibration

perform door window matching to recover the ECU initial memory, and recover the automatic ascending and descending function of power window.

and More ...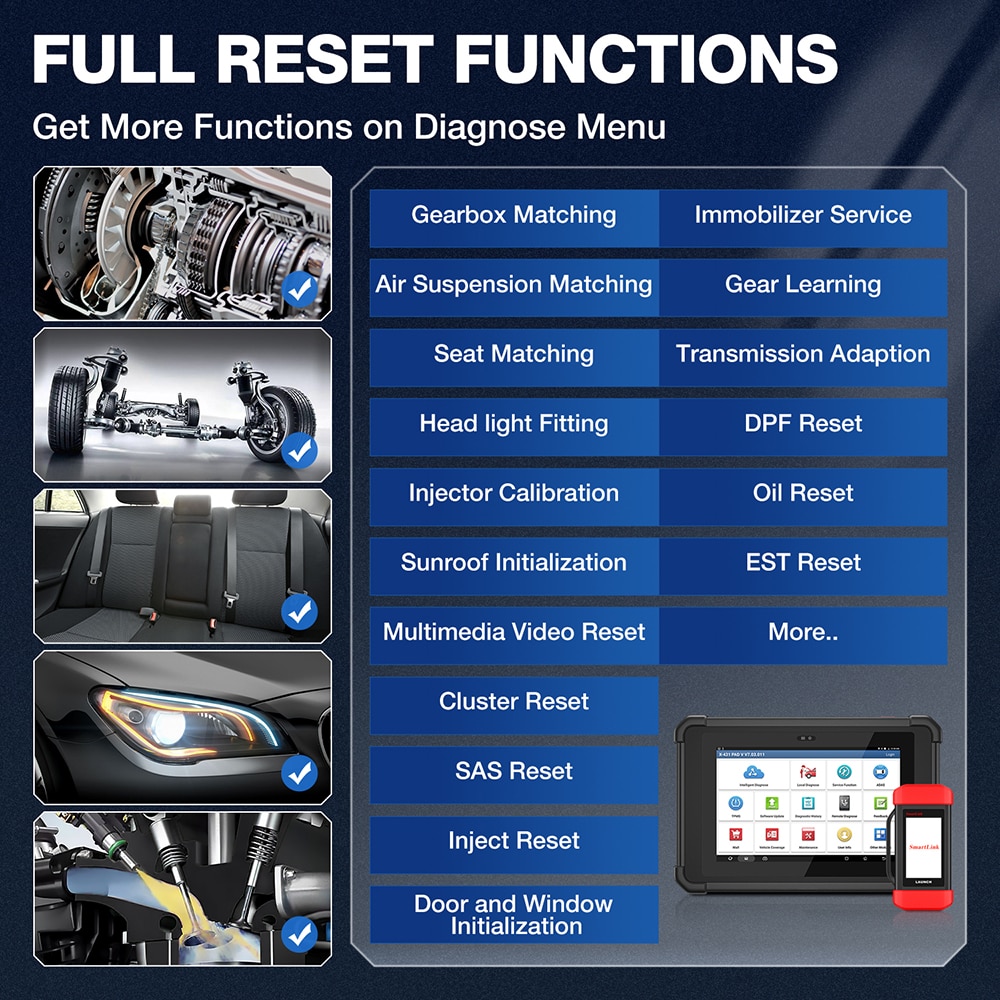 Work for Both 12V cars and 24V trucks (Optional)
If you need heavy duty truck software, please contact with us and buy software from us.

then we will help you authorize heavy duty truck software and send the Non-16pin connector kit to you and you can use this disgnostic tool to diagnose 12v cars and 24v trucks without HD module.
LAUNCH X431 PAD V Function Help Features
Quickly solve your problem, save time

1. Remote diagnose: Support online real-time communication and remote diagnostic service through text, picture, and file between device and device, and between device and remote desktop, with low network bandwidth and system resources occupancy.

2. Diagnostic feedback: For model software and function errors met during the use, please submit the feedback immediately. LAUNCH will response as soon as possible.

3. diagnostic report: View comprehensive diagnostic report, remote diagnostic report, and data stream playback.

4.Abundant maintenance data are available, which helps repair professionals diagnose and repair vehicles efficiently, accurately and profitabl

supprt data flow waveform display ,DTC Lookup ,ect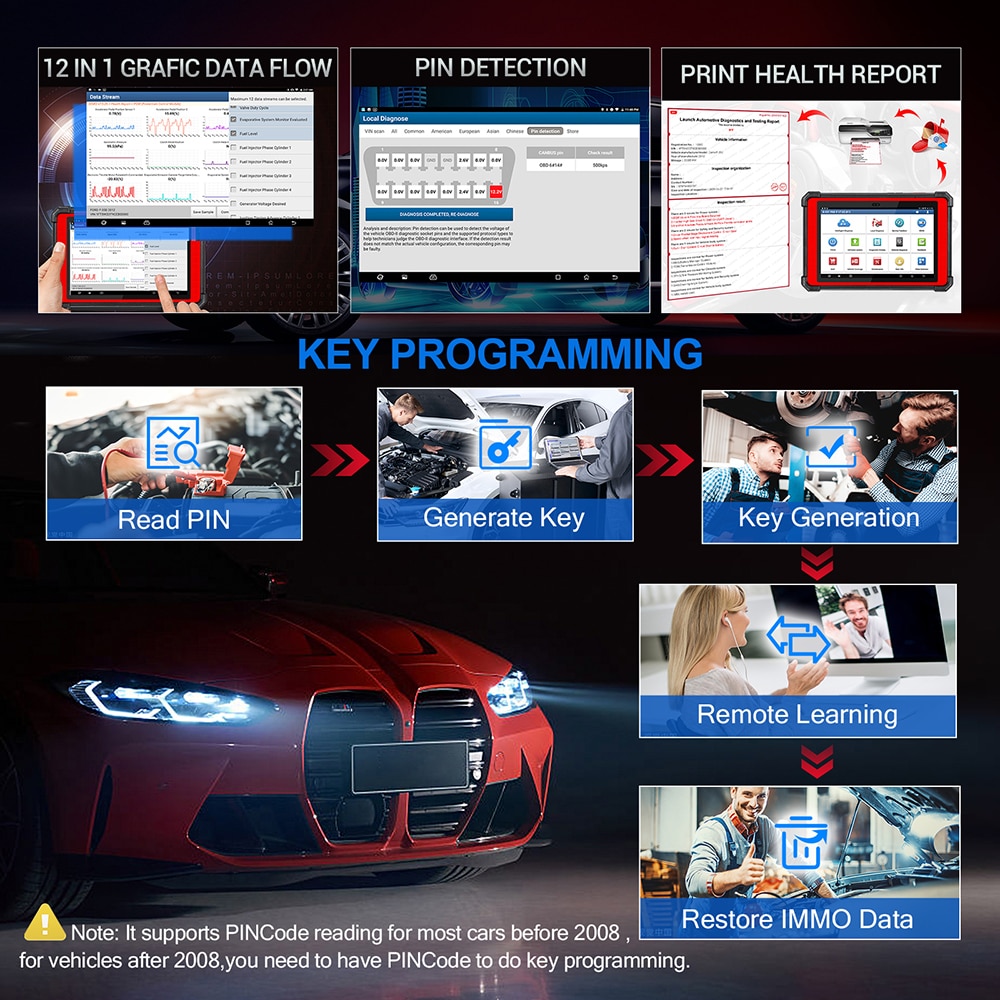 Work with X431 X-PROG3 to do anti-theft matching, anti-theft programming (Optional)
★Fast and accurate reading and writing of data.

★ Powerful functions, supporting Mercedes-Benz infrared key reading/writing, BMW engine ISN code reading, engine reading in BENCH mode, etc.

Functions
★Read BMW engine ISN code.
★Read/write BMW CAS4+ and FEM chips.
★Read/write Audi fifth-generation steering column chipsH3.Read/write Audi fifth-generation steering column chips.
★Read/write EEPROM.
★Read/write MCU.
★VW Fourth-generation Dump Mode All Keys Lost.
★Read engine in BENCH mode.
★ Read gearbox data.
★More features are constantly updated………
Guided Functions for VW and for Audi Brands
X431 PAD V has guided functions among all online products of LAUNCH.

Guided Functions show all specific operating instructions step by step, and automatically run the instructions to do the resetting, matching, coding etc.

You just need to follow the instructions and click complete/continue to do it.

It is a good assistant helping you to find a way during the car repairing.
NEW OPTIONAL FUNCTIONS (option functions)
1. X431 ADAS Mobile/PRO:When the adaptive cruise control module (ACCM), radar sensor or front bumper has been replaced or does not meet the maintenance calibration requirements, you need to perform "radar calibration" on your vehicle.

2. VSP600-Videoscop: helps technicians to check issues on unreachable area in a vehicle. With 6 levels light strength, technicians can easily adjust the brightness according to the environment.

3. TSGUN: a professional tire pressure diagnostic tool that integrates TPMS sensor activation, reading, learning and pro-gramming. It activates reading tire pressure information by receiving signals at low or high frequencies. Check for abnormal conditions in time to prevent tire pressure problems.

4. X-PROG3 Immobilizer: turn this X431 diagnostic scanner into a capable IMMO service tool, providing fast, easy, and intuitive k-ey pro-gramming for VAG group vehicles with 2/3/3.5 gen. IMMO, and most Asian cars with low-level antitheft systems; also to have completed IMMO & K-ey Pro-gramming (read & write 1200+ EEPROM and MCU chips, etc.) for VW/Audi/Skoda/Seat models manufactured after 2008 with 4/5/5.5/6 gen. IMMO system.

5. X431 PRINTER: Print out diagnostic data/ reports
O2-1 ScopeBox, Oscilloscope: to quickly acquire the circuit signal, and slowly display the waveform for better data analysis.

6. BTS360 Bluetooth Battery Tester: to get a thorough test of the vehicle battery.

7. ADAS . ect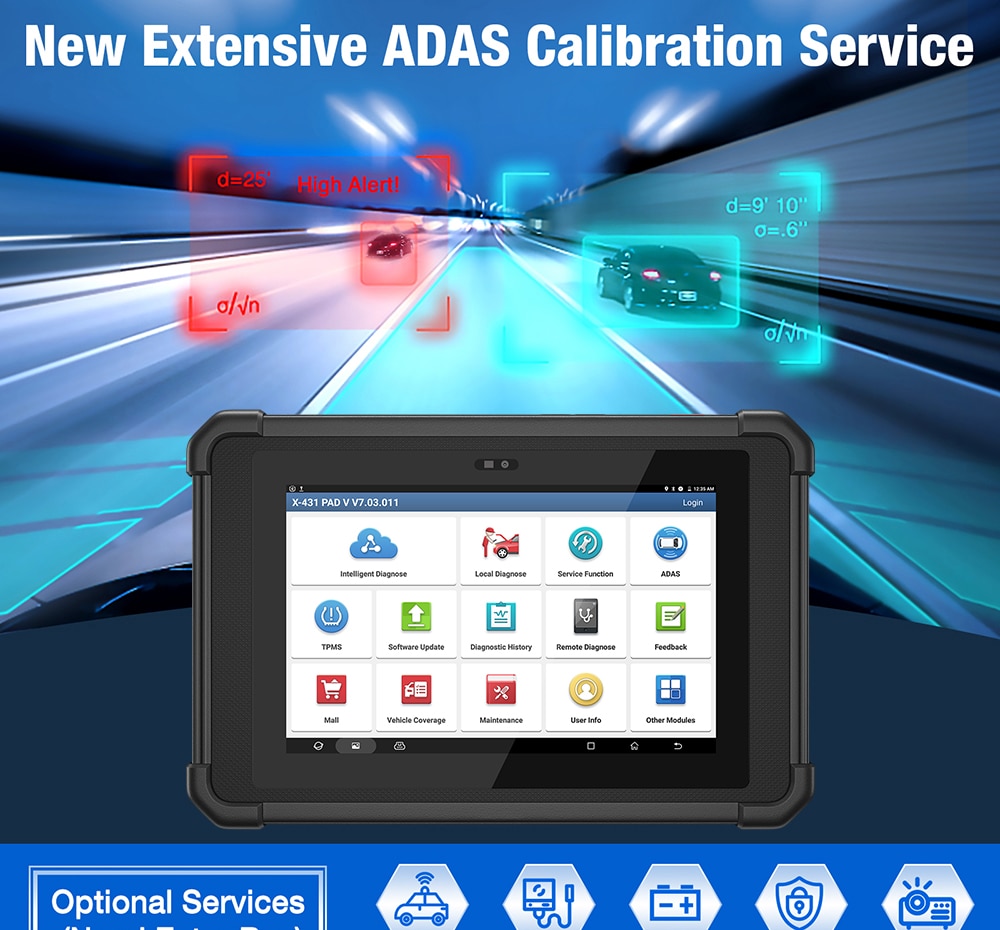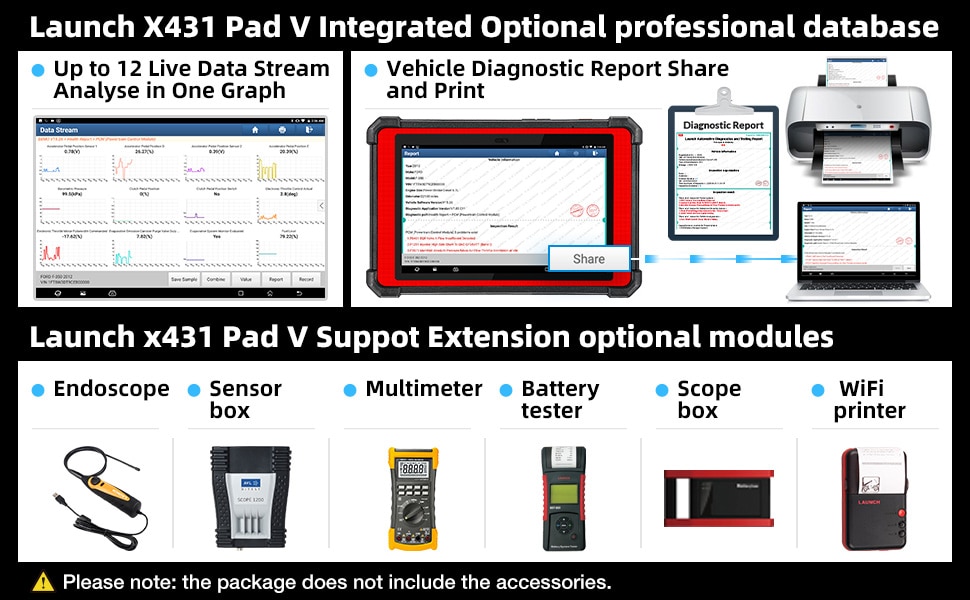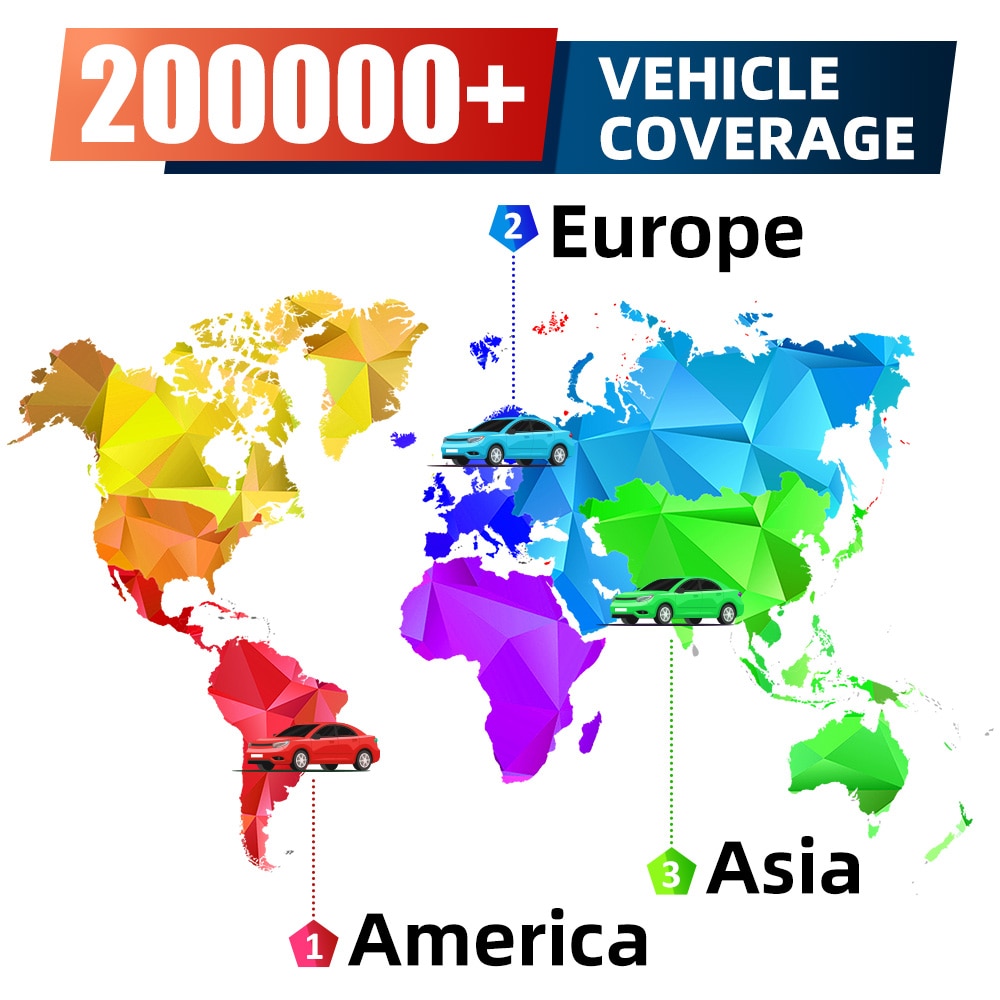 LAUNCH PAD V support Car list
Chinese cars: Beijing Automobile, BAIC Magic Speed, Dongfeng Fengshen, GAC Trumpchi, GAC Mitsubishi, Haima, Mustang, China GM, Beijing Jeep, Beijing Hyundai, BYD, Changan Suzuki, Dandong Shuguang, Dongfeng Fengxing, Hainan Mazda, Geely, JAC , Jiangnan Alto, Lifan Motors, Nanjing Iveco, Chery, Qingling, Shanghai Volkswagen, FAW-Volkswagen, Zhengzhou Nissan, Zhidou, Zotye, ZTE, etc.

Asian cars:Honda, Acura, Toyota, Lexus, Mazda, Nissan, Infiniti, Hyundai, Kia, Ssangyong, Daewoo, Isuzu, Daihatsu, Suzuki, Mitsubishi, Subaru, etc.

American cars: Chrysler, Dodge, Jeep, American Ford, Lincoln, GM, Buick, Cadillac, Chevrolet, etc.

European cars:Aston Martin, BMW, Rolls Royce, Mercedes-Benz, Maybach, Peugeot, Volkswagen, Bentley, Bugatti, Ferrari, Fiat, Abbas, Lancia, Romeo, Renault, Maserati, Lamborghini, Citroen, Audi , Porsche, Volvo, Land Rover, Jaguar, Rover, Opel, Skoda, SEAT, Mini, Saab, etc.
what will you get ?