2023 Launch X431 PAD VII PAD 7 Elite Scanner with GIII XPROG 3 Key Programmer Support with All Keys Lost & Online Programming

$2,550.00 $2,679.00
Brand: Launch
Product Code:

SP371+SK368

Availability:

In Stock
X431 X-prog 3/X431 G xprog/ launch PAD 7/launch PAD 7 with Xprog 3/pro3s+ GIII
Launch X-431 PAD VII  Automotive Diagnostic Tool with X-PROG3 Immobilizer & Key Programmer 
X-431 PAD VII is a high-end comprehensive diagnostic tool, X-PROG 3 advanced immobilizer & key programmer is a powerful chip reading device that can read/write keys to the vehicle. Compatible with X-431 series diagnostic scanners, X-PROG 3 enables Anti-theft type identification, Remote control matching, Key chip reading & matching, anti-theft password reading and anti-theft component replacement.
Highlights of Pad VII+X-Prog3:
1. 1 Year Free Update Online
2. Global Version Without IP Limitation
4. Support Commercial Vehicle and Passenger Car Diagnose, Support J2534, CAN FD, DoIP.
5. Full System Vehicle Coverage for U.S., Asian and European Markets Over 110 Brands, Which is Continually Updated
6. Multi-Language Supported: 
English, French, Spanish, German, Russian, Korean, Japanese, Portuguese, Italian, Polish, Dutch, Swedish, Chinese
7. Support Online Coding and Programming to Year 2021:
 BMW, Mercedes, VW, Audi, Seat, Skoda, Porsche, Nissan, Infiniti, Subaru. (Can't perform in United States, Canada and Spain)
8. Pad VII+X-Prog3 Supports VW/ AUDI MQB Platform Engine ECU Replacement or Cloning
 (Read engine ECU data directly from the key).
Notes:  



1. After One Year, Software Subscription Cost 450USD for One Year, 599USD for Two Years
2. Can Not Support Online Programming In Spain, Portugal, Other Countries Won't Have This Problem
3. PAD VII Can Support ADAS Calibration, But Clients Need To Buy the ADAS Devices to Make It. Without ADAS Devices, Can Not Do ADAS Calibration by PAD VII Only





X-431 PAD VII Features
1. Full system vehicle coverage for U.S., Asian and European markets over 110 brands, which is continually updated
2. Upgrade and expand the X-431 PAD VII with more software and service via the new module 'MALL' as demanded
3. Real-time voltage display helps technician to monitor the voltage condition of vehicle during the diagnosis
4. Topology mapping gives a visual checking on DTCs and all systems communication status
5. Support automotive communication protocols CAN/CANFD/DoIP and automotive communication standards J2534/D-PDU/RP1210
6. Auto-detects the communications protocol of the vehicle and assist to check automotive OBDII port pin damaged or not
7. Intelligent diagnostic enable identify VIN automatically and access system quickly
8. Guided function for VW and AUDI
9. Optional ADAS calibration function increases more revenue
10. Advanced coding and programming function
11. An extended solutio to support TPMS service
12. 2.4GHz & 5GHz dual band communication ensures quick and stable connection
13. Empower technician to diagnose light, medium & heavy duty vehicles with Smarlink C
14. The basic functions include read & clear DTC, remote diagnosis, Bi-directional control, live data graph, wireless software update etc.
15. Build-in repair information and training video modules help to track and fix issue fast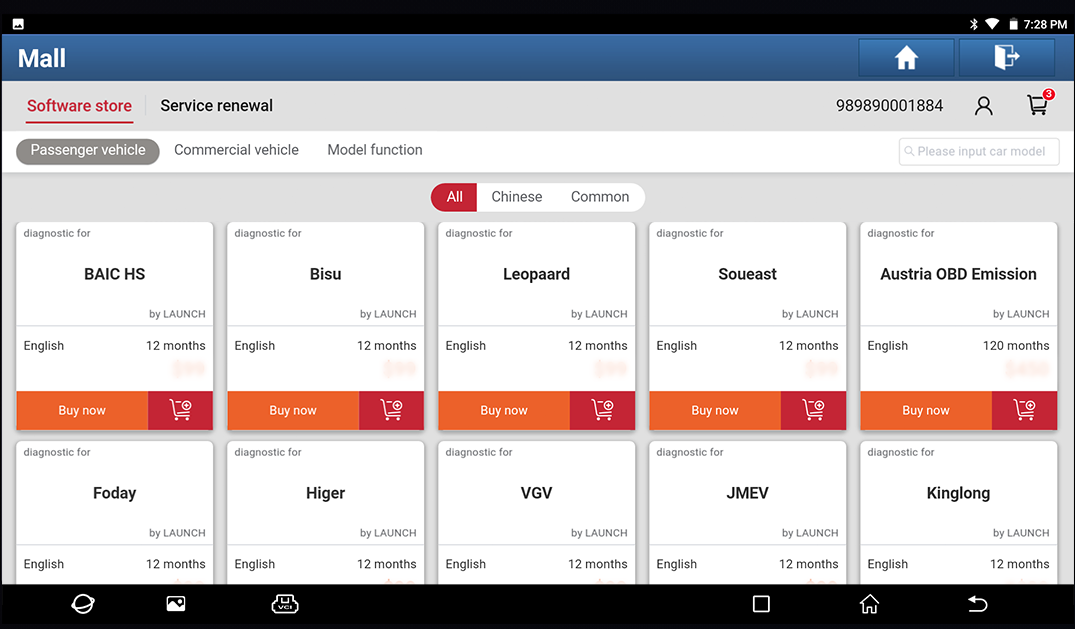 Vehicles Coverage:
Passenger Vehicles:
1. Australian:  AUST Holden, AUST Ford
2. Asian: Toyota/ Lexus, Honda/ Acura, Mazda, Subaru, Nissan/ Infiniti, Mitsubishi, Hyundai, Isuzu, Daihatsu, KIA, Daewoo, Suzuki, Proton, Tata, Mahindra, Ssangyong, Perodua, Maruti
3. European: Audi, Mercedes/ Maybach, BMW/ MINI/ Rolls Royce, VW/ Bentley/ Bugatti, Opel/ Vauxhall, Peugeot, Citroen, Volvo, Sprinter, Renault/ Dacia, Fiat/ Romeo/ Abarth/ Lancia, Rover, Landrover, Saab, Seat, Skoda, Smart, Maserati, Ferrari, Arston Martin, Porsche, Jaguar
4. USA: USA Ford/ Lincoln, GM/ Buick/ Cadillac/ Chevrolet, Chrysler/ Dodge/ Jeep
5. Chinese: Changcheng (Great Wall), Geely, Qirui_TY(Cherry), Futian, Changan, Changhe, Haifei ….etc.
6. Special: Immobilizer/ Key, Injector, Reset Brake Bleed, Reset TPMS, Electronic Throttle Relearn, Reset DPF, Reset SAS, Reset Oil, Reset Brake, Reset BMS
7. Others: EOBD, Demo
Heavy Duty Vehicles (Optional):
Nissan (Diesel)
Mitsubishi (Diesel)
USA Ford Diesel, Kenworth
Astra, Benz Heavy Duty,  Bosch Diesel, China Heavy Duty, Cummins Heavy Duty, DAF, Delphi Diesel
Denso Diesel, FAW Liberation, Foton Auman, FUSO, Hino, Hyundai Heavy Duty, Isuzu Heavy Duty
Iveco Heavy Duty, JAC Heavy Duty, Mack , MAN , OBD Heavy Duty, Scania, Shangchai Diesel, Volvo Heavy Duty
WP Diesel, Airbus, Allison Transmission Box, Ashok Rejlander, Bendix ABS, Caterpillar Heavy Duty
Chai Heavy Vehicle, Chaoyang Diesel, Construction Machinery, CREDO Heavy Vechicle, Detroit Engine
Dongfeng Commercial Vehicle, Dongfeng Yufeng, Doosan Engine, Freightliner Heavy Duty Truck
Full Diesel Diagnosis Software, Haldex ABS Heavy Duty, HD_ABS System, HD_GoldenDragon, HD_International
HD_Kinglong, HD_Maxxforce, HD_Tata, HD_Western_Star, Heavy Truck Presentation Software
IRISBUS HD, IRIZAR HD, NEOPLAN HD, Peter HD, Renault HD, SETRA HD, Stannic Bavin, Sterling HD
Sunlong Bus, Sunwin Bus, UD Trucks 2F Nissan Diesel, WABCO ABS, Yang Chai Engine
Functions:
1. Check the DTCs and all systems communication status visually by topology module mapping function.
2. Auto-detects the communications protocol of the vehicle uses, assist to check OBDII connector pin damaged or not.
3. Check the DTCs and all systems communication status visually by topology module mapping function.
4. Powerful diagnostic functions (intelligent diagnosis, remote diagnosis, read DTC, clear DTC, read data stream, actuation test), accurate diagnostic data, and abundant special functions.
5. Display I/M Readiness Status.
6. Read data stream: Support diverse data stream display modes and user-defined standard data stream.
7. Local diagnose: When the intelligent diagnosis is not available in an environment without network, choose traditional diagnosis. Select the vehicle make and model manually to perform the vehicle detection.
Powerful Special Functions:
Component Replacement, Cylinder Compression Test, Injector Cut Out Test, DPF Regeneration, Communicates with ABS & Transmissions from Bendix, Wabco and Allison, Tech to Tech remote communication function
The powerful Smartlink C VCI powers the diagnostic to a new level. Users are available to perform remote diagnosis without being on-site and
the limitation of diagnostic functions, tools and vehicle types. 
It is able to assist technician to identify the OBDII port pin automatically and display the real-time voltage for voltage condition
monitoring during live diagnostics.
Expanded Vehicle Coverage With Extra Adapters
Meanwhile, the X-431 PAD VII also supports 8 extended modules such as videoscope, oscilloscope, sensor box, TPMS tools, key immobilizer and battery tester. With these extended modules, technicians are available to solve high level faults with ease, to make thouse extended modules, you need to pay and buy the following extended adapters, please notice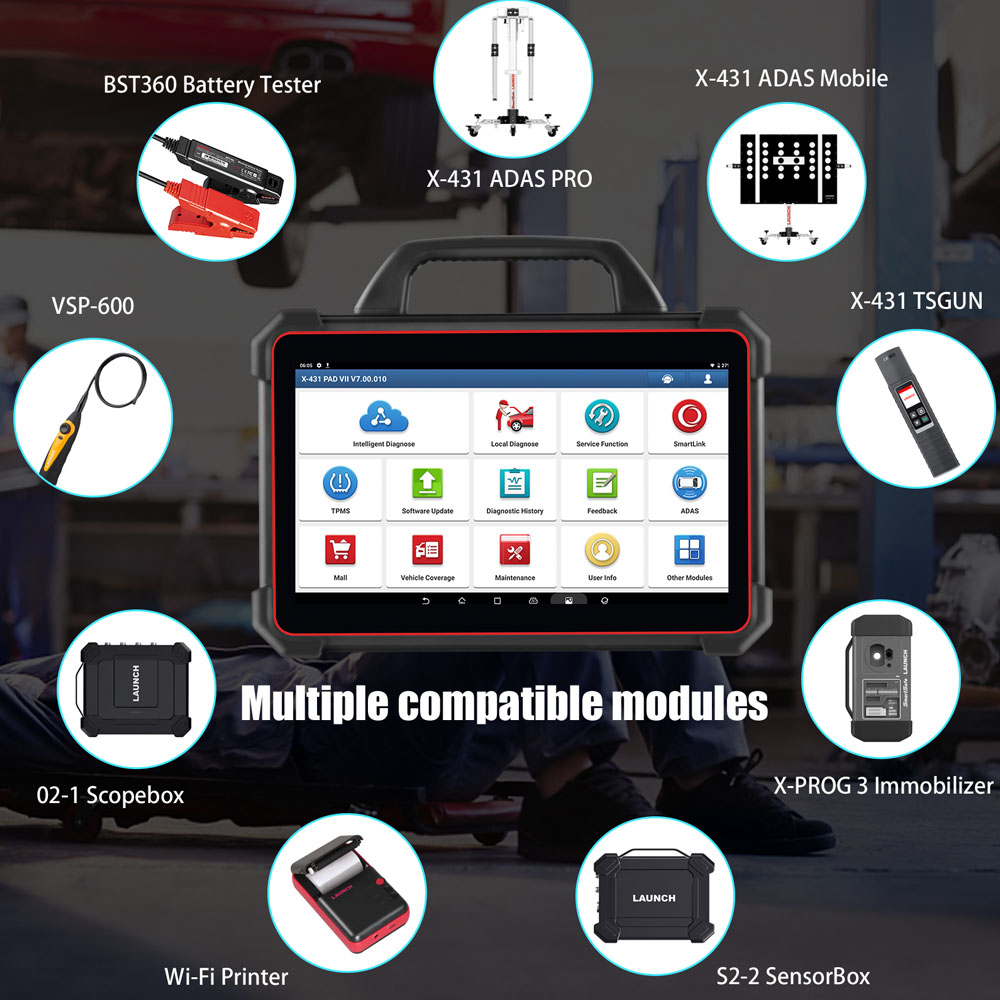 LAUNCH X431 XProg 3 Core Functions
1. Integrated the functions of key matching/ copy, anti-theft IC reading & writing, and ECU reading & writing, etc.
2. Supports common ECU/ MCU/ EEPROM major manufacturers, with over 1200 product models, and constantly updating.
3. Supports ECU replacement for all lost without disassembly for VW/AUDI non-35XX instrument (it can be read directly through independent harness without removing the IC).
4. Supports ECU replacement for the fourth-generation of VW/ AUDI engine;
5. Supports ECU replacement for the fifth-generation of VW/ AUDI Bosch and Siemens engines.
6. Supports the all lost and replacement for the fourth generation of AUDI EZS, comfortable ECU, and KESSY IC.
7. Supports the BMW F and G chassis 8HP gearbox ECU reprogramming to empty.
8. Supports the BMW CAS4/CAS4+ module replacement.
9. Supports the ECU cloning and replacement for BMW Siemens engines.
10. Erase the password for Mercedes-Benz engine and gearbox within 3S.
11. Add the function of calculating the password for the Mercedes-Benz key within 1 minute.
12. Supports VW/ AUDI MQB platform engine ECU replacement or cloning (Read engine ECU data directly from the key).
13. Supports ECU replacement for the fifth-generation of Audi (0AW/0B5) gearbox.
14. Supports reading, writing & cloning the ECU for the fourth-generation of VW UDS engine.
15. Supports BMW E chassis 8HP gearbox ECU reprogramming to empty.
16. Works with reprogramming device to backup/ restore programming data (For Bosch/ Siemens engine ECU).
Package list:
1set xFull set Launch X431 Pad VII
1set xFull set Launch X431 Xprog 3