LAUNCH X431 PRO3S Plus Pro3s+ 10.1' Car Diagnostic Tools Auto OBD2 OBD Full System Scanner TPMS ECU Coding Active Test pk X431 PRO V

$980.00 $1,120.00
Brand: Launch
Product Code:

1005001743490282

Availability:

In Stock

Weight:

11kg

Size (LxWxH):

63cm x 45cm x 21cm
pro3s+ and HD3/ pro3s+
LAUNCH X431 PRO3S Plus 10.1' Professional Diagnostic Tool, Full System Scanner , ECU coding , Matching , Actuation test , Guide function for BMW/ Benz , RAM 3GB+ ROM 32GB(can extend up to 128GB), work with X431 HDIII Heavy Duty Module can test both 12V vehicles and 24V trucks(Include Gasoline and Diesel) + 2 Years Free Update Online
1. ALL-System ALL-Function Diagnostics
2. Full Bi-directional Control ((Active Test))
3. ECU Coding & Online Coding & Key Programming
4. Support OBD I & OBD II Vehicels
5. Remote Diagnoses
6. 31+ OE-LEVEL Relearn Reset Service
7. ADAS Calibration(optional)
8. Health Report Generate&Share&Print
9. Guided Function (Step-by-Step Guide)
10. Stable WIFI Connection
11. Anti-Theft IMMO Service
12.Refresh Hidden Features
13. Cover 10,000+ models
14. Full Set Car Connector and Cable Kit
15. Work with HDIII Heavy Duty to Test 24V Truck.(need extra-buy)
16. 2 Years Free Software Subscription
and more ...
What is the differenr between EU Version and Global Version ?
1. EU Version and Global Version support the same functions.
2. The EU Version is specially designed for European customers and can only be used in the European region. If you are from European country( including United Kingdom and Russia), please select the EU version directly
3. The global version has no IP limited and can be used in any region
Multi-language Supported
English, French, Spanish, German, Russian, Korean, Japanese, Portuguese, Italian, Polish, Dutch, Hungarian, Finnish, Simplified, Czech, Turkish, Greek, Arabic, Danish Persian, Romanian, Serbian, Swedish, Chinese Traditional
Warm TIP: The factory presets the language and the model software in English. After switching the language, customer needs to re-download the model software in the corresponding language.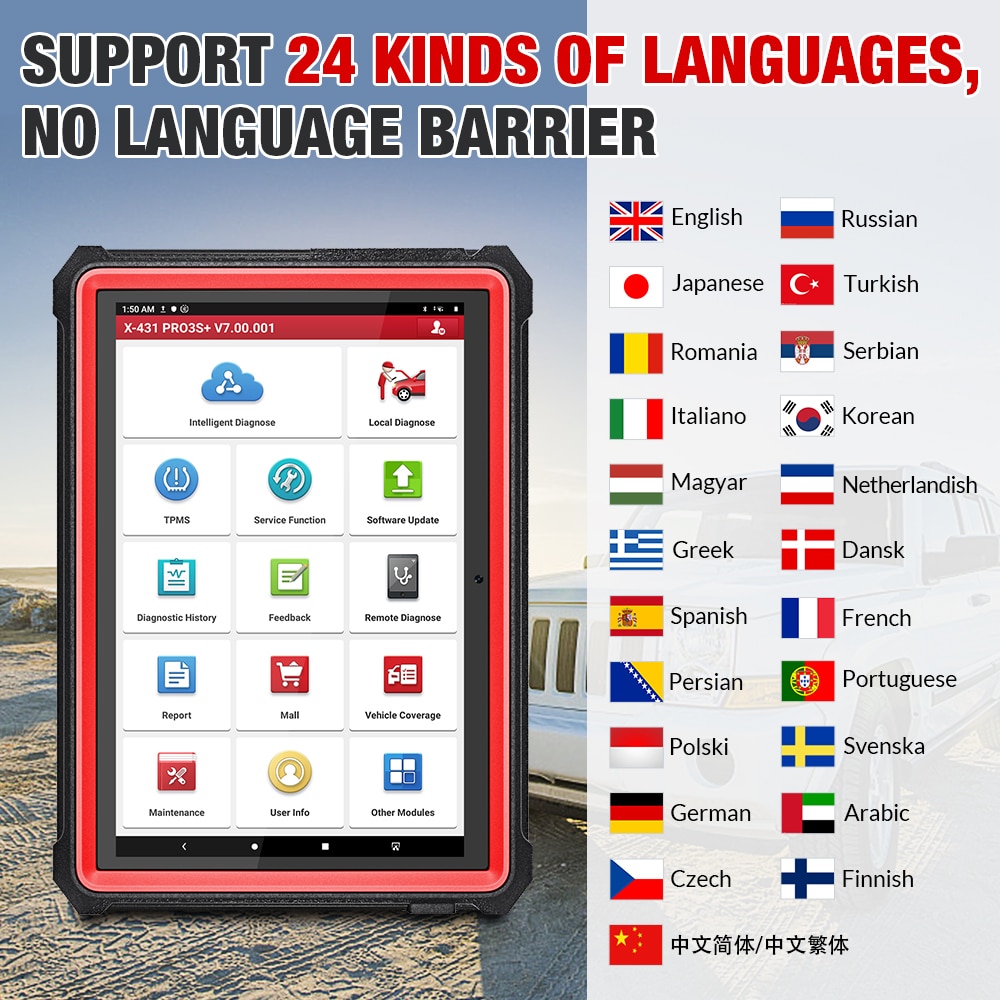 X431 PRO3S+ work with HDIII to Test 24V Truck
Launch X431 PRO3S+ work with X431 HDIII Heavy Duty Module can test both 12V vehicles and 24V trucks(Include Gasoline and Diesel)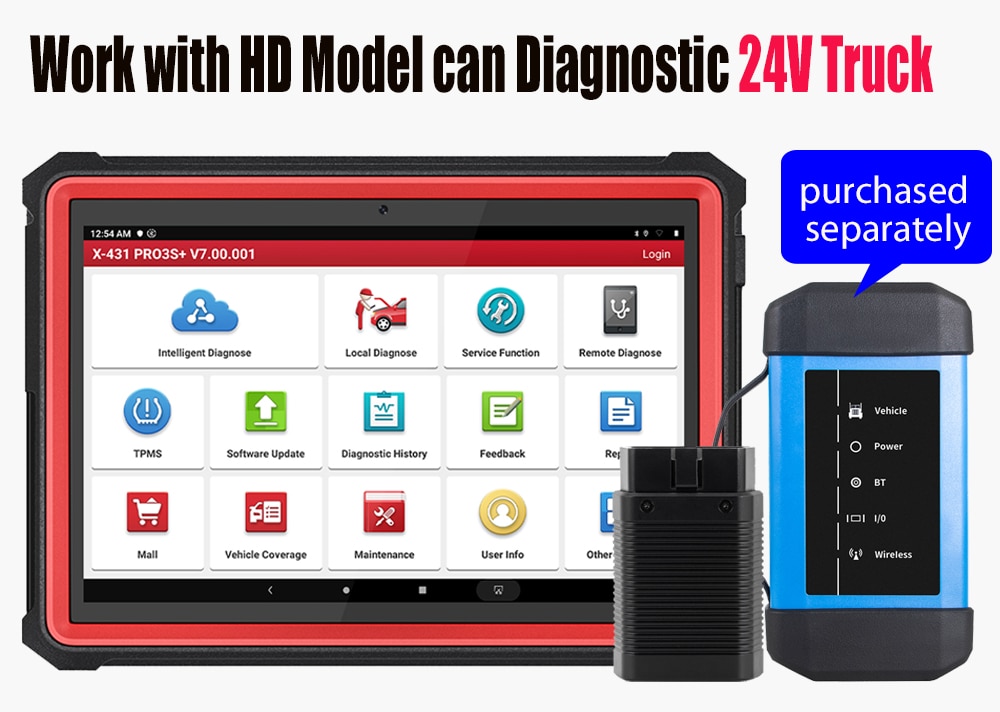 ALL Systems` Diagnoses (Faster and more effective than OE-level coverage diagnostic equipment)
Full System Diagnostic Including :
ABS System, Engine System, SAS System , TPMS System , IMMO System , Battery System, Oil Service System, SRS System, DPF System, Air Conditioning System, Transmission System, ect...

Diagnosis functions include:
Read control unit information, Read DTCs, Clear DTCs, Read datastream, Action test , AF Adjustment, Read frozen frame, Coding match , initialization and More ...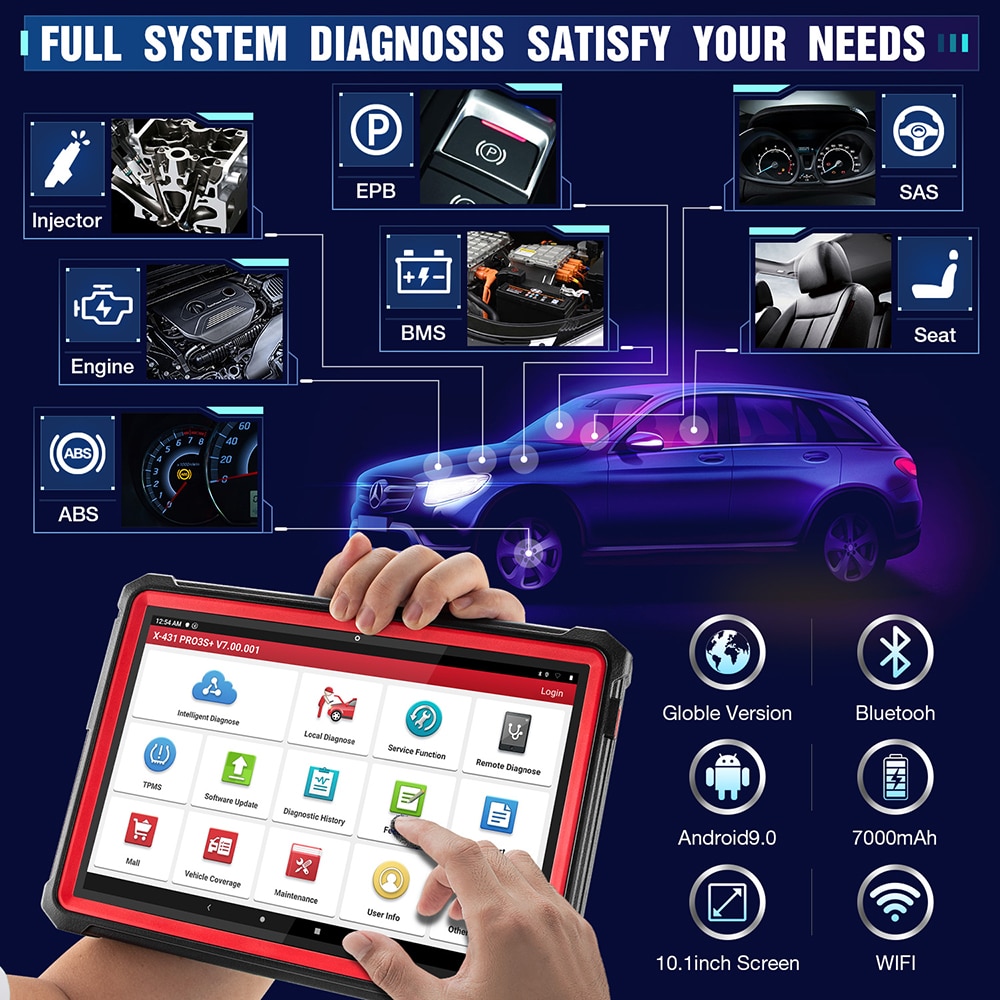 Optimized HIGH-END Hardware Configurations
• The screen size of X431 PRO3S+ (10.1 inches) based on Andoird 9.0 is larger. One screen can display 15 data stream (Graphic and textual), which is easy to navigate.
• X431 PRO3S+ with 2.4GHz&5GHz dual-band Wi-Fi, the transmission rate is 4 times faster than the old version.
• 7000mAh rechargeable battery (up to 15 hours or more of battery life) to avoid frequent charging.
• 32+ 128gb (expandable) storage to save more vehicle documents and customer data.
• CPU processor updated from 1.4GHz to 1.8GHz eight-core to perform diagnostics quickly and efficiently.
• Multi-PID Live Data Graphing IN 1 Screen: One screen can display 15 data stream (Graphic and textual), which is easy to navigate.
• 8XFAST AUTO VIN technology.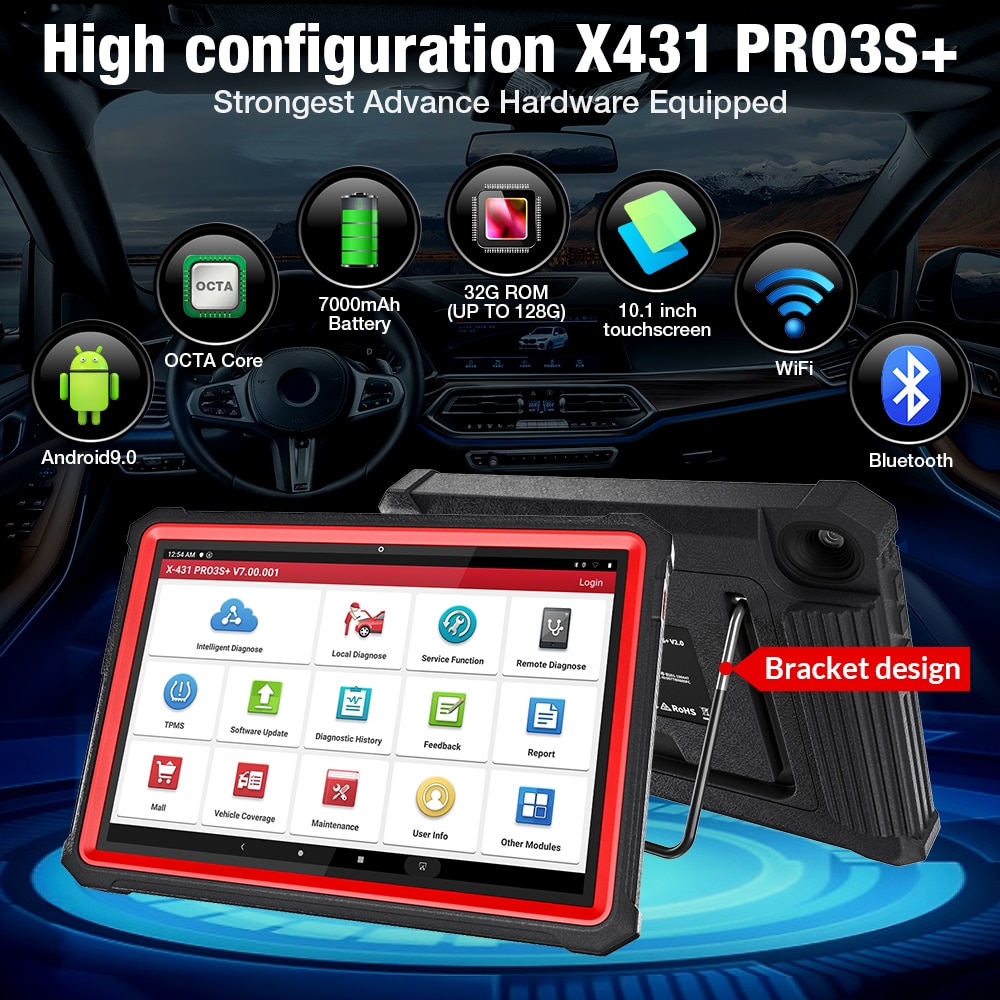 AutoAuth for FCA/ SGW
Use the latest software update function AutoAuth to provide OBDII diagnosis, active testing, calibration, etc. for modern FCA/SGW vehicles, making the diagnostics more secure.Applicable to FCA vehicles equipped with a security gateway module (SGW) in 2017 and later (NOTE: The FCA in North and South America supports the registration of FCA directly on the tablet, but the European region still needs to be purchased before it can be used.)
Guided Functions
Compatible with Volkswagen / Audi / Skoda / Seat etc. for various systems such as engine, gearbox, brake, airbag, instrument, air conditioner, and more.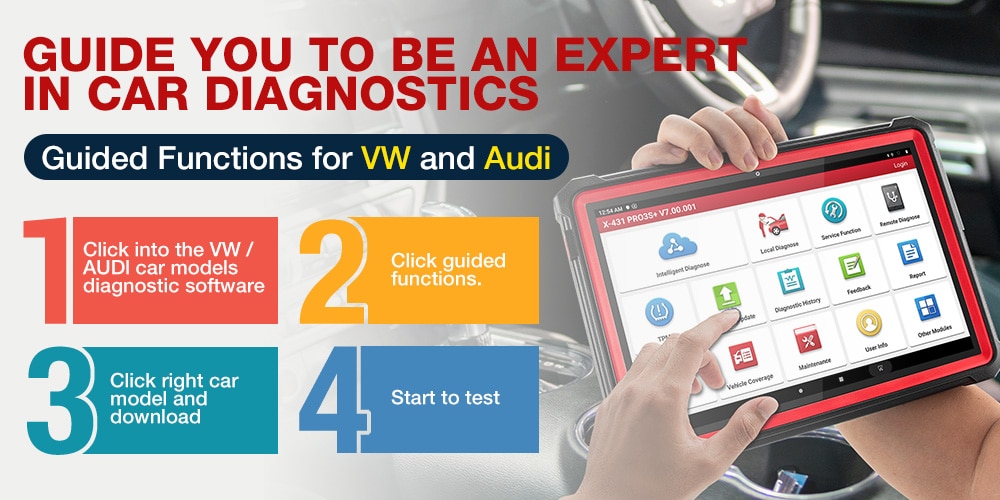 New Added OE-LEVEL Advanced Functions of LAUNCH X431 PRO3S+
• Cylinder Balance Test/Cylinder leakage test/Cylinder Pressure variations.
• Component Matching: Compatible with Volkswagen / Skoda / Seat / BMW / GM / Ford / Opel / Mazda / Fiat / Honda / Nissan / Hyundai / Kia / Subaru etc.
• Online Coding: Compatible with Volkswagen / Audi / BMW / Seat / Porsche etc.
• Online Account Login Service: Compatible with Volkswagen / Audi / Skoda / Seat etc.
• Online Calibration: Compatible with Volkswagen / Audi / Skoda / Seat etc.
• Online Parameterization: Compatible with Volkswagen / Audi / Skoda / Seat etc.
• Anti-theft IMMO Serivce: Compatible with Volkswagen / Audi / Skoda / Seat etc.
• Power Balance: Compatible with Chrysler / GM / Ford etc.
• Programmable Module Installation: Compatible with Ford / Mazda etc.
• Flash Hidden Functions: Compatible with BMW / Porsche / Toyota / Subaru etc.
• Key Programming : Add, Delete & Reprogram Keys, Rewrite smart keys, Replace smart key ECU, Replace KNOB IGNITION; Reset Key: Relearn a key.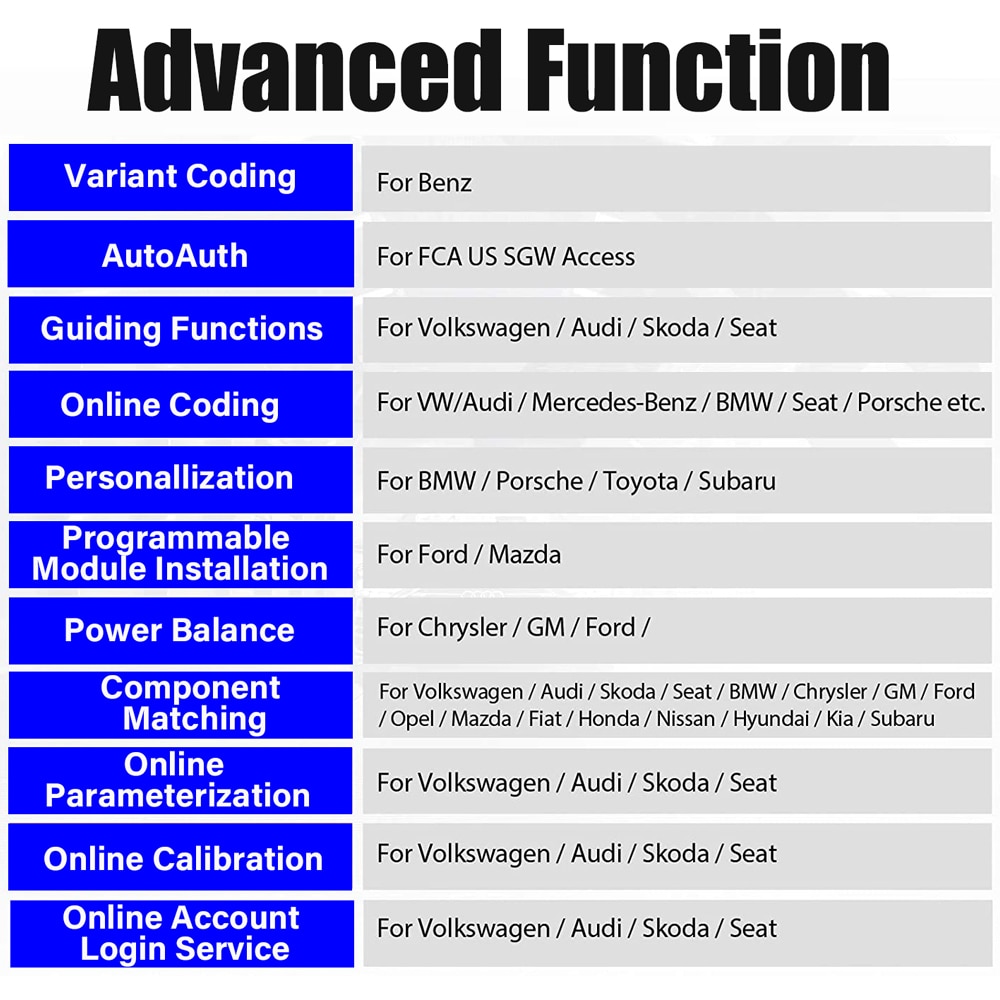 ECU Coding (Online Coding)
Match, learn, or code the newly replaced ECU; Customize your car, unfold the hidden features, or disable the annoying functions; Reprograms the adaptive data for certain components after repairs or replacements
Active Test (Bi-directional Control)
Actuate solenoids and actuators for active testing, send commands to systems/components to test their working status, without using the vehicle controls.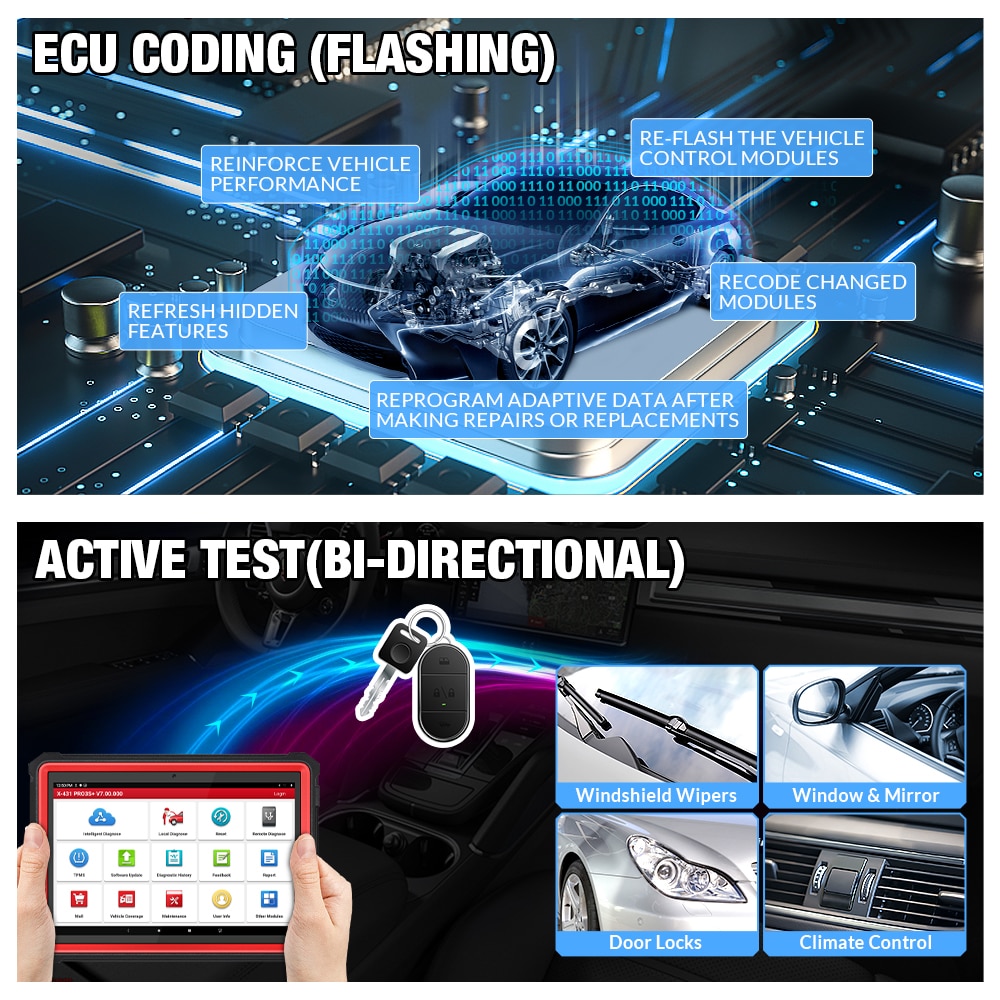 All in 1 graphic data stream
view and capture (record) real-time Live Data. This data including current operating status for parameters and /or sensor information can provide insight on overall vehicle performance. It can also be used to guide vehicle repair.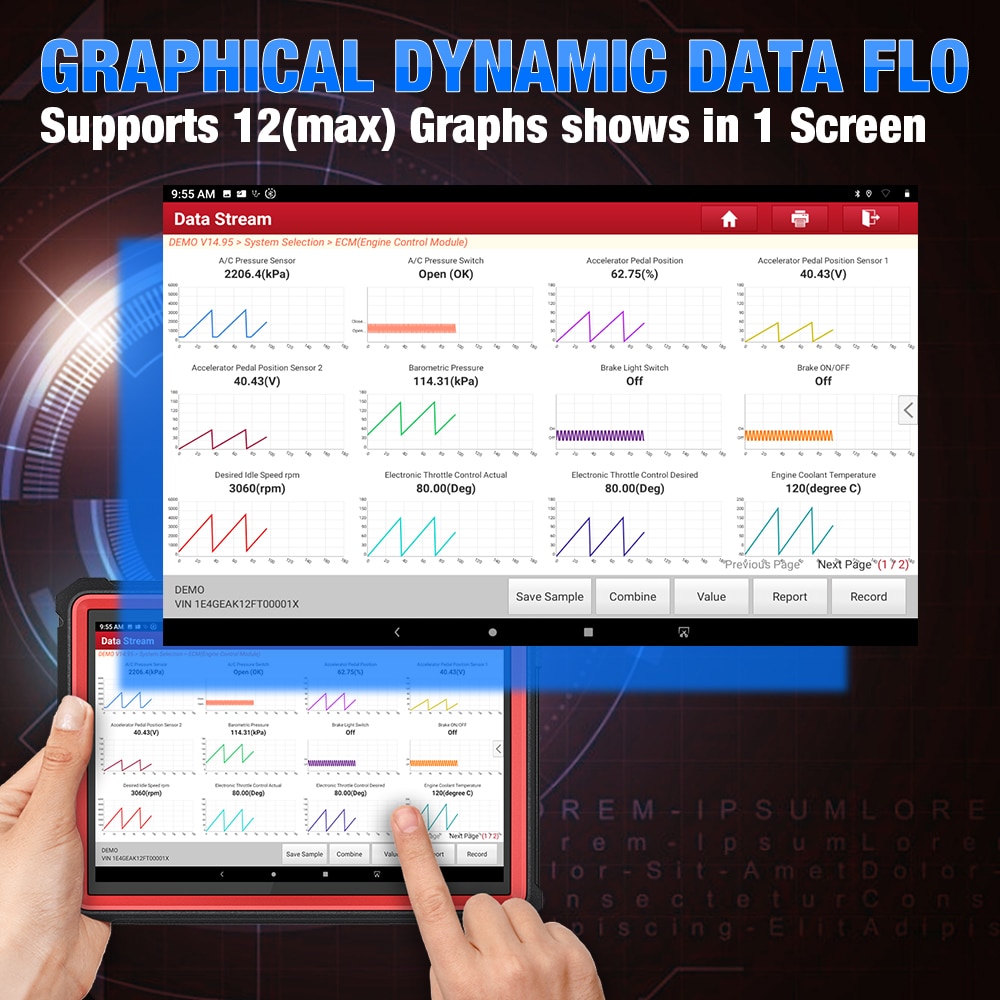 Remote Diagnosis
lf you encounter a diagnostic problemthat can not be solved by yourself,you can ask assistance for professional Mechanic.
Vehicle Health Report Share and Print
Auto generate vehicle health report,and it can be shared via email, thenprint it on computer.
Data Review
lt allows you playback the storeddata and diagnostic process, helpcustomer compare current andpast data.
Diagnostic Feedback
lf you the scanner can not scan anycar system or functions does notsupport, you can submit diagnosticfeedback, then send serial number to us, we will deal the case soon.

and more...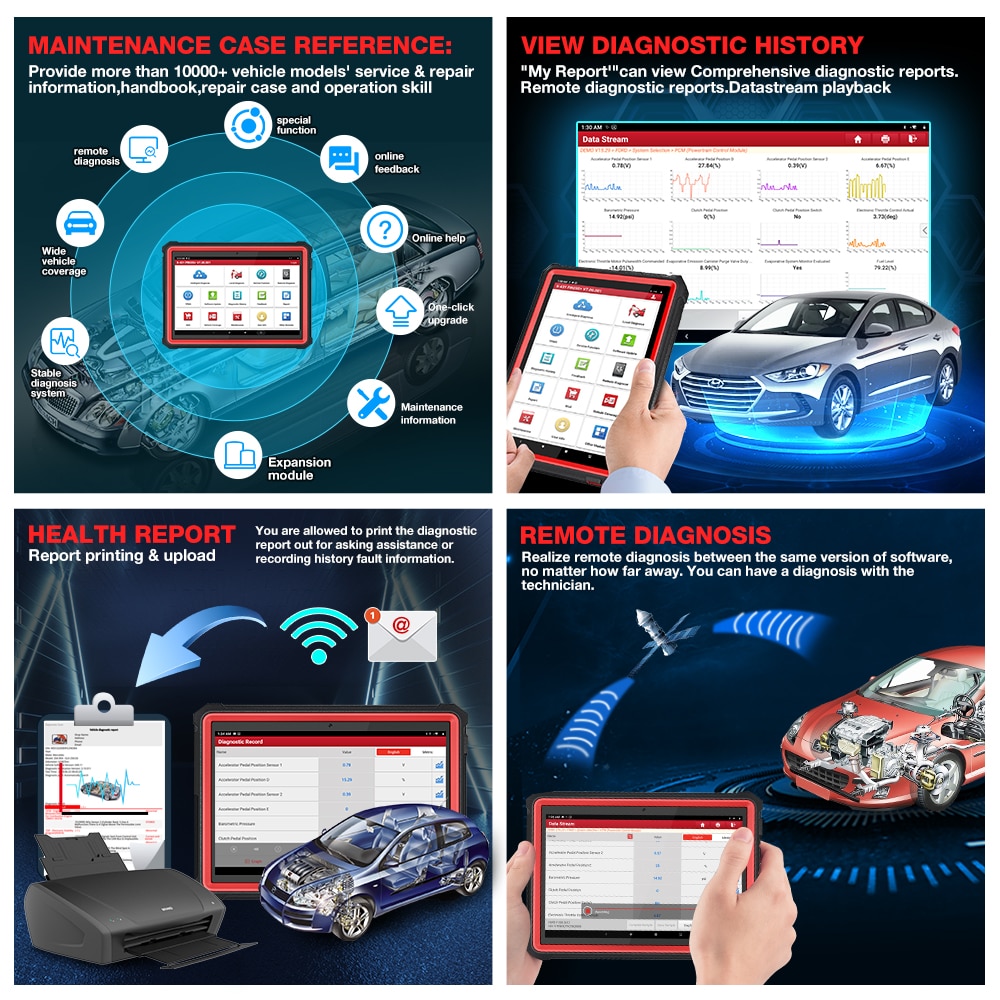 30 +Most-Commonly Used Maintenance Services
Note: You can find 15 kinds of commonly used reset functions in the reset menu, others special functions in the car brand diagnostic softwares menu and buy in the mall
1.RESET SAS
Perform steering angle sensor calibration and clear records;
2. RESET BRAKE
Deactivate and activate the brake control system, assist with brake fluid control, open and close brake pads, etc.;
3.RESET GEAR
Perform gear learning for the car when the engine ECU, the crankshaft position sensor, or the crankshaft flywheel is replaced.
4.RESET OIL
Reset the oil life systems every time the oil and oil filter are changed;
6.RESET INJEC
Code new injector numbers to replace the previous one when fitting the new injectors or after the replacement is completed;
7. RESET TPMS
Tire pressure resetting is required to be performed after maintenance is performed;
8. RESET BMS/BAT MATCH
Evaluate the battery charge state, monitor the closed-circuit current, register the battery replacement, etc.;
10.RESET ETS/ELEC.TH ROTTLE RLRN
Initialize the throttle actuators so that the "learned" values stored on ECU are returned to the default state;
11.RESET DPF
Clear PM (Particulate Matter) from the DPF filter through continuous combustion oxidation mode to stabilize the filter performance;
12. SUS RESET
When the body height sensor and control module in the air suspension system are replaced or the level of the car is wrong, this function needs
13. AFS RESET
It detects the light of the environment, then decides whether to automatically turn on the headlights or not. It can also adjust the headlights in time
14. SUN ROOF
For Mercedes Benz, BMW, CHRYSLER, Cadillac
More Reset Function Supported (Buy in the mall)
EGR Adaption, A/F, Coolant Bleed, NOx Sensor, Seats Calibration, Transport Mode, Tyre Reset, Windows Calibration, AdBlue Rest, A/C relearn, Intelligent Cruse Control, Engine Power Balance Moonitoring, Motor Angle Calibration, High Voltage Battery Diagnostics, GPF regeneration,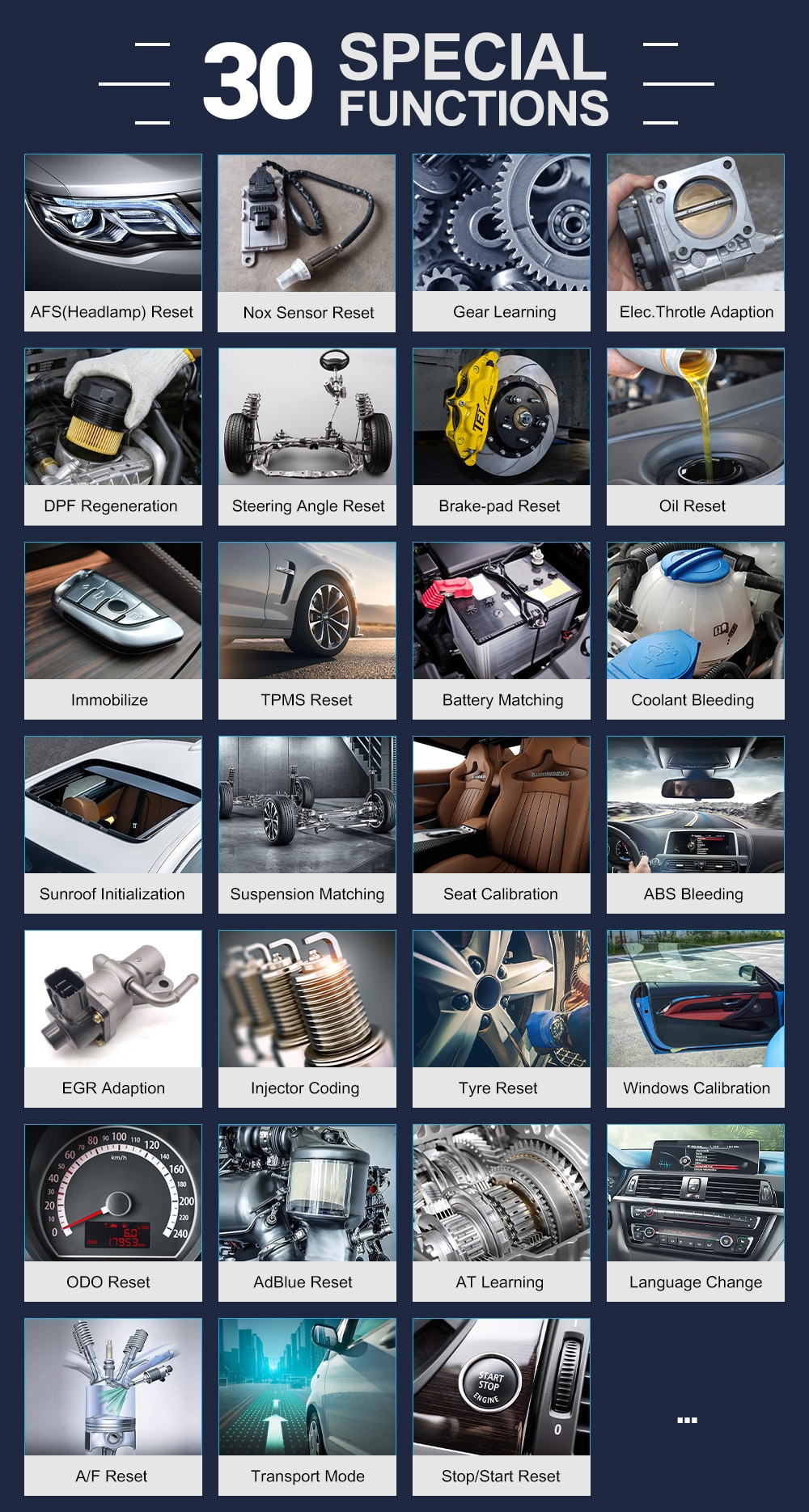 ECU REPLACEMENT
When an ECU/module is damaged, you have to replace it with a new one. After replacing the ECU/module, you have to follow the strict procedures of the manufacturer to match, learn, code, or even program it before it functions normally. Otherwise, the car cannot start or some parts cannot work normally. Featuring ECU/Module replacement functions, LAUNCH X431 V+ 4.0 can help you initialize, match,relearn, or code the newly replaced ECU/module to get it back on track.

Please Note: ECU Coding changes preprogrammed options which depend on the type and number of electronic features already built in. Thus, ECU coding is not universally compatible and varies for different vehicles.
Audi /VW firmware protection cancel features
One feature most techs really want is to remove firmware protection from their cars. This feature helps mechanics replace car parts. Carry out car modifications
LAUNCH X431 PRO3S+ diagnostic scanner has supported various extended modules (needs to buy additionally)
1. Videoscope (Mainly applied to check unseen parts of engine, fuel tank, braking system, etc.)

2. TSGUN (activate all sensors, tpms relearn, program only Launch Sensors)

3. X431 PRO G 3(IMMO For VAG Group Above 3.5)

4. X431 Heavy Duty Module (diagnose gasoline vehicles & 24V Diesel Trucks)

5. X431 ADAS Moblie/ADAS PRO (calibrate a wide range of camera-based & radar-based driver assistance systems)

6. X431 Printer (Print out diagnostic data/ reports.)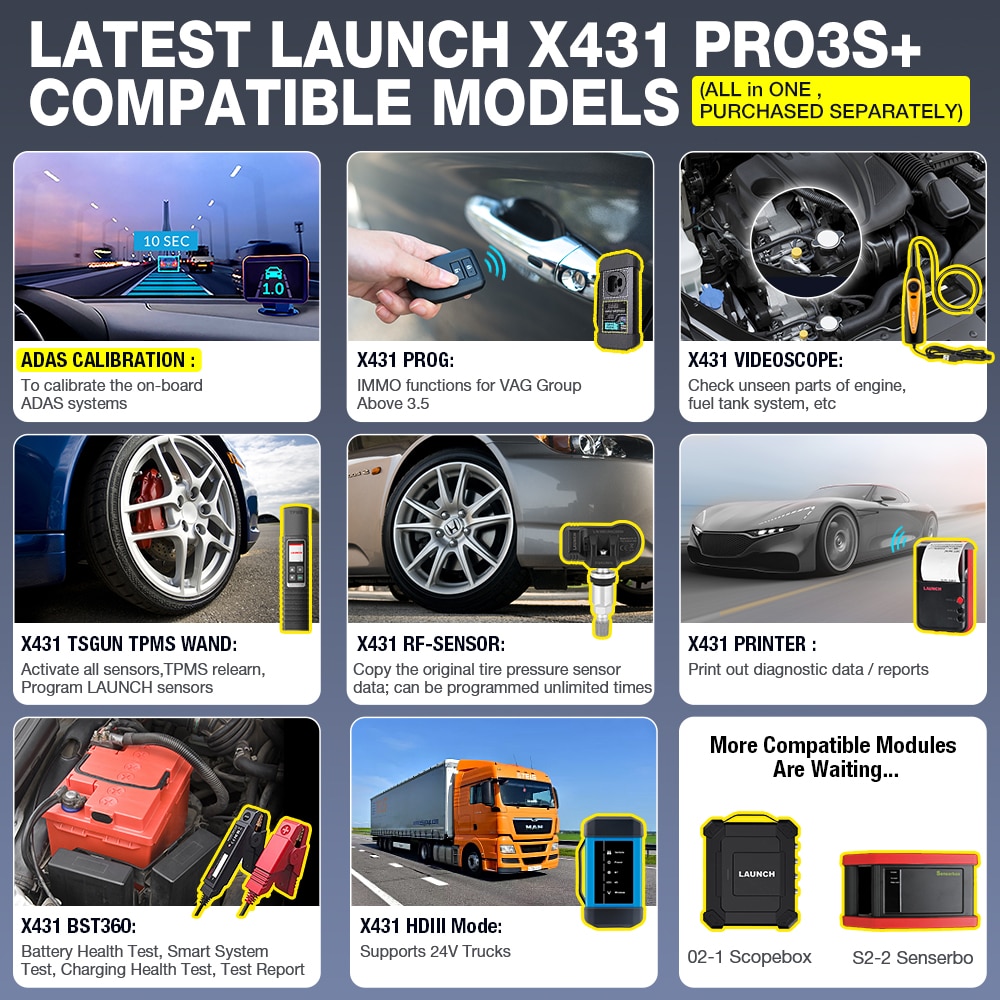 Key Programming
Add, Delete & Reprogram Keys, >>>Rewrite smart keys, All smart keys lost, Replace smart key ECU, Replace KNOB IGNITION;>>>>Reset Key: Relearn a key. (Note:this key programming function is NOT universally compatible .please check compatibility with us if necessary. X431 V pro supports PINCode reading for most cars before 2008 ,for vehicles after 2008,you need to have PINCode to do key programming)
GROWING FUNCTIONS
Accompany with continuous update of Launch X431 software and program, More functions has been added : Head light Fitting, Seat Matching, Door and Window Initialization Study, Sunroof Initialization, Air Suspension Matching, Gearbox Matching, Injector Calibration, Multimedia Video Reset, Cluster Reset, Immobilizer Service, Tire Change Reset, (depending on the specific car models, not for all cars, ). and more and more function will be improved and optimized.
LAUNCH X431 PRO3S+ Supports car list :
- EUROPE Cars :
For Audi, For Mercedes-Benz, For Maybach, For BMW, For Mini, For HCBMW, For Rollsroyce, For Citroen, For Fukang, For Ferrari, For Fiat, For Abbas, For Lancia, For Romeo, For NanjingFiat, For GAZ, For LandRover, For Jaguar, For Martha Lahti, For Open, For GMSA, For Vauxhall, For Peugeot, For DFPeugeot, For Porsche, For Renault, For Dacia, For Rover, For SAAB, For Skoda, For Seat, For Smart, For Transporter&V-Class, For VAZ, For Volvo, For VW, For Bingley, For Bugatti

- America Cars :
For Brazil Fiat, For Brazil GM, For Chrysler, For Dodge, For Jeep, For GM, For Buick, For Cadillac, For Chevrolet, For Ford, For ChinaFord, For Lincoln, For EuropeanFord

- Asia Cars :
For Daewoo, For Daihatsu, For Honda, For Acura, For DFHonda, For GZhonda, For Hyundai, For Ikco, For India Mahindra, For India Maruti, For India Tata, For JPIsuzu, For TLIsuzu, For Kia, For Luxgen, For Mahindra, For Malaysia Asia Pacific Perodua, For Malaysia Asia Pacific Proton, For Maruti, For Mazda, For YQMazda, For Mitsubishi, For Nissan, For Infiniti, For DFNissan, For Perodua, For Proton, For SAIPA, For Ssangyong, For Subaru, For Suzuki, For TATA, For Toyota, For Lexus, For TJToyota

- Australia Cars :
For Australia Ford, For Australia Horton

- China Cars :
For Chang'an, For ChangCheng, For Chenghe, For DR automotive, For ECUADI, For BYD, For Foton, For Hafei, For Haima, For Brilliance, For Jiangling, For Iveco, For Jac JAC refine general, For Gonow Auto, For Xiamen Golden, For Kowloon, For Lifan auto, For GSMW, For SAIC Chase, For MVW Automotive, For Chery, For SAIC and MG, For SGM, For CHCHEVROLET, For CHBuick, For CHCadillac, For Tianjin FAW, For XinKai, For ZhongShun, For ZOTYE, For Zhongxing

(Note: Car brands marked in Red can only be used after purchase in the mall)